Things to do in Napier
Looking for fun things to do in Napier? This Hawkes Bay City is best visited in summer when it's East Coast location brings sunny warm weather.
Soak: At Ocean Spa. Casual entry for an adult is $9.00. Start off with a session in the lap pool if you're feeling energetic before relaxing in the hot pools with the most serene view of the Napier foreshore and right out to Cape Kidnappers on a nice day.
The complex also includes a private spa, cafe, sauna, steam room and more. Don't forget to sunblock up if you're going in summer – you'll be burnt to a crisp before you know it.
Get a Caffine Fix: Café Tennyson + Bistro on Tennyson Street, Ajuna Eatery on Hastings Street or my absolute favourite The Wholefood Kitchen, also on Hastings Street.
Dine: Hunger Monger is a fabulous seafood restaurant. Their menu changes seasonally but visiting on a cold Winter's night I loved their grilled fish on miso kumera mash with broccolini and seasame kim chi bean sprouts.
F.G Smith Eatery is a brunch favourite of mine and has a lovely boutique attached to it selling beautiful gifts and clothing if you're someone who can't sit still while waiting for your meal to arrive.
Walk: The streets and admire the Art Deco architecture. The city was rebuilt following the 1931 earthquake giving it a unique identity. Every February the city goes back in time for Art Deco Weekend where visitors and locals dress in 1930's attire and admire vintage cars and aerial displays.
Browse: As well as the common chain stores Napier has some lovely unique shops. My highlights are browsing the racks of designer clothes at Aroha and Friends on Shakespeare Road and admiring the jewellery at Statements Gallery on Tennyson Street.
Kilt on Dalton Street is a must visit for me, though with stores now popping up in the main centers their clothes are no longer so difficult to come by.
The Statue: The bronze statue of Pania of the Reef was modelled on a Napier student and unveiled in 1954. Despite its heavy weight, somehow in late October 2005 she was stolen, but fortunately soon discovered and returned to her proud position by the fountain on Marine Parade.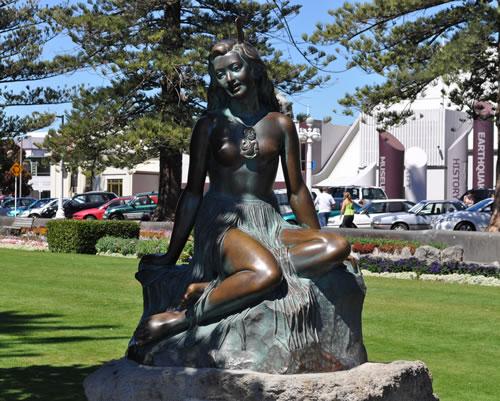 Wine: Grab a bottle of wine, platter and blanket and enjoy the view from a grassy hill at Te Awanga Estate. To get to the wineries you'll drive through Clive. The place in New Zealand I feel most rooted to as generations of my family grew up here.
Stay: At the Te Pania Hotel on Marine Parade.
Swim: Westshore beach hosts the Westshore Beach Surf
Take a leisurely drive: Head  up to Bluff Hill Lookout for beautiful views across the Port of Napier out to sea and up the coast. And take a trip to Hastings, Napier's twin city just 20km away and see how different these two cities are, each having something uniquely special to offer.
Things to do in Hastings
Napier's sister city Hastings has a lot to offer, and is going through a period of rejuvenation – particularly for foodies. Once you've taken a walk at Te Mata Peak, here are the best things to do in Hastings New Zealand.
Hastings Farmers Markets
Kenilworth Road, Mayfair
Something you must do in Hawkes Bay is visit the Hastings Farmers Market which takes place at the Hawkes Bay A&P Showgrounds every Sunday morning. It's pretty handy that this event happens so I don't have to drive all around the region collecting the different fresh produce items my parents and grandparents have got me on to over the years. My must visit stalls to visit for a stock up on fresh goodies are 114 Avocados, Te Mata Mushrooms, Scotts Strawberries and Hohepa Hawkes Bay for Cheese, with a pause for a Gelato to keep me going.
Bay Espresso Coffee
141 Karamu Road, Hastings
Bay Espresso's busy cafe serves their own locally roasted coffee as well as a range of counter foods and brunch options.
For craft beer in Hawkes Bay
Brave Brewing Co.
205 Queen Street, Hastings
Brave Brewing Co. recently moved into a bigger premises. They have a tasting room, cellar door and busy eatery which offers burgers, Bostock Chicken wings, salads and hot dogs.
Brave Brewing sell their beer to local bars, restaurants and retailers and attend the farmers market.
For Hawkes Bay Gin
Hastings Distillers
231 Heretaunga Street East, Hastings
Hastings Distillers is open Wednesday to Saturday sharing their passion for their certified organic gins.Their $20 tasting tray allows you to try three of their gins:
East Block 200 – bold and aromatic containing 10 organic botanicals with top notes of citrus and juniper as well as Angelica Root
Alertine – containing 38 botanicals, 30 of which are sourced in Hawkes Bay
L'Opera – a bitter-sweet infusion of New Zealand grown organic Seville oranges which is served with soda
The amount of alcohol in the tasting tray is similar to one of their gin and tonics. It's a beautiful spot to catch up with people and food options include olives, nuts and bread with humus.
National Distillery
National Distillery in Napier is housed in an iconic art-deco building in Napier. Rather than being a "sit down" bar they offer an extensive tasting of their gin range.
Next time
I will be sure to visit Pipi Cafe in Havelock North for a Pizza and Margarita. I'm a regular consumer of their pizza bases and need to visit them in person to compare topping choices.
Have you spent time in New Zealand's Hawkes Bay region? Did you find your own fun things to do in Napier and Hastings?