It's a trap that's easy to fall into: once you've experienced what it's like to have an koru membership it's very hard to opt out again.
After several years of free passes and a gifted membership, last year I found myself without access to Air New Zealand's Koru Lounge and associated member benefits. Sitting at the gate to wait for your flight without the glam feel and perks a lounge brings suddenly feels a lot less glam.
There are generally four ways you can gain access to the Koru lounge:
Pay for a business-class (or better) ticket
Improve your airline status to Gold or higher. This means frequently flying with the same airline rather than purchasing the best fare available
Travel with someone who is a member
Pay for a membership
My Westpac credit card meant no joining fee and a $125 discount on the annual fee for Air New Zealand's Koru membership. I purchased my current membership last November paying the (then) $450 membership fee using credit card points accumulated through using this credit card and flying, calling it a birthday present to myself.

How can an airport lounge membership save you money?
Saved meal costs
There's the obvious saving which comes by not purchasing food at the airport of before you go there.
Additionally, by eating in the lounges you may be able to avoid paying for fare upgrades on international flights in order include meals – particularly relevant when you're flying for fewer than four hours or on an overnight flight where you intend to sleep through meals.
Where possible I tend to grab a can of coke, and a piece of fruit as I board the plane to snack on during the flight.
Additional baggage allowances
If you're travelling domestically and checking in a bag, Koru members are entitled to one additional checked bag (usually $10).
Complementary seat selection
If you want the extra leg room an exit row offers, to be first off the plane, or just a window seat, the ability to choose your seat and the chance to sit in reserved seating on the plane at no additional cost is a great wee perk.
Lounge memberships also make travelling that much more pleasant
The VIP Feel
I love being fast tracked through queues, priority boarding, that I'm entitled to extra checked bags, and that my luggage is among the first batch to hit the carousel (when it doesn't go missing).
The cheaper long-haul flight routes tend to have more frequent and longer layovers and I love hitting Auckland and having enough time to shower, eat something and enjoy the feeling of not being crammed in a plane before I get on my last flight bound for Wellington.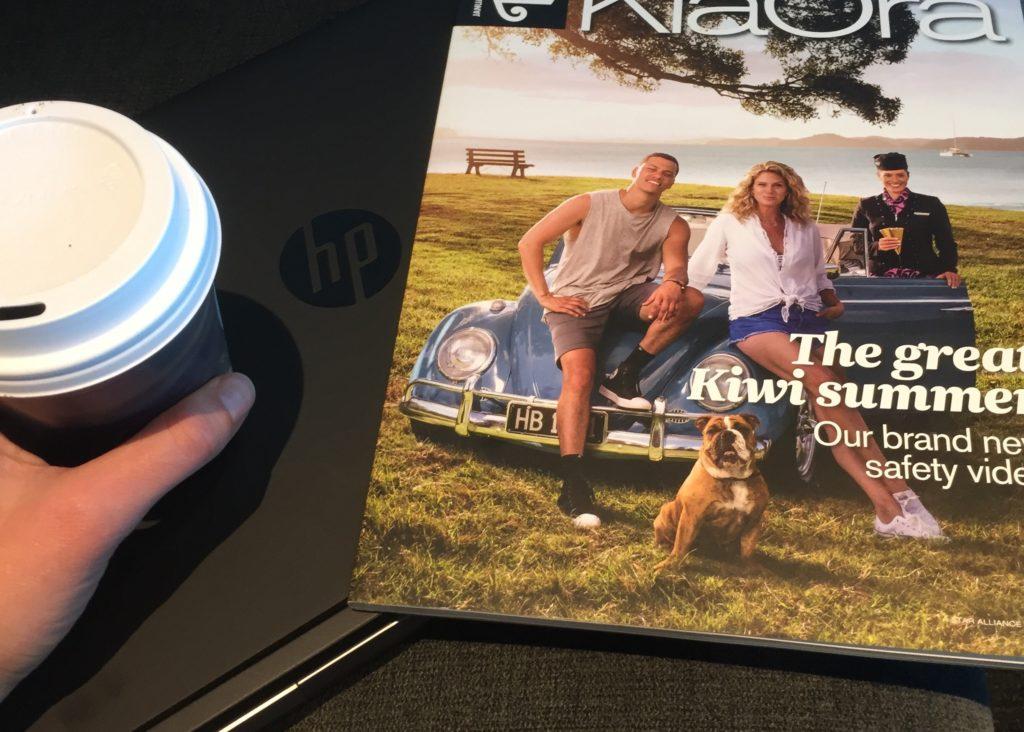 Customer Service Assistance
I've had a couple of travel hiccups in the past year where I've needed to change a flexi-flight after I've arrived in the lounge, and the friendly lounge staff have been able to solve them for me on the spot without me having to queue downstairs.
Peace and quiet, wifi, food, drinks, newspapers and magazines
I still race around at top speed loading up on wine or coffee, cheese and snacks despite usually having at least an hour to spare. Even as a member, in the back of my mind I still feel like a kid in a candy shop being there and am afraid someone will evict me.
Sitting on plush furniture with a glass of wine, snacks. decent wifi and a view of planes coming and going when your plane is delayed really improves your perspective on things, unlike sitting on a hard chair (or the floor due to overcrowding) in a windowless gate lounge as I have done many a time.
Is it worth it?
Obviously this depends on how much you travel. A friend who works in banking suggested my break-even point would be 7 visits, valuing each visit at around $65.  I've also seen the break-even for membership costs calculated on Twitter in $10 glasses of wine.
Over the 13 month membership term I visited 21 times (less than NZ $21.50 per visit), consumed a decent number of barista-made coffees, a not-insignificant number of glasses of wine, 15 main meals and took several friends in with me.
I feel as though I received the value I spent on the airport lounge membership back over the period in services, comfort and saved sanity. However had I not had it I may have flown with other, cheaper carriers on a couple of occasions which certainly would have saved me some money.
I'm not going to subscribe again immediately – I'll wait until I have some confirmed travel plans for the next year. But I certainly will sometime in the future.
Who else loves airport lounges? Do you pay for them yourself? If you're interested in my actual usage over the period keep reading below!
My Koru membership use
Month

Travel

Times visited

Costs avoided

November 2016

Wellington to Hobart return, via Melbourne
Wellington to Hobart return, via Melbourne

  3

Adding meals to tickets ($100)
One breakfast, one lunch, one dinner and several glasses of wine

December 2016

Wellington to Auckland return
Wellington to Napier

  3

One additional checked bag ($10)
One breakfast, one lunch, one Dinner and several glasses of wine

January 2017

Wellington to Auckland return
Wellington to Napier

  3

One dinner, several glasses of wine

March 2017

Wellington to Hokitika return
Wellington to Auckland

  2

 One breakfast, one morning tea and one lunch

April 2017

 Wellington to Auckland return

  2

 One dinner, a large snack and several glasses of wine

May 2017

 Wellington to Auckland return

  2

 One dinner, dessert and several glasses of wine

June 2017
July 2017

 Wellington to Auckland (to fly with other airlines to London)

1

 One lunch with a glass of wine

August 2017
September 2017

Auckland to Wellington (following international flights with other airlines from London)

1

 One lunch, a coffee and a glass of wine

October 2017

Wellington  to Christchurch return

 2

One breakfast, several glasses of wine and plenty of snacks

November 2017

 Wellington to Auckland return

 2

 One lunch, a large snack and several glasses of wine