I'm still dreaming of the day that an airline approaches me to advertise their service and while I'd hate to detriment any future relationships with brands, here are brief, honest thoughts naming, praising and shaming airlines I have flown with.
Aegean
Athens > London
I booked business class as it was a cheaper fare on a Monday than economy was on a Sunday and was highly impressed with the service and food on offer. The separate check in counter, business lounge (which allowed me to catch up on my blog), food, drinks, newspapers and expedited luggage delivery really changed my expectations as to what I expect from airlines.
Aer Lingus
London Southend > Dublin
Southend Airport was much further away than I'd realised though I did like the smaller, quieter airport compared to what I had come to expect flying in and out of London. This Aer Lingus flight was also the first flight I'd ever been on where they forced me check in (at my cost) my carry-on luggage – the allowed size is minimal.  We had to walk out on the tarmac to board the plane which reminded me of flying between regional airports at home.
Air Asia
Hanoi to Melbourne via Kuala Lumpur
After saying I'd never fly Air Asia I did so on a Friday the 13th. It was a long-haul, multi-stage journey at about 1/3 of the price of their closest competitor.
It was no frills but it didn't crash.
Air Calin
Auckland to Noumea return
Somehow not at all memorable…
Air Nauru
Honiara to Brisbane
A TripAdvisor review I read described the Nauru Airlines service as like being on an island hopping bus trip. On a Sunday Nauru Airline's route flies from the Marshall Islands to Brisbane via Kiribati, Nauru and Honiara, yet somehow the staff remain friendly and enthusiastic.
Due to board in Honiara at 1:10pm on a Saturday we learnt when checking in the incoming leg from Nauru was delayed eight hours. We were dispatched to a hotel with a meal allowance to wait, returning to the airport to finally take off shortly before 2:00am.
With seven of us boarding in Honiara we expected to find an empty plane or a cancelled leg, but it was close to capacity with unhappy looking people. Wine was available during the meal service which included a small salad, bread roll and cake as well as a hot dish of lamb curry or chicken and mashed potato. No entertainment was provided however the South Pacific Living Magazine told fabulous stories of places like the Marshall Islands which I'd never considered visiting but am now desperate to.
Air New Zealand
Assorted domestic and international flights to and from New Zealand
Air New Zealand is my favourite airline given its Airpoints program, friendly kiwi hospitality and perks such as Koru hour. Their monthly Kiaora magazine and regularly updated safety videos can be relied on for entertainment.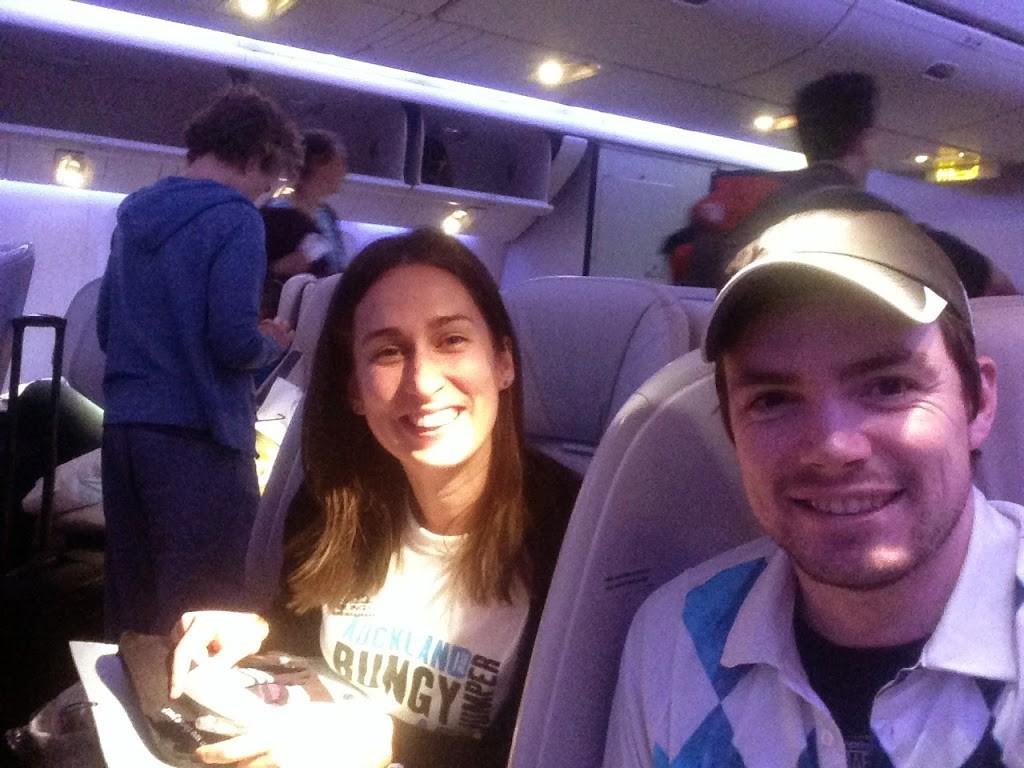 American Airlines and British Airways felt very similar to me. Similar planes and service. Good hospitality, but not exceptional enough for me to have much to report.
Air New Zealand make you feel like a VIP every trip, whoever you are and whether or not you're travelling in a Space Seat. When I get to visit a koru lounge it becomes a highlight of my trip.
Alitalia
Rome to London
I had a non-changeable ticket with Alitalia for a flight I was deemed to miss due to a cruise travel company changing times on us. I booked a second flight with the same airline on the same day and was lucky enough to be upgraded to Business Class after check in.
American Airlines
LA > New York
They have mixed reviews about their customer service online but I found American Airlines absolutely fine flying across the states. Your standard, full service long-haul flight airline. British Airways LA > London Also not that memorable but had a similar feel to flying with American Airlines or Qantas.
British Airways
New York > London
Also not that memorable but British Airways had a similar feel to flying with American Airlines or Qantas.
Delta
New York > Miami return
I struck an issue when I went to check in at the airport as I discovered a checked bag was not included with my fare (booked by a travel agent who should have known better given I had checked luggage on every other leg of the journey). I had to pay airport hiked bag prices.
Cute snacks and and complementary soft drinks were served.
I later met a Delta pilot in a hostel in Dublin who said Delta were great to work for – he commuted from Baltimore to New York for work and obviously had some amazing travel perks.
EasyJet
Assorted flights between the UK and Europe
Known to be tough on check in times and luggage limits EasyJet is no frills. But as long as you're prepared to abide by the rules its a cheap way to get around Europe without being as strict as Ryanair are reputed to be, or causing me the kind of stress which JetStar have done.
Etihad
New Zealand > London return via UAE
I booked Etihad due to their Star Alliance connection so I could accumulate Air New Zealand Airpoints, but I would not fly through Abu Dabi again.
It was around 38 degrees at 5am when I had to cross the tarmac from an overpacked bus to the terminal. It was a horribly busy airport without sufficient signage and so few of the internet portals worked.
On board had cute complementary amenity kits even in 'povoclass', had a decent movie selection and the airline service was fine. It was just their hub airport which was unbearable.
JetStar
Between Auckland and Wellington in New Zealand as well as to the Gold Coast
Not known for their service but for their cut prices.
I've had my fair share of delayed flights but never missed one due to their cut off 30 minutes prior to departure (though I have come very close).
Given their crowded planes, lack of free snacks, the boarding process where you feel like cattle and have to cram your luggage in, it can be a stressful experience to fly with JetStar.
I also HATE the manky ripped JetStar magazines with coffee spills, missing pieces of pages and completed puzzles – a regular seat pocket check would not go astray.
I was once forced to check in a piece of oddly shaped cabin luggage but they did not charge me for it (it was well within weight restrictions).
One point I do like and have started doing (when Air New Zealand's prices are out of control on the date I want to fly) – if you pay an extra $19 on top of the standard ticket you get free date and time changes, a $10 voucher towards your next flight, free seat selection and a $10 food and beverage voucher – that wine and cheese can change the whole experience.
Lufthansa
Houston to London via Frankfurt
I wanted to fly with StarAlliance partners and Lufthansa offered the quickest, and best value for money route.
The plane was far less crammed than other routes and providers flying long haul out of the USA and the extra space was awesome having just got off a full 14 hour flight from New Zealand.
The in-flight entertainment system, which touch screen was one of the clunkest I've ever struck and the meals were substantial but low quality.
A snack of a sandwich and non-alcoholic beverage was even served on the short haul route between Frankfurt and London.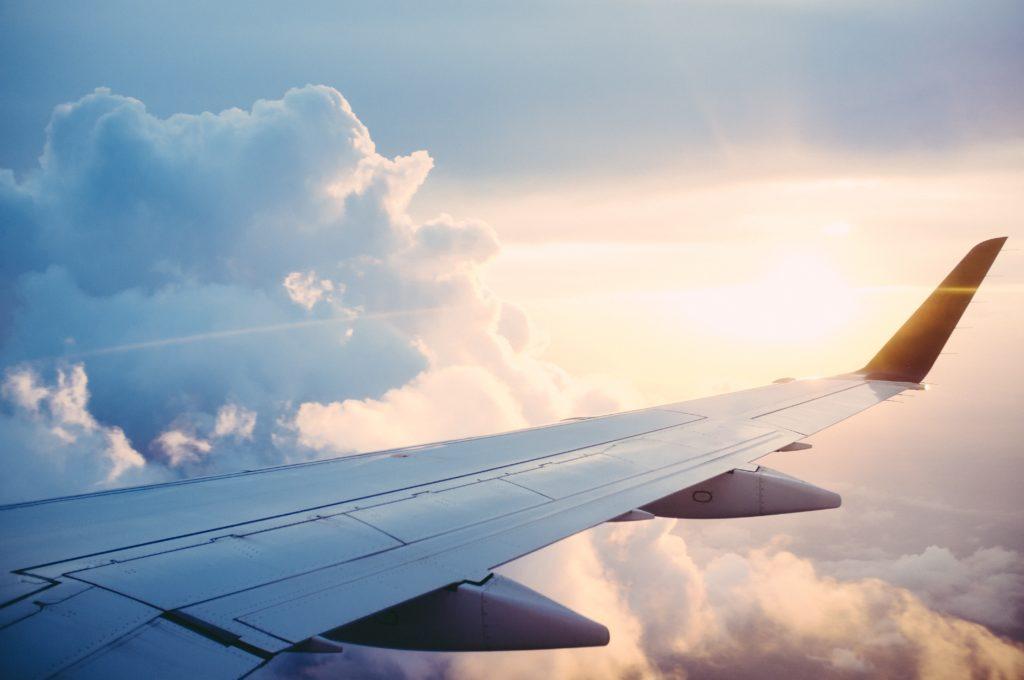 Malaysia
Auckland > London via KL and Rome > Auckland via KL
Given the events of 2014 I'd be unlikely to choose to fly Malaysia again. However the service was exceptional and the snacks and water kept coming when I was unable to sleep on long flights.
There is however something very scary about hearing a long safety message in a foreign language followed by a seemingly much shorter English version – what were they telling the Thai speakers that they were not telling the rest of us?!
Monarch
London > Rome return
One a cruise company booked me on as part of a fly and cruise packages and conveniently fly from London Gatwick. Both the checked and carry on luggage limits were smaller than ideal but I was carrying my entire life with me at the time.
Norwegian
Reykjavik to Oslo and Bergen to Stockholm
The first airline I've flown with which has wifi access on board, I also like that Norwegian's tail fins depict iconic figures from across the network who have 'pushed the boundaries, challenged established norms and inspired others'
When we checked in for our flight to Oslo Renee was given someone else's boarding pass for a flight to Barcelona. As her bag (stickered to the same destination) started heading off down the belt from the check in counter she realised and told the girl to stop it.
Qantas
Between Wellington and Australia and Auckland to Los Angeles
I like that Qantas flights to Australia still feed you regardless of the airfare paid unlike Air New Zealand where a meal works out rather expensive to add on. I'd probably fly with them more on my own dime if they weren't on their own loyalty program – the rewards stack up quicker when you just have one.
Qatar
Auckland to London via Adelaide and Doha
Qatar Airways was awarded the prestigious AirlineRatings.com Airline of the Year 2022 award. They fly from Auckland to Doha with a stop to refuel and pick up passengers in Adelaide. The Auckland to Adelaide leg (4 hours 10 min) was only at 50% of capacity and I was in the blissful position of having an entire row of four seats to myself.
The current Qatar Airways safety video features a very clean Dubai football team, singing and very good looking men. On the downside passengers are forced to watch ads at start of movies.
The 90 minute stop in Adelaide where we all had to get off the plane, file through queues and complete security screening at what felt like the middle of the night was painful.
Ryanair
Stockholm to London
True to Ryanair legend the Ryanair only airport was in a far flung location, miles from the city. It didn't have enough seating through security, the cafe had 'yesterday's sandwiches' on sale and the plane was late with no communication.
I missed the small things like the in-flight magazine and having a seat pocket to put my stuff in.
Solomon Airlines
Brisbane to Honiara
The flight from Brisbane to Honiara with Solomon Airlines is a code share with Qantas. The Airbus A320 had 16 seats in business class (seemingly a popular choice with 14 people having booked it) and a maximum of 120 in economy.
There was a full meal service with the choice of chicken and mushrooms or beef and noodles, but as I did not book my own flight I'm unsure about meal choices for those with special requirements.
Meals were served with choice of drink including juices, sodas and red or white wine. Wine glasses were topped up before the tea and coffee service and when the meal trays were cleared was told I could get a wine top up any time.
I liked the in-flight magazine, Solomons, as it was mostly stories of places in the solomons and advertising hotels and resorts relevant to someone going there. Otherwise be sure to have podcasts or items downloaded from Netflix for entertainment.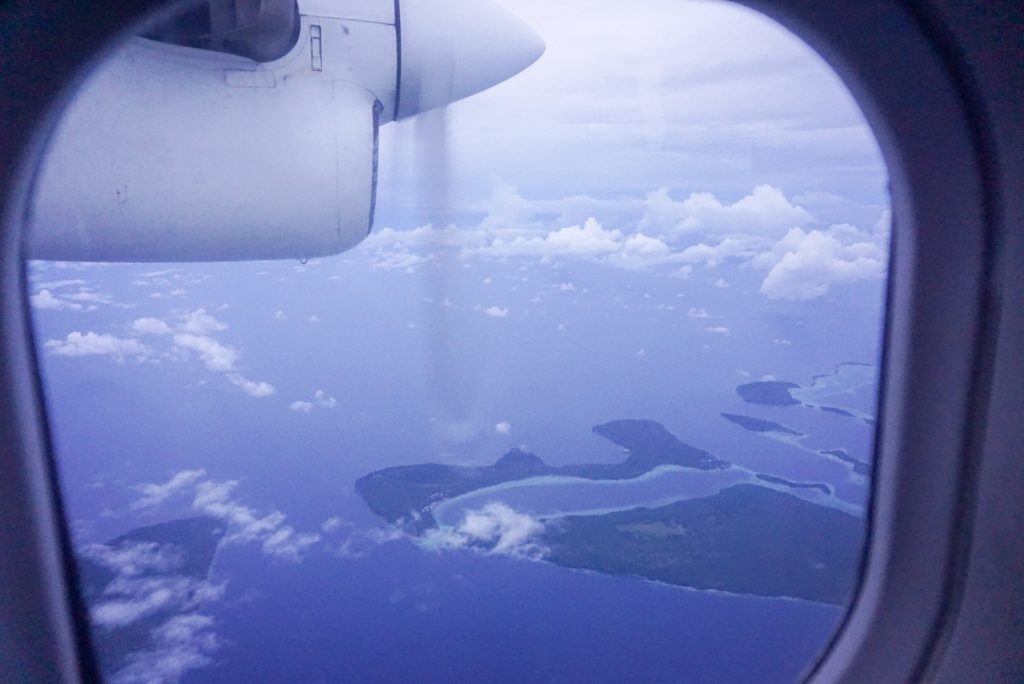 You'll want a window seat for domestic flights in the Solomon Islands, the views out the window are spectacular and you can sit anywhere you like rather than where's dictated on your boarding pass. Those first on the plane get the best choice in position.
Don't be surprised if you're asked for your weight during the domestic flight check in process either!
ThaiSmile
Phuket to Bangkok
I was confused from the start with as ThaiSmile seemed to have two flights between Phuket and Bangkok with the same flight number within two hours of each other and we received conflicting advice (our booking vs our boarding card) as to which we were on.
The seat numbers weirdly started at row 31. I was also surprised to be fed receiving a bottle of water, pastry and a choice of non-alcoholic beverages but this was a great customer service touch.
United
Los Angeles > Vancouver
On a surprisingly small plane, we were seated in the second to back row. One air steward moved those in the back row further up the plane before take-off then the two of them sat in the row behind us and bitched, gossiped and visibly ate sandwiches en-route. The most unprofessional attendants I have ever seen though enjoyed the two glasses of coke they bought me.
VietJet
Bangkok to Hanoi
I don't remember much other than the uniforms which looked like they'd suit a pornstar playing a schoolgirl. You could also buy a child sized one in the in-flight shopping guide.
Virgin Atlantic
Wellington to Brisbane return
Virgin Atlantic felt no frills. Kirsty and I sat in the front economy row as I was Gold Elite Partner status with AirNZ at the time and could choose our seats.
The Premium Economy seats just in front of us and barely concealed from the main cabin were unsurprisingly empty given the upgrade price and short distance.
Virgin Australia
Between New Zealand and Australia and the Pacific Islands
The Virgin Australia service was nothing special on the routes I have flown. Take your own laptop if you're flying on a saver fare when flying between New Zealand and the Pacific for entertainment unless you hire a device from them. I can't wait for the day I experience Virgin Business Class as it is often held up as a brand service example.
Vueling
Barcelona to Luxembourg
I missed this flight. The first time I've ever missed a flight as I get to airports early. Unfortunately in this case Barcelona's security staff were on strike, so it took us over an hour to get through security and the gates had closed by the time we reached them.
Vueling did not wait knowing of the security hold ups. Additionally – our luggage was not unloaded and went to Luxembourg without us which goes against security policies. They failed to locate our luggage and return it to us – Luxembourg airport found it and let us know we could collect it almost three days later.
They refused to respond to our emails seeking documentation for insurance claims (if not compensation) and are useless on Facebook.
What's your best or worst airline experience? How about naming, praising and shaming airlines you've flown with!