When you're a visitor in a country with very few other visitors you speak to those you meet. You ask what bought them there, what they've been up to, and what they plan to do next.
Travelling through the Solomon Islands in August our group met a large party on a dive tour in Munda, and then didn't see any other travellers until we met a couple on their honeymoon at Fatboys Resort near Gizo days later.
At the end of the week we ran into them all again on a flight bound for Brisbane. Knowing roughly half the people on a flight is something I've certainly never experienced anywhere else in the world!
Solomon Islands Tourism: my experiences
When I was invited to visit the Solomon Islands I was working in the New Zealand Defence Force's Social Media team which meant I knew roughly two things about the country:
they'd held elections earlier this year, and,
judging by the photos taken by the Air Force photographer deployed there, the islands were incredibly picturesque from all angles.
But while I've explored much of the South Pacific including islands in Fiji, Samoa, Vanuatu, New Caledonia and the Cook Islands, it had never occurred to me to visit the Solomons.
The only people I knew who had been before me had visited whilst working for New Zealand Government Agencies during the Regional Assistance Mission to Solomon Islands (RAMSI) following the civil unrest and tensions which broke out in 1998 and held back the Solomon Islands tourism development. While they'd seen things at their worst, they assured me it had potential as a beautiful place to visit.
The low visitor numbers mean things like accommodation and meals are expensive, but as the Solomon Islands is becoming a more accessible destination, and with tourism being one of the most impactful ways to lift an economy, I'm sure this will change very soon.
The growth of tourism
The top activities bringing visitors to the Solomon Islands are diving, fishing, relaxing, and exploring the 992 islands of which there are both volcanic islands and coral atolls. It feels like it's about to take off and I consider myself fortunate to have been able to visit at this time when dining, travelling and interacting with the locals is the norm for visitors.
There is world class diving here: the sealife is diverse and plentiful, the corral is still abundant, and the water is crystal clear. Bird watching and surfing also seem very popular recreational activities and there are people still living primitively in Malaita Provence in the North of the Solomon Islands where tourists visit for a (surprisingly well advertised) festival and to experience their culture.
There has been a recent shift towards tourism in the Solomon Islands and, thankfully, efforts are being made to grow tourism at a managed rate. I will certainly follow the growth of tourism in the Solomon Islands, and will be heartbroken if islands I've seen with just four simple bungalows on then morph into 'party islands'.
Seeing the signs of over-tourism in the most visited parts of Fiji, and with the Cook Islands also heading the same way, it's important visitors to this part of the Pacific have authentic experiences with family -owned accommodation and hosts who want to make your experience, rather than bland international hotels visitors could stay in like anywhere else in the world.
Tourism in the Solomon Islands is authentic. On Rendova Island the owner of Titiru Eco Lodge has found that the people in his local village are welcoming the growth in visitors since Munda Airport opened for International flights in March.
Rendova Island is just 35 minutes by boat from Munda but a 24 hour boat ride from Honiara. A domestic flight from Honiara to Munda costs around the same as the flight from Brisbane to Honiara so before there were flights between Brisbane and Munda, it was a location which was too expensive and isolated for most.
The owners of Titiru Eco Lodge work closely with the local village which has a population of around 3000. Kilo, our host told us he sees that that the people are more inclined to clean the streets, plant flowers and think about what the tourists would like to see. They come up with profitable business ideas and items to sell to tourists and other visitors alike.
Examples of these include:
cloth made from Banyan tree root. This may be used for everything from clothing to a swaddle for carrying babies
fresh fish caught traditionally with wooden rods, line woven made from flax and hooks made from shells
hand carved wooden bowls and carvings
woven flax baskets
traditional foods such as condo (a coconut salad) and other meals cooked traditionally using hot river rocks to form an oven or boil liquids
toys for children made using flax, coconut shells, sea shells and sticks.
What I really liked about the Solomon Islands is that this is not Fiji and it's not trying to be. It's unique, still undiscovered, not swarming with tourists and the fishing, diving and snorkelling is excellent.
Infrastructure does still need development as well as new facilities to cater to the growing tourism market.  As an example, ideally someone soon will invest in a boat which could carry upwards of 20 people between Gizo and Munda, the two most popular places to stay in the Solomon Islands as they have airports and lots of smaller islands are accessible from them. For now boats line up along the waterfront in Gizo which for $200SBD will take you to Munda.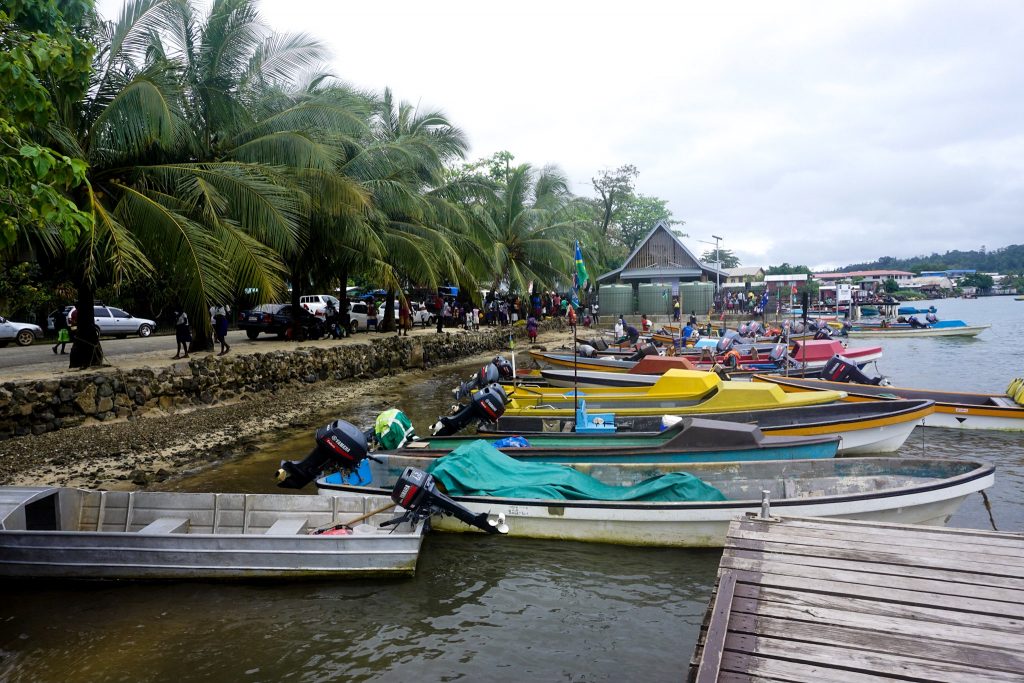 But when you picture paradise I'm sure it's pristine, untouched, devoid of crowds of tourists and certainly not covered in international hotel brands. It's somewhere undeveloped, a little rough around the edges, and most impactful when you turn a corner to have something suddenly jump out at you.
Bang. That's the Solomon Islands. And now is the time to visit.
Thank you so much to the Solomon Islands Tourism Board for hosting me for the purpose of writing and sharing my honest experiences.