In July I visited Australia's Far North Queensland to escape the dire Wellington winter weather for a while. I spent one week in Cairns followed by a few days in Port Douglas, exploring the Daintree Rainforest and Great Barrier Reef.
With the weather in the mid-20's daily this was not winter as I knew it, but I acknowledge that the heat must be something else here in summer. Here are some things to do in Far North Queensland that I enjoyed.
The Skyrail Rainforest Cableway
The 7.5km Skyrail Rainforest Cableway travels over luscious rainforests, tree canopies and past powerful waterfalls. At great heights it made me consider how tall the trees must be and what maintaining the Skyrail must take. The staff gave the window exteriors a wipe at each stop but they were quickly covered in water droplets again and I found it impossible to capture the true beauty of the journey with a camera.
The gondola ride between Cairns Smithfield Station and Karunda takes 40-50 minutes. Stopping for brief amounts of time at each of the two stops along the way, my experience lasted around an hour and 40 minutes. As a seemingly rare party of one I was matched up with friendly couples at each stage of my journey.
The first stop at Red Peak Station, puts you in the world's oldest continually surviving tropical rainforest and one of the wettest parts of Australia. You can take a free guided walk along the boardwalk to learn about the rainforest. At the second stop, Barron Falls Station, there are views out across the impressive Barron Falls.
At each end of the Skyrail Rainforest Cableway there are toilets and gift stores with soft toys, clothing, accessories and authentic aboriginal artworks, the sales from which contribute to rainforest research and education and preserving this ecosystem. Smithfield Station also features a cafe.
I would recommend downloading the audio guide and interpretive app for commentary in a number of languages on the various trees, sights and wildlife as you travel along. A couple of gondolas have glass bottoms, available with Diamond View tickets. There always seemed to be a short queue of people waiting for these, a staff member telling me several were currently out of order.
Karunda
I was concerned that four hours on a showery day was far too long but there were far more things to see and do in Karunda than I anticipated. As well as the Australian Butterfly Sanctuary and Rainforestation Nature Park, there were galleries, markets, clothing boutiques pubs and restaurants and an information centre.
Karunda was very busy and at lunch time available tables were rare and wait times for meals long. Later in the afternoon I was able to find a quieter spot for a drink to watch the world go by.
Karunda Scenic Rail
To get back to Cairns from Kuranda I took the hour and three-quarter Karunda Scenic Rail journey through to Cairns Railway Station. You can book tours like this one which include tickets for both the Skyrail Rainforest Cableway and the Karunda Scenic Railway with hotel transfers.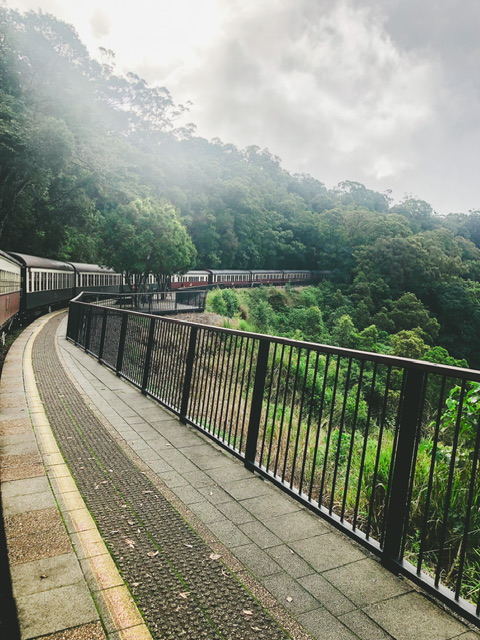 Audio commentary throughout the journey revealed the history of the train and the story of the railway's construction – a tough life for those involved and the build resulted in many casualties.
The train stopped just once, at Barron Falls for photos. The vintage seats were less than comfortable and towards the end of the journey it as feeling like a long ride.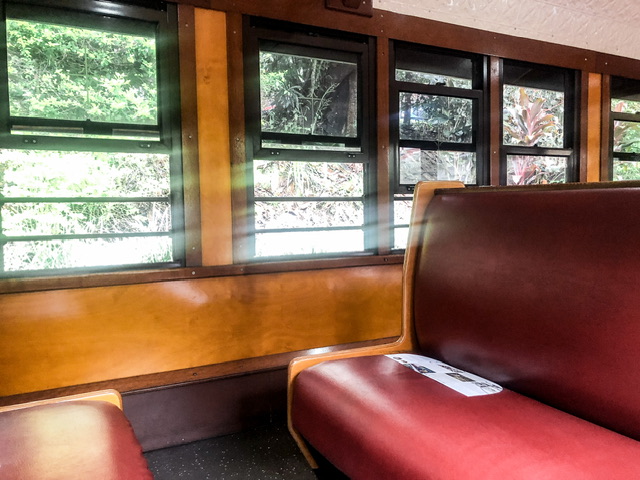 The Great Barrier Reef
Visiting the Great Barrier Reef is one of the imperative things to do in Far North Queensland. I chose to book with Passions of Paradise as they were an eco-certified operator. They're a zero-carbon company who make efforts to rejuvenate the reef. They don't sell anything in plastic on board – drinks are in recyclable glass or aluminum only.
Passions of Paradise picked me up from my motel and morning tea was being served when we boarded the catamaran at 8am. I had such a busy day onboard that I neglected to take any meaningful photos!
The Great Barrier Reef is the largest reef in the world at around 2300 kilometers long. It took around two hours for us to get to the reef, during which time there was a humorous safety briefing, numerous head counts, and information provided to groups snorkeling and diving.
We stopped at two sites to snorkel or dive, Hastings Reef and Stepping Stones, which was shallow and therefore great for snorkeling. Coral reefs cover less than 1% of the sea floor but they support 25% of the world's marine species so there were plenty of different fish, coral and sea life including brain coral, blue stag horn coral, parrot fish, pineapple sea cucumber, anemone fish and surgeon fish. Between sites a hearty and delicious lunch was served for us to help ourselves to and the bar opened in the afternoon.
Short wetsuits and snorkel equipment were provided as well diving equipment if you booked a scuba dive. The first site was quite choppy due to rainstorm passing through but all levels of swimming ability are accommodated safely. My lower legs were stung by something at the first snorkelling site which was enough to drive me back to the boat however staff member was on hand pouring a vinegar solution on affected people and I was grateful it wasn't my face or neck.
With reefs being in danger and mass bleaching events becoming are more frequent due to global warming, I was surprised that reef friendly sunscreen wasn't insisted upon as it is in parts of Pacific I've visited. I would encourage people to take a warm layer – between the first and locations it was cold sitting in wet togs in the air-conditioned cabin.
Fitzroy Island
I'd initially looked at spending a couple of days on Fitzroy Island and staying at the Fitzroy Island Resort but it was booked out for the nights I was looking at. For me a day turned out to be enough as I managed to swim, snorkel and walk the longer trails as well as having some time to just sit and relax.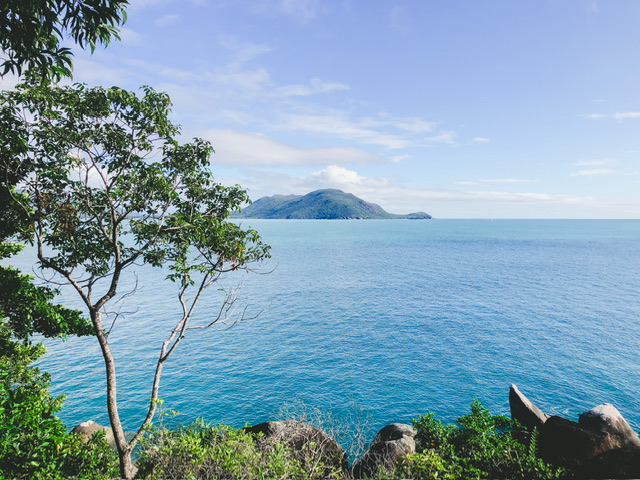 I booked my return transfers to Fitzroy Island with Fitzroy Island Adventures through Get Your Guide. They have various packages with add-ons such as snorkel equipment, snorkel tours, lunches, and glass-bottom boat tours. You can also hire snorkeling gear from the dive shop on the island which I'd recommend if you're planning to walk the longer trains – you certainly wouldn't want to be lugging snorkel gear around with you.
The island is full of scenic natural beauty, amazing snorkelling and tropical beaches. I started my day on Fitzroy Island with the 600 metre walk to Nudey beach, a small stretch of sand which has previously been named Australia's best beach. While paved out of bitumen the moderate-graded track to Nudey Beach was more gnarly than expected with steep, uneven steps formed out of large rocks. I raced the rest of the day-trippers and got the beautiful beach and swing to myself for a bit.
I had a vege burger for lunch at Foxy's Bar before setting off on the walk up to the lighthouse. Returning to the main path on my descent I decided to press on upwards to the summit as it was only 500 metres away. It was tough, difficult, hot and exposed but well worth the climb. There is no water away from the resort areas so be sure to take plenty!
I had time for one last swim before boarding my 4pm boat back to Cairns.
The Atherton Tablelands Waterfalls
The Atherton Tablelands region is known for it's lush landscapes and picturesque waterfalls. I took a Waterfalls tour with Cairns Adventure Group inland from Cairns into the Atherton Tablelands. Our guide Stu was an enthusiastic kiwi from Raglan leading our group of 35 people and we stopped at five main points of interest.
1. Bambina Boulders
We were straight in the water at the swimming area at Bambina Boulders where two river currents meet mixing cool and warm waters. The braver of us jumped off a large rock before taking the short walk to the two falls viewing areas at the Bambina Boulders site.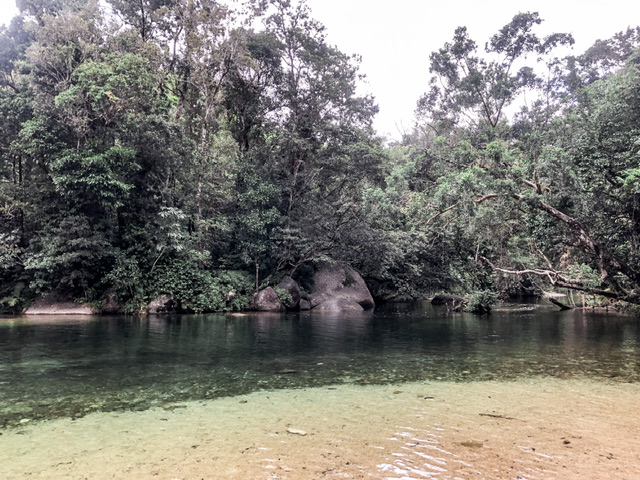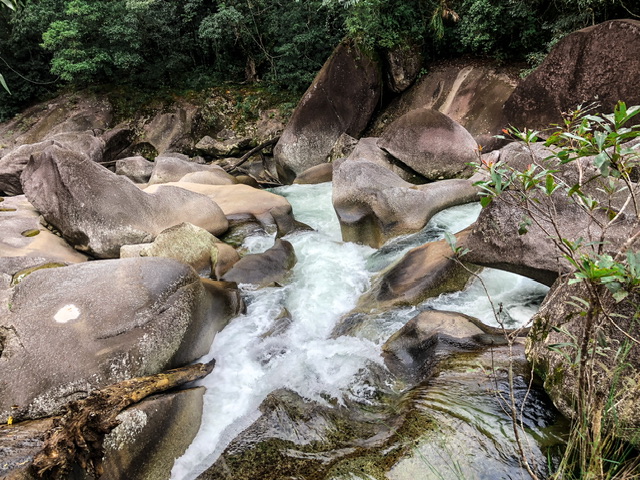 2. Joesphine Falls
Joesphine Falls is a series of Atherton Tablelands waterfalls with a sign with water level markers which act like a traffic light system as to the level caution you should take – red, amber and white. With a dangerous current, the area is monitored 24 hours a day.
We walked through the bush from the carpark to the famous rockslide and a further two viewing platforms further on.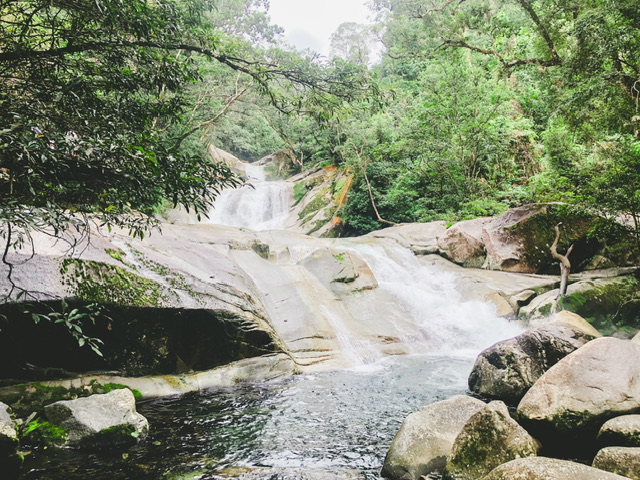 It was white on the alert system so everyone who wanted could swim. With a strong current to swim across the stronger adults of the group were set up strategically to provide clear instructions as to where to go, and to grab anyone at risk of drifting downstream.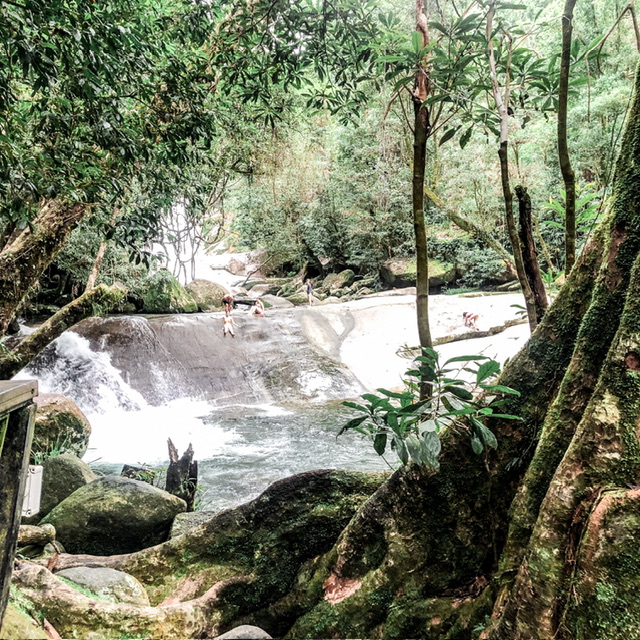 3. Millaa Millaa Falls
Millaa Millaa Falls is your typical waterfall with an 18 metre drop. Here you can swim around behind the waterfall and then through the thundering water which was certainly refreshing. Pool noodles were on offer as buoyancy aids for the less confident swimmers.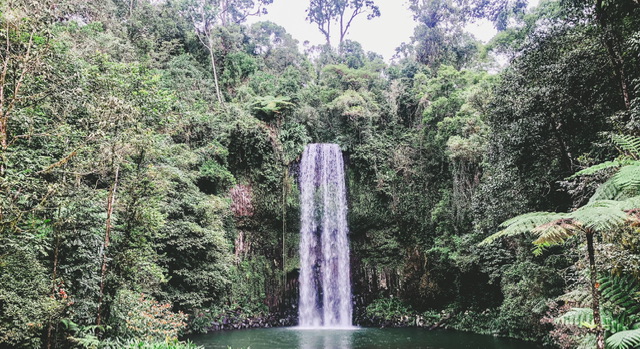 4. Giant Curtain Fig Tree
It wasn't all waterfalls in the Atherton Tablelands, we also stopped to see a giant curtain fig tree which is almost 50 metres high and estimated to be over 500 years old. The formation of curtain fig trees is amazing – at some point in time a bird dropped a seed high in the canopy of an existing tree. As the fig tree formed on top of the tree it's now 15 metre vertical roots grew down towards the ground, thickened and become interwoven in a curtain formation. Over hundreds of years it slowly strangled and killed the host tree until it rotted away leaving the fig tree standing alone.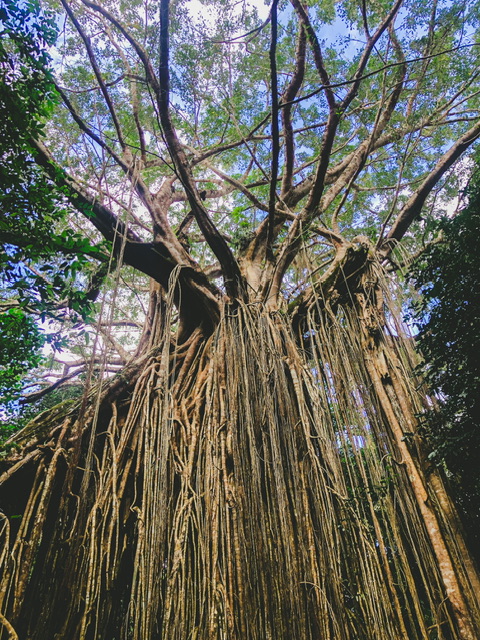 5. Lake Eacham
The 65 metre deep Lake Eacham is formed in a volcano crater, with a solitary fresh water crocodile making the lake their home to control the fish population. We were assured it wouldn't cause us harm unless we perhaps stepped on it – impossible in such a deep lake.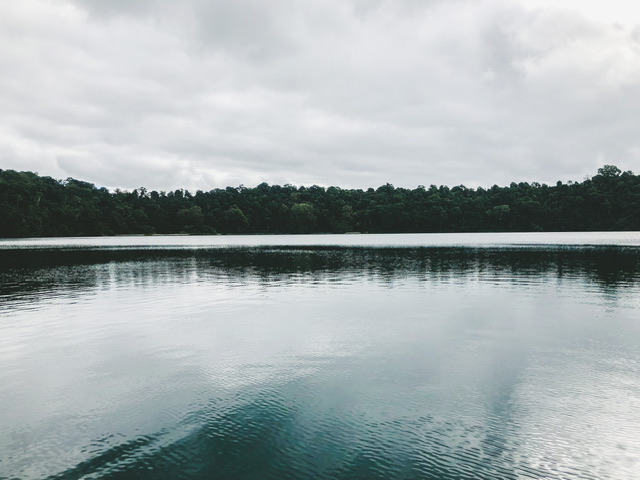 We also saw turtles in the water. This was our final and warmest swim of the day before driving back to Cairns.
There are heaps of different things to do in Far North Queensland and I was able to find a lovely balance of adventure activities and opportunities to relax and take a break. Be sure to read how I spent the Port Douglas portion of my trip to Far North Queensland too!