Cruise ship Majestic Princess is a floating city with a population of 4000 passengers and 1370 crew as she cruises around New Zealand during the Southern Hemisphere Summer months.
A massive cruise ship and close to 5500 people produce plenty of waste, and as New Zealand's popularity as a cruise destination skyrockets the cruise industry is making tremendous efforts to improve cruise ship sustainability, and to ensure no foreign pests or diseases cross international borders.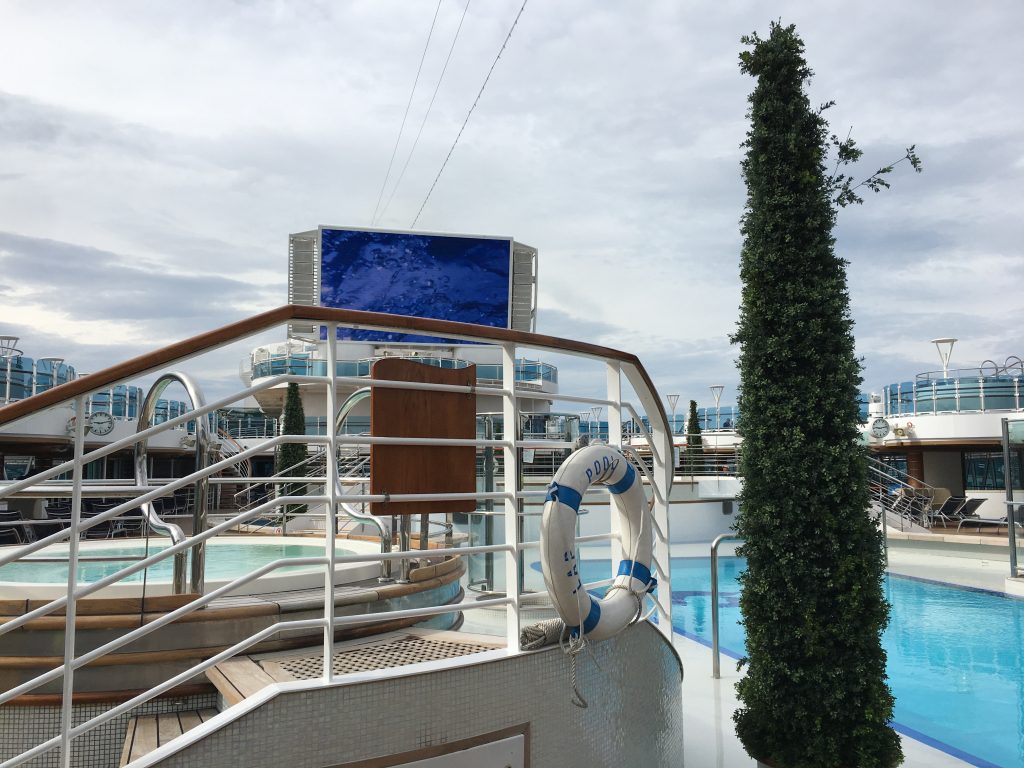 Cruise ship waste disposal
Majestic Princess is one of 108 ships owned by Carnival Corporation, a company which is always looking to improve their environmental management.
Carnival Corporation is working to be free of single use plastic on board by the end of 2021 and currently ¾ of packing is recycled. On Majestic Princess a cubic metre of crushed glass is accumulated each day, and cans are crushed ready to be recycled and back on a shelf within 10 weeks.
With Wellington's recycling facilities being limited the waste the Majestic Princess was offloading when I visited consisted of cooking oil (7000 Litres of which is recycled into bio-fuels each month) and ash from the on-board incinerator.
Leftover food on cruise ships is ground up and fed through a chute to fish in designated areas and rubbish there is no other way to dispose of (for example shells from seafood) is bagged and offloaded at port – on a 14 day cruise the ship becomes short on space for stored rubbish!
Goods are loaded onto the shop on wooden pallets. These have been treated for bora and carry an International standard stamp but are unable to be recycled in New Zealand so remain on board until the vessel returns to it's home port of Sydney.
Cruise ships and biosecurity
Like most cruise lines Princess Cruises belongs to an accreditation scheme in which fresh produce and other food items on the vessel are vetted to ensure they are free of biosecurity risk should passengers take it off the ship. Fruit is also only served chopped up, to both ensure it is free of pests and discourage passengers from slipping it into their pockets or handbags.
The cruise ship's pest management practices are also kept in check. On deck the chlorinated spa pools are treated with bromine which mosquitoes and other pests will not survive in. This treatment is hyped up during the wee small hours and the water is held for a maximum of 72 hours before it is replaced. The plants on board are also plastic rather than real to dissuade insects from hitching a ride.
Vessels which are part of this accreditation scheme are expected to teach their passengers about New Zealand's strict biosecurity rules before arriving, and the cruise lines are doing a really good job of educating passengers on their responsibilities.
All passengers on board Majestic Princess receive a daily newsletter in their cabin which contains biosecurity information along with things like show times, restaurant hours and details of the port the ship is visiting.
There are posters around the ship and banners along the gangway as well as tent cards in dining areas which instruct passengers not to take any food, honey, plants or wooden souvenirs off the ship. During disembarkation announcements are read out over the public announcements system reminding passengers what they need to leave behind.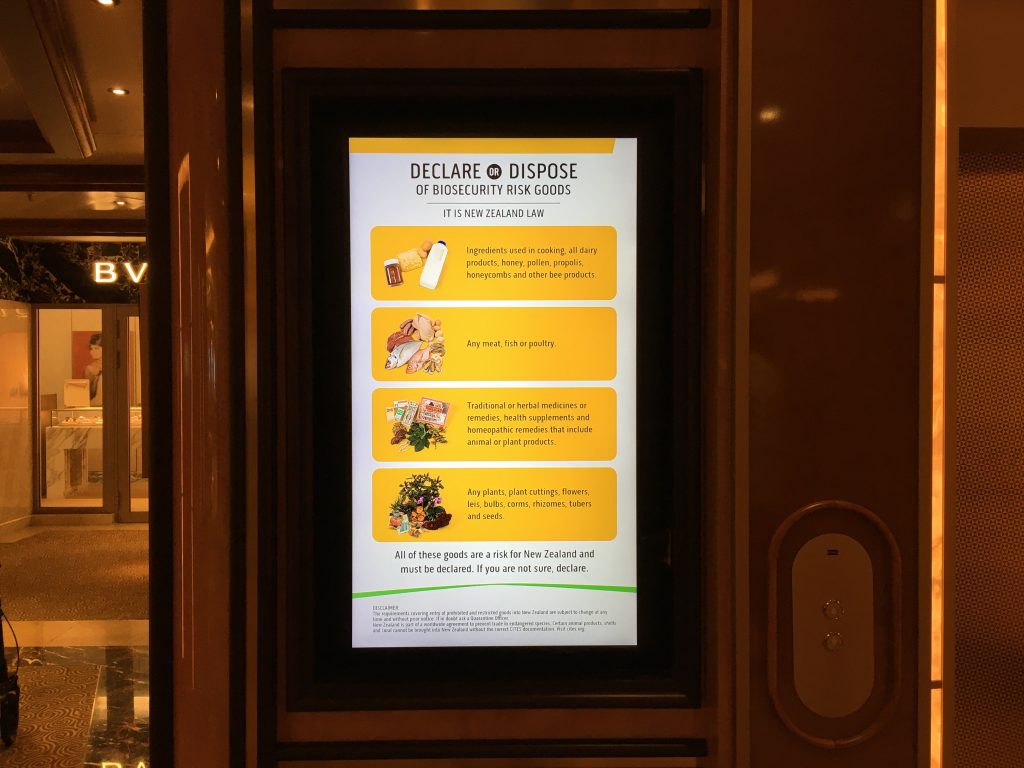 As with International airport arrivals, passengers getting off a vessel permanently at cruise ship terminals may be issued with infringement notices of $400 should they bring ashore foods or other items that could carry dangerous pests or diseases.
Quarantine amnesty bins are placed between the cruise ship and the buses into the city for disposal of anything visitors realise they've mistakenly bought with them.
In protected areas like Milford Sound and the Bay of Islands garbage can't be landed or waste disposed of overboard. Rubbish must also be secured so that animals, birds and insects can't get into it.
It is prohibited for cruise companies to discharge ballast or grey water in internal waters and tender boats which are launched from the cruise ship to take passengers to the shore must be clean and not have any aquatic plants or marine life such as mussels attached to the hull.
Considering the environmental impact of cruise tourism
The Friends of the Earth Cruise Ship Report Card scores the environmental footprint of 16 major cruise lines and 185 cruise ships on aspects such as sewage treatment, air pollution reduction and water quality compliance. In 2019 Disney Cruise Line received the highest overall final grade of A- while more than half of the cruise lines received an F.
These scores prove that if you're after an environmentally friendly holiday a cruise is not it, but the big cruise lines like Princess, Celebrity and Royal Caribbean have information on their websites about how they're reducing their impact on the environment and improve sustainability.
Some things to take into consideration before you book with a cruise line:

Do they use shore power rather than keeping their diesel engines running when in port?
How are they decreasing emissions?
How do they deal with their ballast, bilge and waste water?
How do they prevent water wastage?
What fuels are they using?
You can also help reduce the environmental impact of cruise tourism through your own efforts:
Take your own reusable drink bottle. You can fill these up around the ship (taking into account hygiene regulations) and take them with you when you disembark for the day to save buying bottled water.
Turn the lights and TV off when you leave the room. Shut the air-conditioning off if you have the balcony door open.
Conserve water and take short showers.
Take your own shampoo, conditioner and soap bars rather than using small plastic toiletries which are then thrown away.