The Naumi Studio Wellington hotel is located on Cuba Street and opened in April 2021 following extensive renovations of the hotel previously on the site. This centrally located and highly instagramable 116 room hotel is filled with eclectic patterns and colours and housed in a heritage building.
The story of Lady Naumi, the hotel's original custodian who fell in love with a sailor is told around the building with decor apparently taking inspiration from seafaring, romanticism and the literary world.
You won't need a car if you stay here as the hotel is right on Cuba Street in the thick of Wellington's restaurants and entertainment. If you do have a car with you though overnight parking is available for $30 per night.
My room at Naumi Studio Wellington
Naumi Studio Wellington offers six different room types, each of which have free high-speed Wi-Fi, smart TVs with Netflix, tea and coffee making facilities and a mini-fridge. The windows in all the rooms are double glazed and the the impressive executive suite even has a private bar area.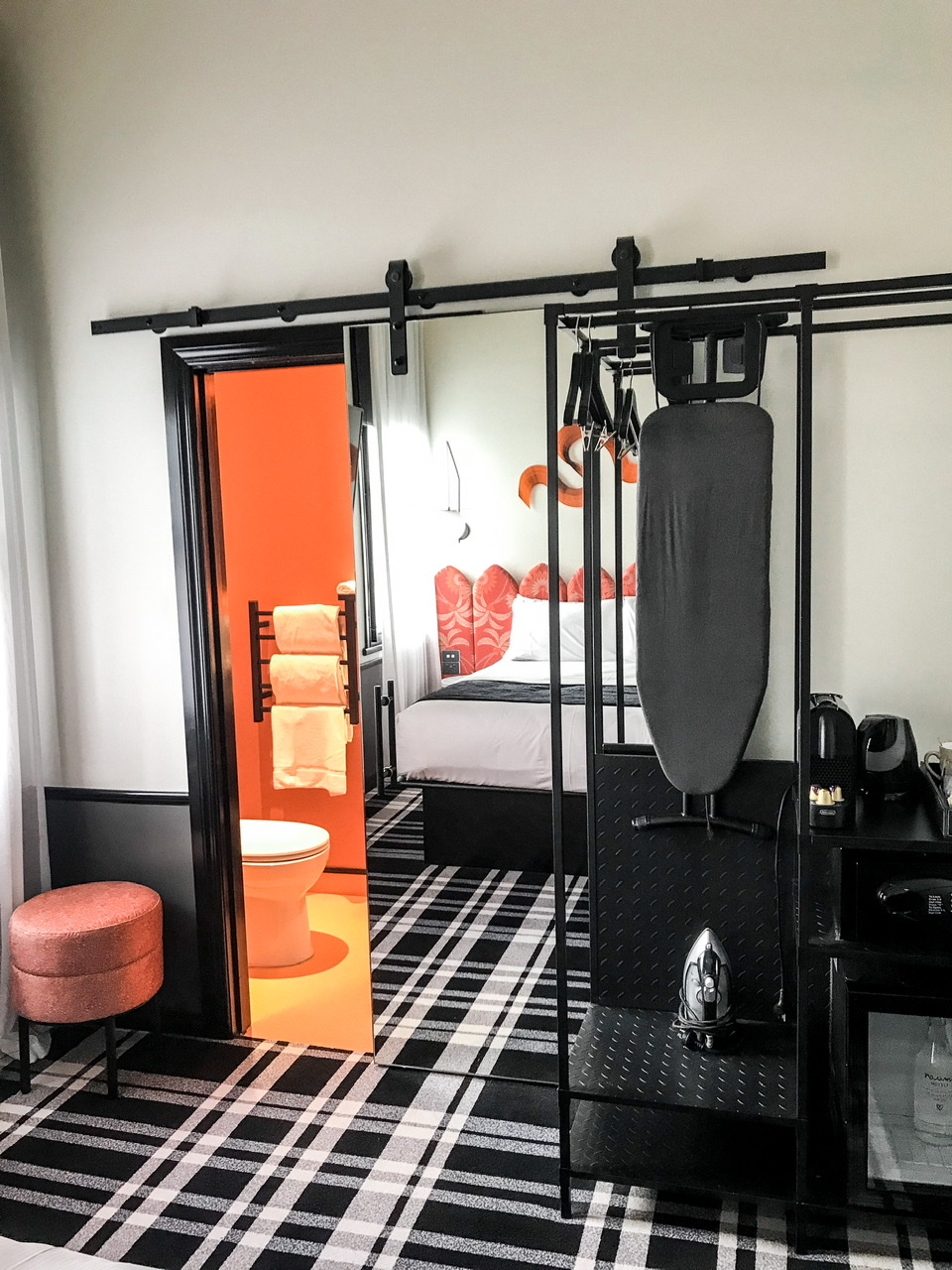 While our Zing Queen didn't have much room around the bed it was a work of art and had orange and red highlights. Given the size of the room the bathroom was of a quite reasonable size and the shower was excellent. The walls though were paper thin and I was grateful to not be on the Cuba Street side of the building.
The iron and ironing board came in handy before we headed out for dinner on Cuba Street, as did the ceiling fan when the room got a tad stuffy in the late Spring evening. The bed was super comfy and there USB electronics sockets either side. The bathroom toiletries were luscious and we were able to stash champagne and cheese in the mini-fridge.
Lola Rouge restaurant and bar
As well as being one of the best places to go for high tea in Wellington, the stunning Lola Rouge on the ground floor of Naumi Studio Wellington serves modern Asian-fusion cuisine.
The hotel bar behind the lobby has several different vibey places to sit and sip your curated cocktail and nibble on small plates depending on your mood and the time of day – a lounge, bar area and pastel green parlour.
Breakfast was included in the special room package we purchased. There was a choice of four breakfast options from an à la carte menu with barista coffee as well as three cute beverages in a tray to get us started – orange juice, a smoothy, and something resembling a well chopped fruit salad in a glass.
Why you should stay at a Naumi hotel
Not only is the Naumi Studio Hotel a feast for the eyes and Instagram, but each Naumi hotel is unique to the city it is in and showcases local artists and designers.
You can also feel good in choosing to spend your money to stay here as an (undisclosed) percentage of hotel profits goes to partner charities working to help fight food insecurity.
Check out this Instagram Reel of my visit.