Ever wondered how cruise ships cooking for thousands of guests, multiple times each day, as well as the ship's crew manage? Late last year I jumped at the opportunity to go behind the scenes and see what goes on inside a cruise ship galley (kitchen) on board Royal Caribbean's Explorer of the Seas.
In November this ship was travelling routes around the South Pacific from it's home port of Sydney. Products from Australia and New Zealand were loaded onto the ship throughout the day of the cruise's departure from Sydney – each and every single item thoroughly considered and labelled with date of it's arrival and when it needed to be discarded by.
Cruise ship food supply orders have to be placed two months in advance as very little can be picked up in these islands. My friends and I were however intrigued when the ship had run out of blueberries to put in pancakes one morning at breakfast, only for there to be a fresh supply the next morning following our stop in Lifou.  Crew members must have been sent out to source them locally.
What happens after you order in the dining room on a cruise ship
Waiters on Royal Caribbean cruise ships use a computer to enter orders which are sent to the kitchen. They only go into the kitchen of a ship in the case of an emergency or change in order. There is one way into the kitchen and one way out to prevent collisions and maintain order.
Details from similar cruises the year prior are used by the kitchen to guesstimate how much to prepare in advance for each meal service as demand will depend on the season, type of passengers and route.
The crew mess does get some of the leftovers when too much is prepared, and efforts as part of Royal Caribbean's Save the Waves  philosophy mean that as well as rubbish being separated into recyclables, leftover food is ground down and fed to fish in designated areas.
Pictures of what each meal on the nights menu looks like are displayed so staff don't take the wrong thing. There is so much process: you can't just pick up a plate off a bench as in restaurant's I've worked in. When each plate leaves the kitchen a corresponding ticket is scanned.
Comments from the guests, for example 'Table 5 didn't like the steak', are recorded and passed back to the chef.
Inside a cruise ship kitchen
There are two main rules in the ship's galley:
Safety first
Wash your hands all the time
Scarves determine the rank of staff: yellow scarves are 'Minions' or new hires, blue scarves are worn by regular kitchen staff who are on their second or subsequent contract and red scarves are worn by the head chef for each station (Chef de Parti). Sous Chefs who hold the highest rank do not wear a scarf.
On this cruise there was one Executive Chef and five Sous Chefs working in the galley each session.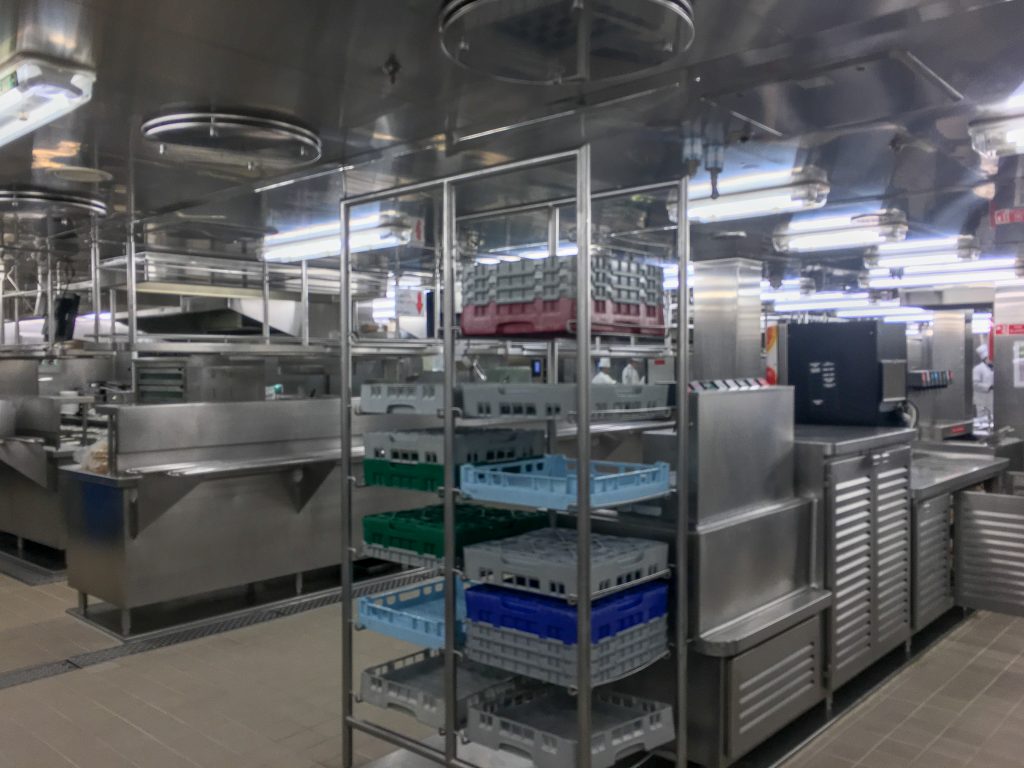 Food storage and safety on a cruise ship
At the bottom of the cruise ship is a massive provisions storage area with various storerooms set to various temperatures. There is a separate elevator for food and beverage transfer from this area and only certain staff have access.
In the galley a time fridge is totally emptied and unused food discarded for food safety every four hours (there were two on our ship). There is also a temperature fridge where food may be stored up to 7 days such as fruit, mayonnaise, jelly etc.
As food is stored, prepared and cooked in different part of the kitchen to prevent cross-contamination, the massive kitchen on board Explorer of the Seas which was split over two levels included a lot of separate sections including one for appetisers, one for cold cuts and salads and a hot galley.
Room Service also has it's own galley which operates 24 hours. There are substations to pick up parts of an order and arrange these on trays.
But my personal favourite part of the kitchen was a 24 hour bakery uses an astounding 1000 pounds of flour every 24-hours. All bread is made from scratch and they also make some of the pasta on board.
Bottomless Galley Brunches are offered to passengers on certain Royal Caribbean cruises at a charge. They take you into the kitchen, provide a heap of information, allow you to ask all the question you want AND provide brunch with mimosas and sparkling wine afterwards!