In July 2020 I'll be taking my fourth Royal Caribbean Cruise, travelling to Alaska from Seattle on board Ovation of the Seas.
Overwhelmed by the number of cruise excursions in Alaska on offer, I asked some expert travellers what the best Alaska cruise excursions they did were. I've broken them down by cruise port so you can quickly skip to find the destination you're looking for.
No matter the type of adventure you're seeking, these are the best Alaska excursions to take according to travel bloggers I trust.
Cruise Excursions from Juneau
Whales and Mendenhall Glacier Photo Safari
Recommended by Rosalind from Frequent Traveller.
Our 14 day North Pacific crossing on Holland America line's Westerdam was a dream come true. We had long wanted to visit Alaska and Japan and now we had the chance to tick these two destinations off our bucket list.
The highlight of our cruise was our Whales and Mendenhall Glacier Photo Safari Tour which we booked through the ship. We chose this tour because it had a smaller group size which we felt gave us a better opportunity to see the whales.
We arrived in Juneau on a cold wet day. Far from being gloomy, we were captivated by the deep green forest, mist shrouded mountains and waterfalls that frame this picturesque frontier city.
Setting out on our boat we had and enjoyable morning learning about the whales, their habits and personalities, the details of their long migrations and the conservation efforts being made to protect these majestic mammals. Our onboard naturalist also pointed out other wildlife including bald eagles and sea lions.
From a safe distance we got to see a total of six whales. Each sighting was heralded by a spout of water in the distance. Large windows were opened to give us a perfect view of the whales. Though we missed many great photos because we weren't quick enough, it didn't matter because the experience will forever be etched in our memory.
After our sightseeing cruise we headed to the Mendenhall Glacier. Hiking the trail, we saw more wildlife and learnt about this diverse ecosystem. As we walked through this cathedral of green, we traced the path of the shrinking glacier which has been receding at an alarming rate since 1929.
The first sight of Mendenhall Glacier was breathtaking and well worth the hike in the rainy weather. A fabulous shore excursion and one I would highly recommend.
Mendenhall Canoe Paddle and Glacier Trek
Recommended by Taima from Poor in a Private Plane.
If you find yourself docking in Juneau then visiting the Mendenhall Glacier is a must. While there are many excursions to choose from and even some DIY options if you're looking for a once in a lifetime experience then I highly recommend the Glacier Canoe Paddle and Trek which is offered by Above and Beyond Alaksa.
The tour starts at the cruise dock where your guides will pick you up and take you to the warehouse where you will be fitted with water proof gear.
Once you are fitted you are ready to go on your adventure. A short drive from the warehouse you will arrive at Mendenhall Lake. Here you pick up your canoe and prepare for your 1 hour long paddle across Mendenhall Lake to the glacier.
The paddle itself is a bit rigorous however being on the lake is absolutely stunning. About midway through the paddle you will pass Nugget Falls where you will get a chance to take a quick break to rest your arms and take a few amazing shots of the scenery around you.
As you turn the corner you will be amazed at the view of the glacier just a short distance away.
Once you make it to the shore and just before trekking on the glacier you will be given a safety brief and suited it up with micro-spikes to help you along the way. You will then spend anywhere from 1-2 hours depending on glacier conditions exploring the glacier. This is the most amazing part. Hiking is great. Trekking a glacier is out of this world. If you are lucky you might even get to visit an ice cave.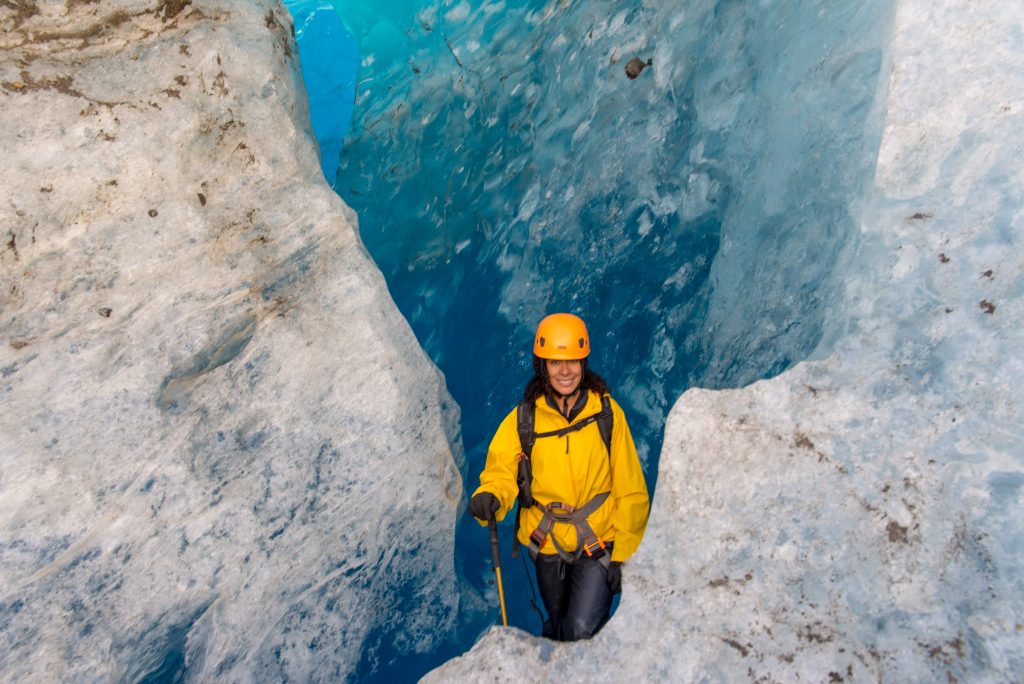 You can book the tour directly with Above and Beyond Alaska (slightly cheaper) or directly through most cruise lines.
This is a day-long tour and is recommended for those that are physically fit so make sure that you are able to paddle for an hour and hike for a couple of hours before committing to this tour.
Alaska Cruise Excursions from Skagway
Upper Dewy Lake
Recommended by Millie.
Our first cruise was with Holland America onboard Nieuw Amsterdam. It was a 7 day cruise, complete with gorgeous views of glaciers and stunning Alaskan scenery. One of my favourite excursions was in Skagway. While others opted for the beautiful train ride to the Yukon, we decided to stay in Skagway and discover Alaska's natural trails. We hiked the Upper Dewey Lake trail that led to stunning views of the lake bordered by snowy mountains.
After disembarking on Skagway, we made our way to the visitors' center. They gave us details on the trail conditions, and most importantly the location of the trailhead. Lucky for us the port was close to the trailhead. We followed 2nd Avenue towards the train tracks and from there the trail was clearly marked.
The hike is a challenging 8km round trip. The main challenge is trekking 900 m uphill in 4 km. The first stop is Lower Dewy Lake. It is possible to hike around the perimeter of Lower Dewy Lake if one prefers a more relaxing stroll. But we continued uphill on the dirt trail.
The path also had areas with boardwalks and wooden stairs. As we neared the lake, snow started to make an appearance on the trail. Finally we were standing in front of an icy lake, with mountains towering over us. On the opposite side, we could see the water with more mountains in the distance. It was a stunning site and a great reward for all our effort.
If you prefer a more active excursion in Skagway, the Upper Dewey Lake is a great option. It's a great way to get up close and personal with the Alaskan wilderness. Although the city is just below the hill, it gives you the serene feeling of being immersed in nature.
Skagway Sled Dogs
Recommended by Samantha from Have Seat Will Travel.
On our 7 day cruise to Alaska one of our ports was Skagway, Alaska. Just outside of the small, adorable town is a sled dog musher's camp. I was cruising on the Norwegian Jewel and spotted this tour as one of their featured shore excursions. However, I booked this excursion through Skagway Shore Tours instead as it was significantly less expensive than booking it through the cruise line.
Our tour guide was waiting for us with a shuttle bus to take 20 of us up to the camp. We stopped along the way at a gorgeous look out point to take pictures. When we arrived at the base camp we transferred into a more rugged vehicle that took us up into the mountains where the teams of Alaskan huskies and mushers were waiting for us.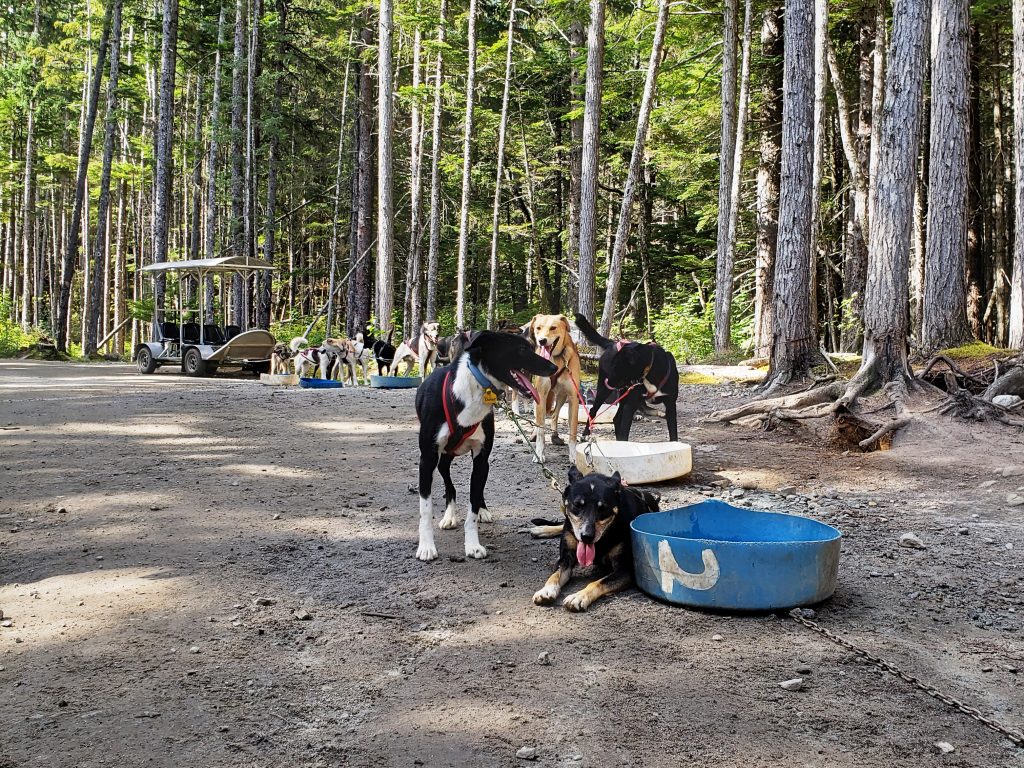 Each sled dog team has 16 dogs and they were excited to run the moment we arrived. They put six people into a metal cart while the musher stands at the back. One command from the musher and we were off on a trail into the woods! After our ride we were taken back down to base camp where we got to play with puppies who were 3 weeks old and 3 months old. This is real working sled dog camp where their teams have run many races including the Iditarod. This place is run by a group of people that truly love what they do and it was amazing to be a part of it!
White Pass Summit Excursion – Skagway train ride
Recommended by Zach and Julie from Ruhls of the Road.
The White Pass Summit Excursion in Skagway is one of the most unique and incredible cruise ship excursions you can do! The destination, ride itself, and the tour guides make this a trip unlike any you can experience at any cruise destination in the world!
The White Pass Summit Excursion is a train ride on an old-fashioned steam engine that will take you from Skagway unto the Yukon territory in Canada! The train chugs up a mountain until you come through a pass and emerge in the Canadian wilderness in an alpine valley. The destination is truly remarkable, and is very different from any other sights you'll see along your cruise.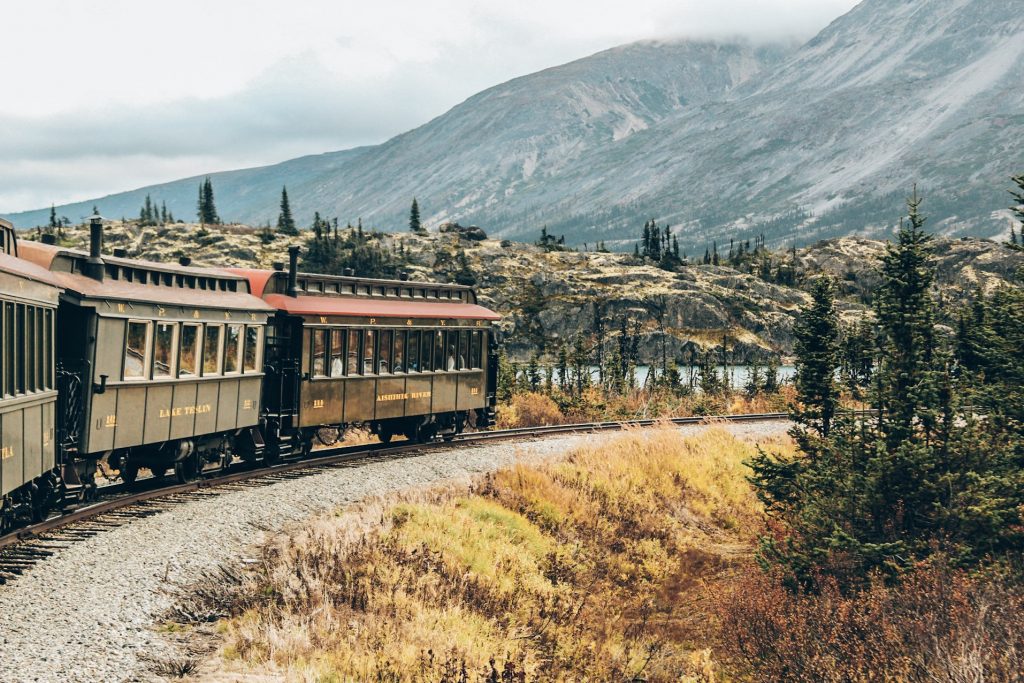 The ride itself on the White Pass steam engine is half of the fun! The train takes you on high bridges and through mountain tunnels, always giving a beautiful view of the Alaskan and Canadian wilderness. If you are lucky, you may even spot some wildlife on the adventure!
On the trip, you'll also have a tour guide that gives you both an explanation of the sights and a history lesson along the way! You'll learn about the Alaskan gold rush, early settlers, and the origination of the White Pass Yukon Route. We thought this was the most underrated part of the adventure. The awesome sites, journey along the rails, and the history lesson along the way made this an unforgettable trip, one of the best excursions you can do on an Alaskan cruise!
Glacier Bay National Park
Recommended by Bret and Mary of Blue Ridge Mountains Travel Guide.
Taking a small ship cruise of Alaska's Inside Passage had been on my bucket list ever since I first visited the state (and took a half-day cruise in Kenai Fjords National Park) back in 1999. Twenty years later, to celebrate my daughter's high school graduation, we finally made the dream come true, and the result was truly the adventure of a lifetime.
We booked our trip through AdventureSmith Explorations, a small ship cruise specialist that offers 25 Alaska cruises from numerous different cruise companies. We chose them because they also offer a range of land-based outdoor adventures and had some excellent early season deals on Alaska cruises. We were torn between two cruise companies– international tour operator UnCruise Adventures and the locally-owned Alaskan Dream Cruises– each of which had several Alaska cruise routes that worked with our window of availability.
Ultimately, Alaskan Dream Cruises' 8-day Last Frontier Adventure was the itinerary we selected. It offered an active schedule that included lots of hiking and kayaking, had indigenous Tlingit people as the expedition leader and cultural interpreters, and several intriguing shore excursions that were not available from any other cruise line.
We didn't want to spend our whole trip in Glacier Bay, but we were delighted to spend two days exploring the 65-mile fjord. It was especially cool having a national park ranger narrating this part of the cruise, as well as a native Huna Tlingit naturalist who told us all about the tribe's history in the area. Along the way we saw lots of wildlife (including Mountain Goats, Puffins, Sea Otters, and more) and watching the jaw-dropping calving displays at the famous Margerie Glacier (one of eight in the park).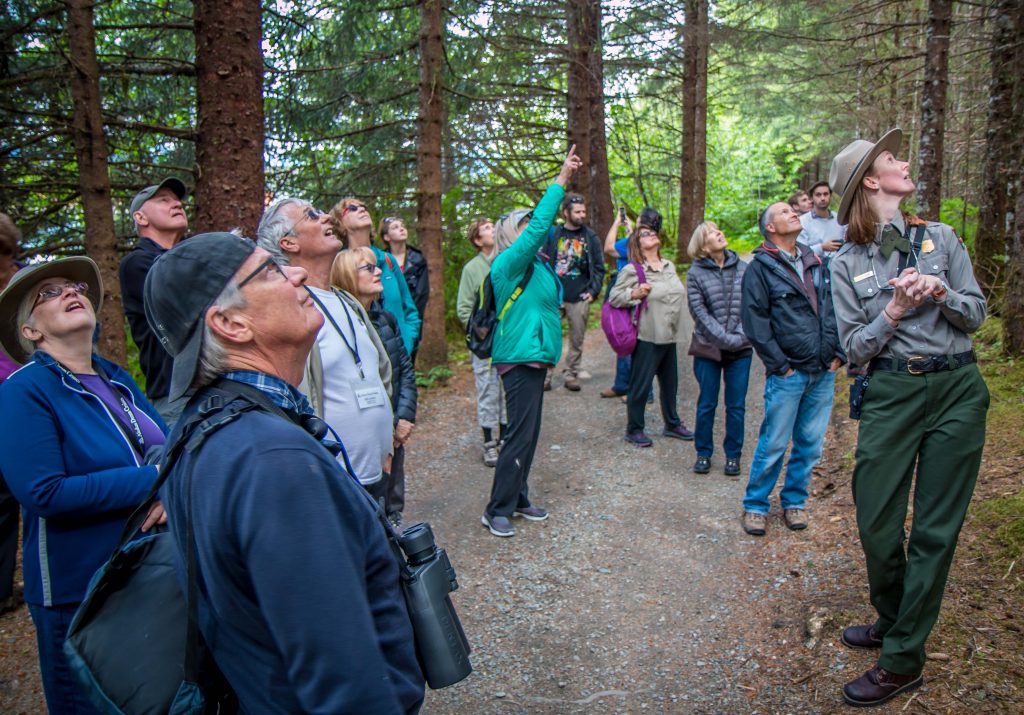 The best part for me, as someone who loves traditional indigenous cultures, was our all-day excursion at Glacier Bay National Park headquarters. We did an interpretive hike through the forest in Bartlett Cove to a remarkably ornate Tlingit tribal house. There, two native interpreters gave us an excellent overview of Tlingit history and culture as we marveled at the stunningly intricate artwork all around us. It was an extraordinary day in an undeniably extraordinary place we would highly recommend to anyone who plans to visit Alaska.
Tours from Anchorage (Whittier)
Denali National Park
Recommended by Mike from Live, Travel, Teach.
Denali National Park is half the reason you came to Alaska and clearly on your list for a shore excursion while cruising through this beautiful state. The park contains some of the best backcountry in the world with wildlife sightings just about guaranteed.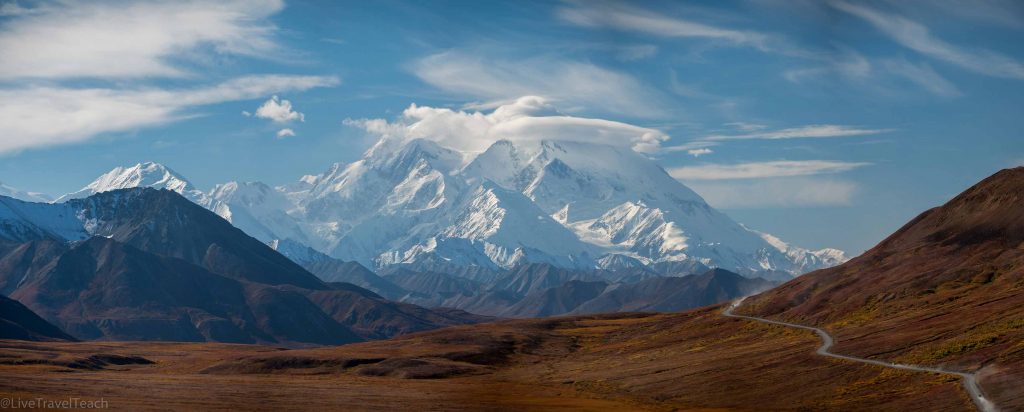 I took this tour almost twenty years ago when I visited Alaska for the first time on the Carnival Cruise line and have since moved to Alaska and returned to this magical park numerous times.
Whichever cruise line you're on they are almost certain to offer a train or bus trip up north to Denali where you'll swap over to a green national park bus and explore the Denali Park road. From here you have to pick between a short or long day in the park.
Normally I always say go for the long tour but with this one I'm going to recommend looking at the weather forecast first. Both the long and short tours will give you stunning views and the chance to see moose, caribou, black bear, grizzly bears, ptarmigan, ground marmots, eagles and more. The advantage of the long tour is that it will go all the way to Eielson Visitor Center with a view of the great one, Denali Mountain! The only problem is that mountain weather can obstruct your views so if its a particularly cloudy or rainy day than the short tour is worth it.
For now our group has booked to go whale watching in Juneau and to take the white pass railroad in Skagway! Have we missed any of the best cruise shore excursions in Alaska?
Enjoyed this post? Share it or pin for later.