It's dinner time on board Carnival Splendor as she approaches the entrance to Sydney Harbour, two days early, passing a cruise ship heading in the opposite direction
"Where's that cruise ship going?" a young girl asks her parents.
"It's going to float around at sea for the next 30 days" her mother responds.
"Why?" asks the girl.
"There's a bug going around."
My Carnival Splendor South Pacific Cruise from Sydney
I was excited to go on a South Pacific Cruise in March on Carnival Splendor. I'd done a previous South Pacific cruise on Royal Caribbean's Explorer of the Seas but was excited about this one as it included visiting Mare in the Loyalty Islands Group (having visited Lifou on my previous trip) as well as returning to Isle of Pines and Noumea.
In February, with the beginnings of the pandemic outbreak in Asia, Tribal Chiefs closed the ports of Mare, Lifou and Isle of Pines. These small islands have no medical facilities, leaving the communities vulnerable – a coronavirus outbreak here would decimate them.
A new itinerary was less "announced", more subtly updated by the cruise line after weeks of silence and conflicting messages given to others I found in a Facebook Group of people taking this cruise.
Three ports had become two and an additional sea day was added as well as an additional $150 onboard credit per person as compensation. Noumea remained on the schedule, but instead of Mare and Isle of Pines it looked as though I'd be revisiting Mystery Island in Vanuatu which is owned by the cruise lines and employees are shipped to for the day from the nearby main island.
When you purchase a cruise you agree to terms which say cruise itineraries are not guaranteed: weather, mechanical difficulties, civil unrest and other unforeseen circumstances can lead to changes in cruise itineraries.
Some insurance policies allow for a small amount of compensation per person on the policy, per port missed. Missed ports and curtailed cruises due to pandemics however tend to be excluded.
I took my mum on the cruise with me and while the swells had been a bit rocky, it was, figuratively, smooth sailing until late on our second day at sea.
Friday 13 March 2020 – Tropical Cyclone Gretel
The night before we were due in Noumea, there was a "very important announcement" from our Captain that due to Tropical Cyclone Gretel bearing down on the area, it would be unsafe for us to visit Mystery Island. Instead we'd head back towards Sydney from Noumea and have an additional "fun day at sea".
Mum and I were watching a comedian called Jacques Barrett whose skit was failing to impress me, with lines about buying caged eggs, when his microphone was cut for the announcement from the bridge.
The fact that we'd instead have another "fun day at sea" drew groans from the crowd, but Jaques assured us he'd go and have a chat to the Captain, as not only were we most unhappy with the news, the Captain had made Jacques' job that much harder.
Amusingly. his microphone was then cut again as Chloe, our Cruise Director repeated the sentiments of our Italian Captain.
Saturday 14 March 2020
Neither the news nor the weather dampened our day out in Noumea, during which we took the Tchou Tchou train excursion to see bays and marinas while learning about the history and culture of Noumea.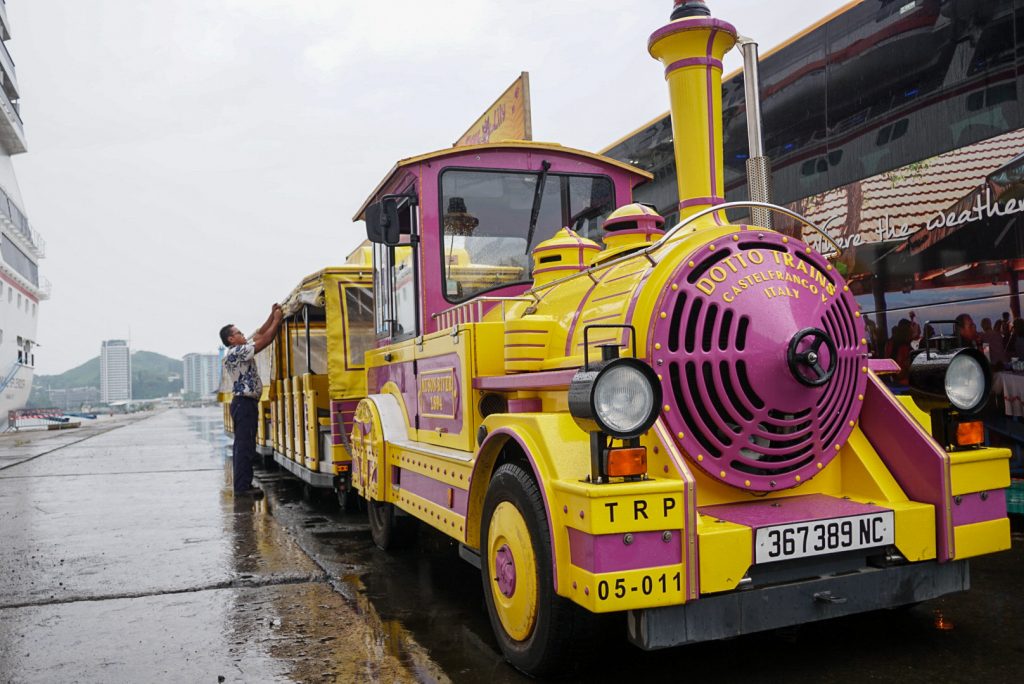 But as we sat with our cocktails as Carnival Splendor departed from Noumea, it became clear the cyclone was not the only concern – this cruise would be Carnival Splendor's last for months
Cruise lines globally were being put on hold (Carnival's own cessation being announced via a tweet from Donald Trump, rather than the company itself), and ships would soon be forbidden by the New Zealand and Australian governments from docking on their shores.
At the time the Australian Government made their announcement, 37 cruise ships were in water near Australia. Within a week 50,000 passengers, like me would be rushed off.
As we pondered our missed ports and the self-isolation which would come into effect once we returned home, we thought of people like Ake, our Housekeeper from Indonesia, Georgio, our Waiter from Bulgaria, and Kimbo, a member of the Fun Squad from the United Kingdom, who all remained friendly, professional and enthusiastic despite the future of their jobs and careers being unknown.
What would happen to them? Could they remain on the ship? Would they have to pay to do so? Would they have to return home? Many were sending their money back to their families and could not afford a return flight home.
Monday 16 March 2020
Another "very important announcement" from the Captain (we'd learnt quickly these meant bad news). At this time the Australian government had requested that Carnival Splendor return to Sydney as quickly as possible, which meant we'd be arriving at 8pm the following day.
Fortunately for us, Australian-flagged vessels and ships which were bound for Australia having left their last overseas port, were exempt from the ban, and reading in the media of other cruise ships not being allowed to let passengers off anywhere, we were grateful to be heading home faster.
We were also lucky that Carnival did some great things to assist passengers at this time, including making the internet package and phone calls free so that people could make accommodation bookings and change flights and transport.
With non-refundable onboard credit needing to be used faster than anticipated, chaos ensued as the Alchemy cocktail bar and Red Frog pub were suddenly full of people drinking. Cloud 9 Day Spa and the boutiques on board were also busy as people rushed to treat themselves and purchase gifts and souvenirs.
Tuesday 17 March 2020
We sailed into Sydney in the evening past many ghost cruise ships stacking up in Sydney Harbour. After a chaotic disembarkation process where we handed over arrival cards which were not even glanced at, by late Tuesday Mum and I were off the ship and hiding out in a Sydney hotel room, waiting for our Wednesday flight home to the safety of 14 days self-isolation in our respective homes.
As the real restrictions set in with coronavirus in New Zealand, I continually think of the staff on the Carnival Splendor ship, as well as many other ships, who are now stranded at sea as things escalate. As most of the workers are foreigners, they won't be allowed on Australian soil.