It's said that writing down your goals makes you more likely to achieve them. Before returning from my fourth cruise on Royal Caribbean's Explorer of the Seas I wrote down 'live on a cruise ship'.
Travelling with friends Laura and Caitlin the 11 night Pacific cruise itinerary departing from Sydney included five days at sea and five on various islands around New Caledonia and Vanuatu.
Most of our fellow cruisers were Australian retirees and young families. From day one we set out to avoid the groups wearing matching printed shirts and our favourite meal companions were 'future us' – groups of women 40 or so years older who regularly cruise together and had the best stories to share.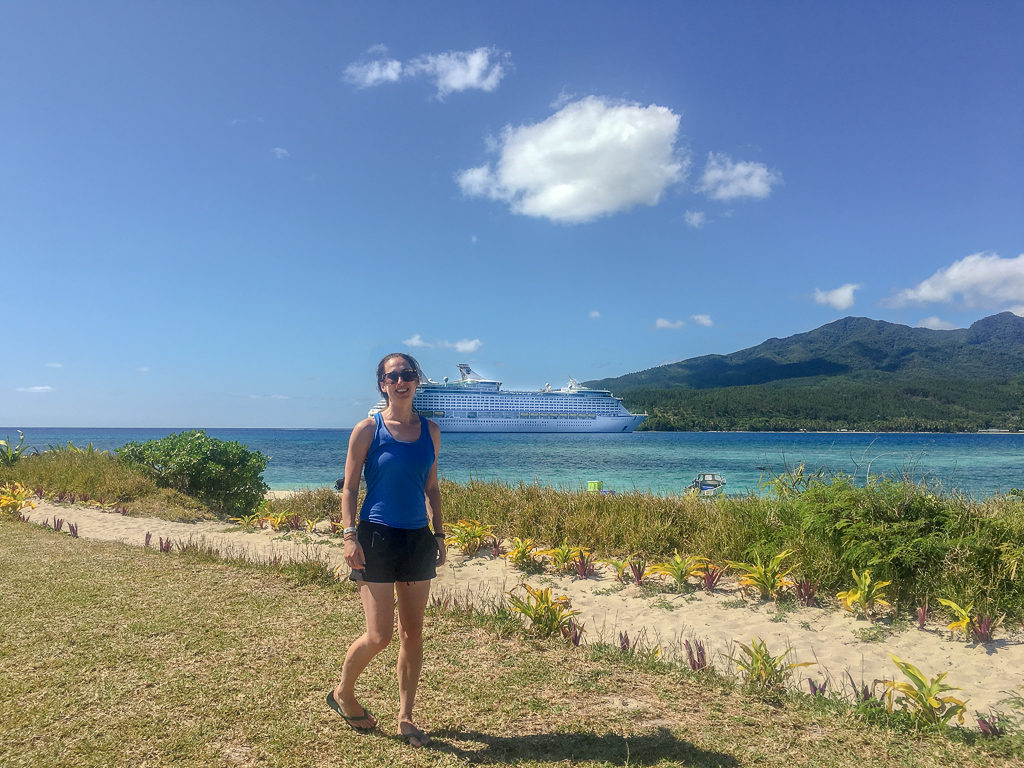 Our stateroom onboard Explorer of the Seas
I'd not realised the luxury of having a balcony stateroom and can't imagine going back to an interior cabin now I've experienced one. The glass sliding door didn't just brighten things up: balconies are handy for sitting outside and enjoying the ever-changing view, drying wet clothing and people watching in port.
My bed came down from the ceiling on our first night and remained down until the end of our cruise. The room also contained a small couch and there wasn't a lot of additional floor space, just enough for one person to have a suitcase open at a time.
Everything was clean, tidy and had a place and the room was quiet.
Entertainment on board Explorer of the Seas
Boogie Boarding on the Flow Rider surf simulator
We boarded Explorer of the Seas early in the day in Sydney so we could discover the best attractions on the ship (beyond the multiple swimming pools, bars and spas) before the crowds did.
I was particularly excited about trying the Flow Rider having seen a surf simulator demonstration on board Ovation of the Seas a couple of years ago. We signed our lives away in exchange for a white wristband and soon after the first, nervous person stepped up and gave it a go a crowd was attracted and a queue quickly formed.
Seperate sessions are held for those who want to boogie board and those wishing to stand-up surf. You have to visibly read the safety instructions and are given a set number of turns. I came away covered in bruises but it was a lot of fun.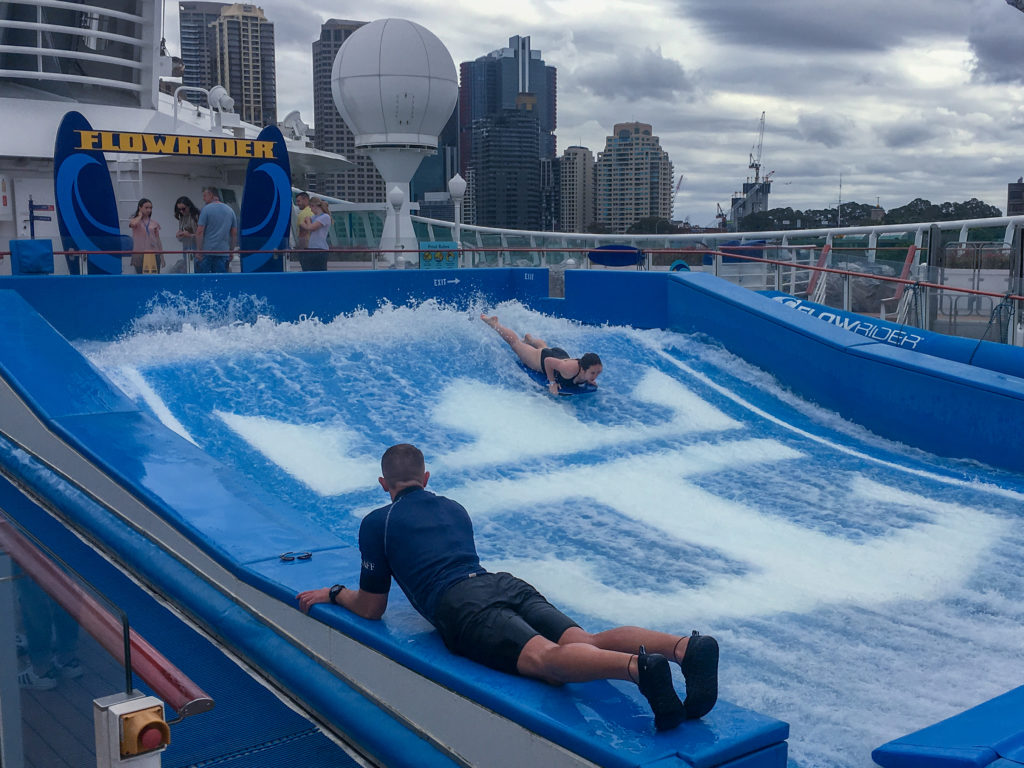 Shows
Shows in the Palace Theatre were a mixture or acts bought in to perform and those featuring the Explorer of the Seas Singers and Dancers.
We saw Rock Rhapsody, a Queen tribute group who were more 'West End' than 'Rock' (my personal preference), a hypnotist (hilarious), an impressionist (wish we'd sat near the exit and been able to leave) multiple singing and dance acts and comedian Kelly Monteith who was far outshone by Graham the Cruise Director who introduced him.
If the shows conflict with something else on your schedule or start after your bedtime they're repeated the following day on a ship tv channel.
Studio B Ice skating rink
On an early day spent at sea we had the chance to enjoy an ice skating performance with a seasons theme. There was a range of music and a cast mostly from the USA and Canada with the odd Scandinavian skater. Three of them fell in the same corner.
Later in the cruise the ice skating rink was opened up for guests to enjoy in 20 minute sessions.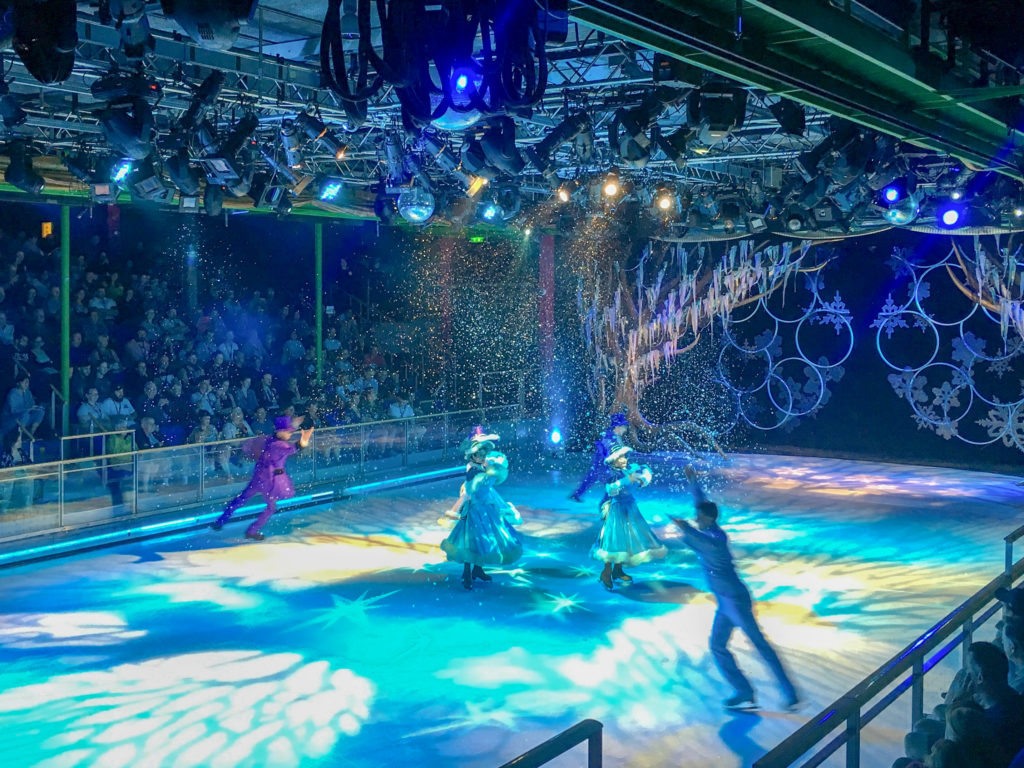 Food and Drinks on Royal Caribbean Cruise Ships
When I mention my penchant for cruising people jump to the assumption that it is super expensive and don't consider that the price includes all meals as well as accommodation and transport. You can choose from a massive buffet restaurant, to order from a menu and be served multiple courses in a dining room, to grab a smaller snack from a cafe or pay for room service or a quieter specialty dining restaurant.
As I didn't want to buy a drinks package I drank less on this cruise than during my average week at home. Two bottles of wine are allowed per stateroom when boarding – you'll just have the minor inconvenience of collecting your bag from quarantine.
$2 Mimosas hour in the casino on days at sea were a hit with me. Free glasses of bubbly are also handed out at several Art Auctions should your have a real or feigned interest in those.
18% VAT is added to bar purchases, more in some ports, making it cheaper to drink at sea or off the ship. Alternatively if you're planning on drinking a lot, sign up for a drinks package.
On our final Sunday at sea we attended a bottomless brunch which included a tour of the kitchen to glean an insight into the mindblowing inner workings of a galley which feeds around 3700 guests each day.
Cruise Destinations and Shore Excursions in the Pacific
Despite this being my third cruise with them, I'd never done a Royal Caribbean shore excursion before.
Travelling around the Mediterranean and Europe I found cruise ports were close to the cities the ships visited and a short walk or ship provided shuttle got you wherever you wanted to go (with the memorable exception of Rome where a 45-minute train journey was required).
I also knew I was simply tasting the big cities in the single days I spent there and would go back in the cases where I loved the vibe and wanted to see and do more there.
In New Caledonia and Vanuatu my friends and I wanted to see as much as we could in the time we had. Days at sea could be spent lounging by the pool or doing activities onboard the ship balanced by active days on shore.
Research suggested there was little in the vicinity of the cruise ports and so for the first time, shore excursions were booked for the majority of our stops.
TIP: Book your cruise excursions early. Our initial plan was to get up and have breakfast early on our days in port and book on the first excursions of the day. When Caitlin and Laura went to book within a week of our departure it became clear other people are surprisingly organised and things were filling up.
Noumea, New Caledonia
I'd visited Noumea previously on a school trip. On our day in Noumea we took a shore excursion to Duck Island, boarding a Zodiac, a small but powerful watercraft for a ride across Baie D'Orphelinat and into the Baie des Citrons. Our driver went at a pace which wasn't too much of a thrill ride but still a good time.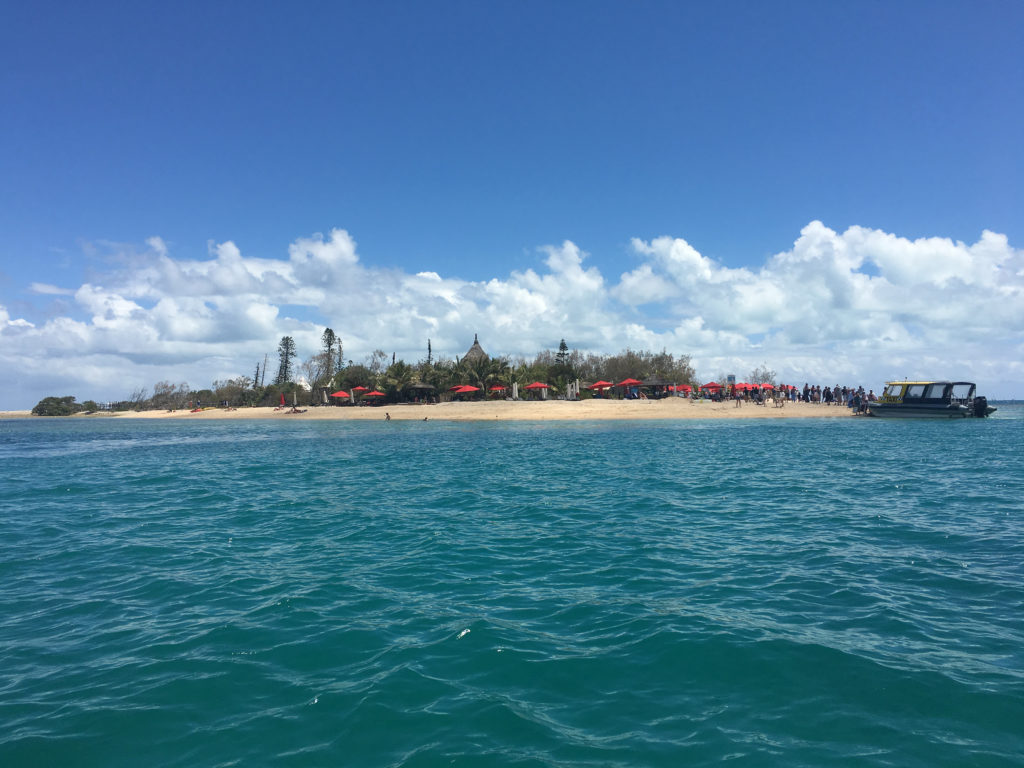 We spent several hours swimming and relaxing on the beach on loungers under sun umbrellas which doubled as rain umbrellas during a shower. You can hire snorkel equipment on Duck Island in a variety of currencies (for example a life jacket is $5NZ/$5AU/5000FPF. 5 minutes free wifi was available after which 24 hours was available for 470 FPF.
The swimming area featured a snorkel trail where there were five bouys which each featured something underneath them to view.
A man on the beach's job appeared to be yelling at people likely to stand on or touch the delicate coral in shallow depths. He turned out to be a smart guy – to me swimming straight out to the 5th bouy over the corral rather than following the masses from bouys 1-5 made sense. However the water over the coral was only around 30cm in depth for what seemed like a long long stretch and combined with a mask-induced panic (first time using a full-face snorkel mask) it was a struggle to breast stroke so far and not touch the corral.
On a later cruise I booked the Tchou Tchou Train which picked us up from the pier as we stepped off the ship.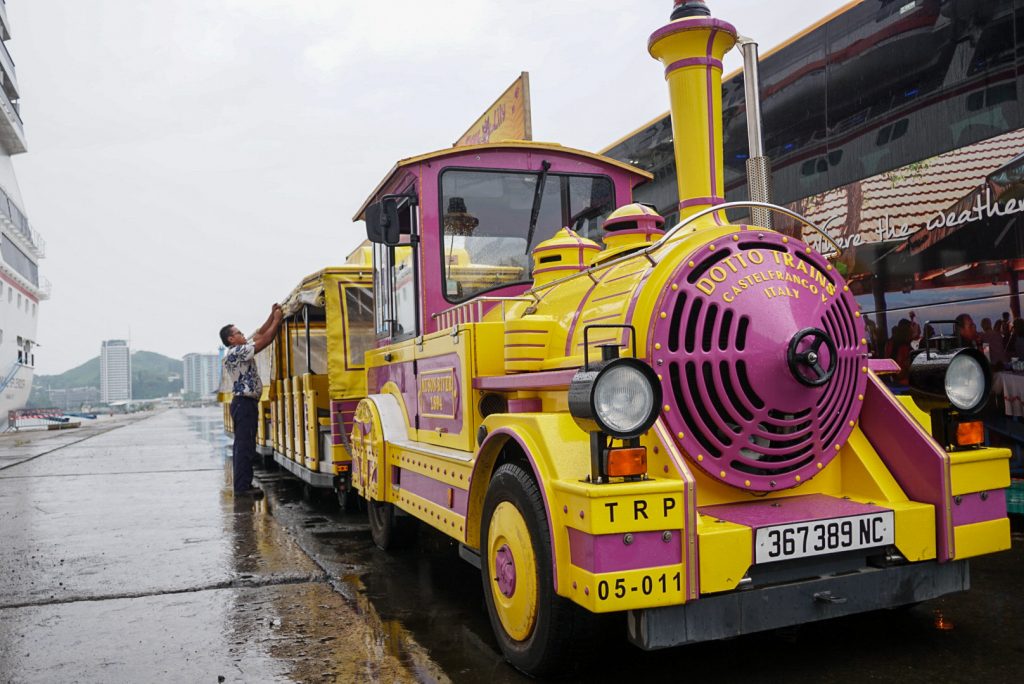 On the Tchou Tchou Train we learnt about the history and culture of New Caledonia from our guide as we spent around 90 minutes on our little yellow train which drove on the right-hand-side of the road through the bays, past marinas and stopped at several lookout points.
Isle of Pines, New Caledonia
Isle of Pines was my favourite island that we visited and deserving of a post of it's own. It was named by discoverer Captain James Cook in 1774 for the pine trees which cover it and is the most visited island in New Caledonia.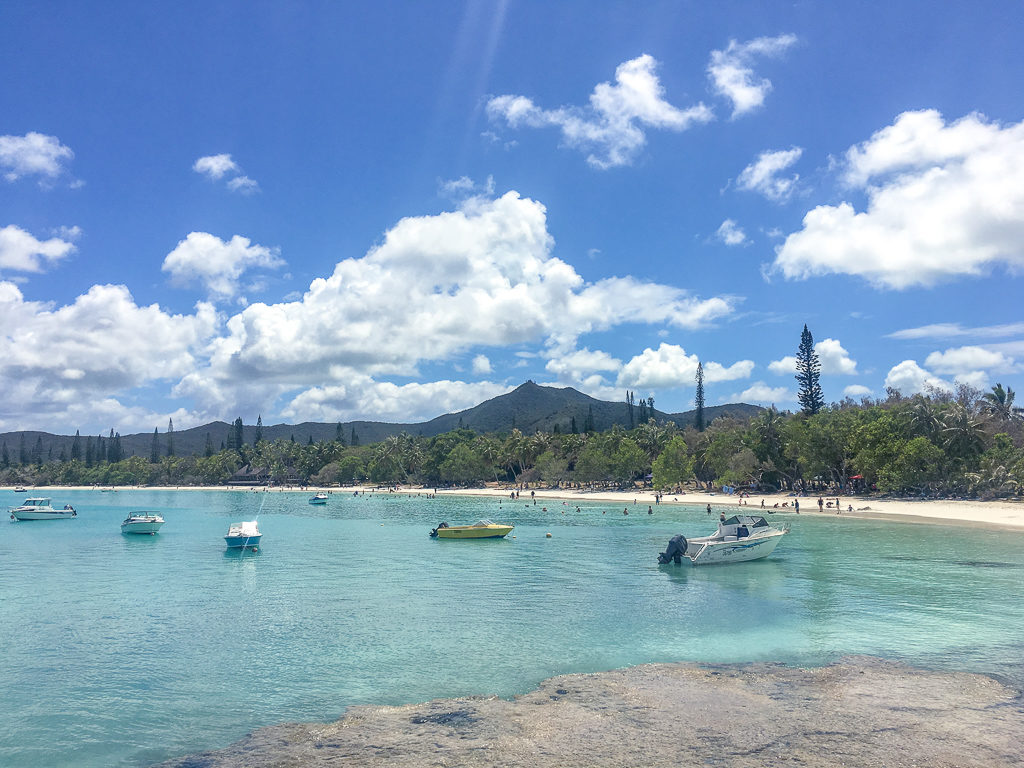 Coming ashore by tender from our cruise ship the remoteness and unspoiled appearance of the island quickly seemed at odds with the thousands of tourists already on the island.
We took a tour of the island on a shore excursion and learnt a lot about the history, culture and the people who live there. Between this insight, the swimming and snorkelling the three of us agreed Isle of Pines was our favourite island visited.
Port Vila, Vanuatu
As well as the Duty Free shopping available in Port Vila, the Cascade falls are a real must visit and I did so on a shore excursion which was one of the highlights of my trip.
Much of the 1km walk is across hilly, exposed land so there was little shade until the last section of the walk where the rainforest provides cover. 88 steps take you up the steepest part of the walk.
There was an area to leave bags and unnecessary clothing before we climbed the final distance through a series of crystal clear cascading natural pools over the limestone rocks while clinging to ropes for support.
We swam in the deep fresh water pool at the base of the 53 meter waterfall. Behind the falls is a small cave.
If you go with a guided tour you'll be fully informed at each step as to what to expect next. There are plenty of stops and the group goes at the pace of the slowest. Our guide made instruments from plants and leaves for entertainment along the way and we were rewarded with lemon cordial and fresh banana, mango, paw paw and coconut before we were dropped in town or back to the ship.
Mystery Island, Vanuatu
Mystery Island is an uninhabited Vanuatu paradise. It's only accessible by cruise ship and the people who sell crafts and tours here commute from a nearby island for work when ships come in several times per month.
The island is 1km long and 20m wide and passengers come ashore by tender rather than docking at a wharf. As well as swimming and snorkelling passengers may purchase crafts and souvenirs, massages, hair braiding, tours and photos pretending Vanuatu's cannibal past is a real threat.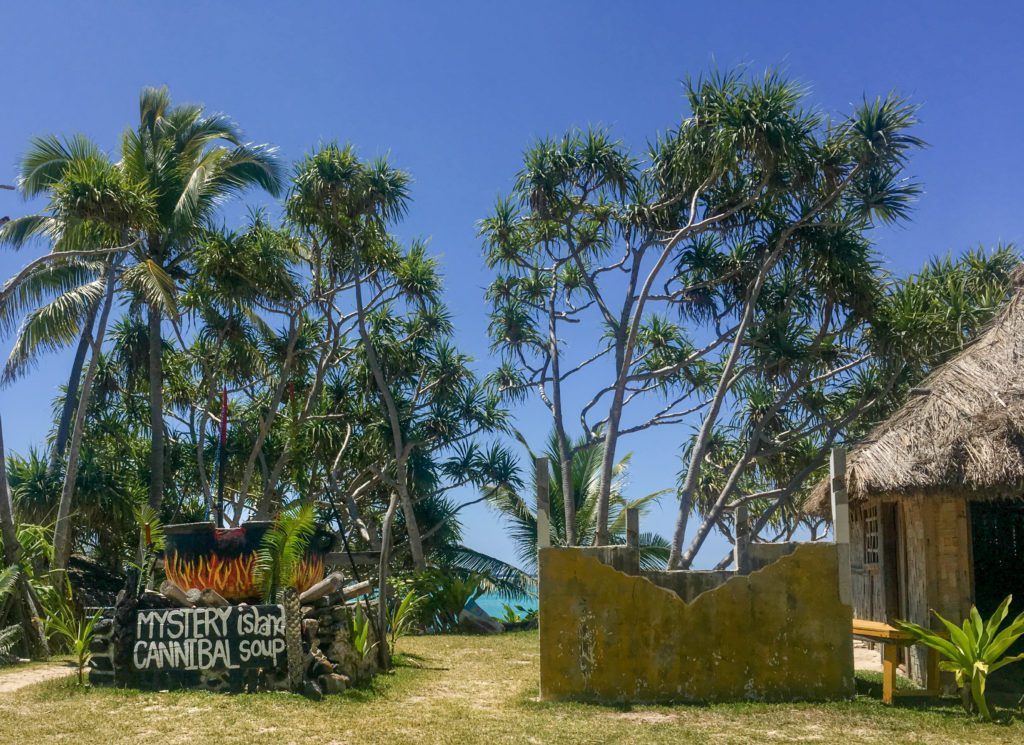 Lifou, Loyalty Islands
More than 10, 000 people live on the picturesque Lifou in the Loyalty Islands group where you can swim with turtles and find green forest, sparkling shorelines, quaint villages and dramatic scenery.
On a shore excursion in Lifou we learnt that agriculture and tourism are the greatest sources of employment here and each of the four islands which make up the Loyalty Islands group has their own unique plant and factory. For Lifou it's the vanilla plant; the local province developed these industries in order to provide income to families at a time when people were having to leave the islands to find employment.
On this shore excursion we learnt about the Vanilla plant as well as visiting the Cliffs of Jokin where after taking in the clifftop vistas while drinking from a fresh coconut we were able to take the 200 steps down for up-close views of giant corral rock faces and emerald waters.
Wifi on Royal Caribbean cruise ships
Free wifi was easy to find off the ship in Noumea and Port Vila, impossible in the smaller islands. Wifi access onboard Royal Caribbean cruise ships is pricey but I was pleased to realise it has come a long long way since our last cruise 5 years ago when it cost .68 Euro per minute and was unbelievably slow.
The current price is $17.99 per day for Surf + Stream for the duration or $27.99 per 24 hours but returning guests are entitled to discounts which start at 10%. If you can go without social media and streaming and just want to check your emails and browse this costs $15.99 for 24 hours.
At this price I experienced self-enforced digital detoxes for much of the journey, however late in the cruise they started offering deals on the internet (eg. half price or two devices for the price of one). You just have to hold out that long.
It works far better in some parts of the ship than others, can be slow and hopeless. Satellite positioning can also mean it entirely drops out at times.
Doing washing on board is also very expensive however I find it much harder to live without wifi than clean clothes!
Final word
I actually can't recommend Royal Caribbean enough – they are an amazing cruise line and I guarantee that you won't want to leave the ship.
Explorer of the Seas is a great sized ship – large enough that there are heaps of cool things to do on board and you will never get bored yet the service is friendly and personalised so you're not treated as a number. We were still getting lost on the ship ten days in and the waiting times for elevators to avoid walking 12 floors was longer than ideal – a ship much bigger would possibly do my head in.
This cruise itself cost me roughly $166 per day and I saw so much of the South Pacific that I would otherwise not have visited. Similar cruises depart Sydney next year.
Thank you to Royal Caribbean who provided my shore excursion to the Cascade Falls in Port Vila. I had a fabulous time and all my opinions are my own.