Whether you're visiting for a day or longer, I found plenty of things to do in Lifou, one of four islands which make up the New Caledonia's Loyalty Islands Group.
Like Ile of Pines you can fly or catch a ferry to Lifou from Noumea or visit Lifou from a cruise ship as I did.
Visit Notre Dame de Lourdes
We were eating breakfast by a window in the ship as it arrived in Lifou. It appeared as a large island, covered in greenery with a small, visible church on a hill.
Our waiter told us it was Notre Dame de Lourdes, a former missionary chapel. It's a short but steep walk to get there but well worth the views as well as a look inside.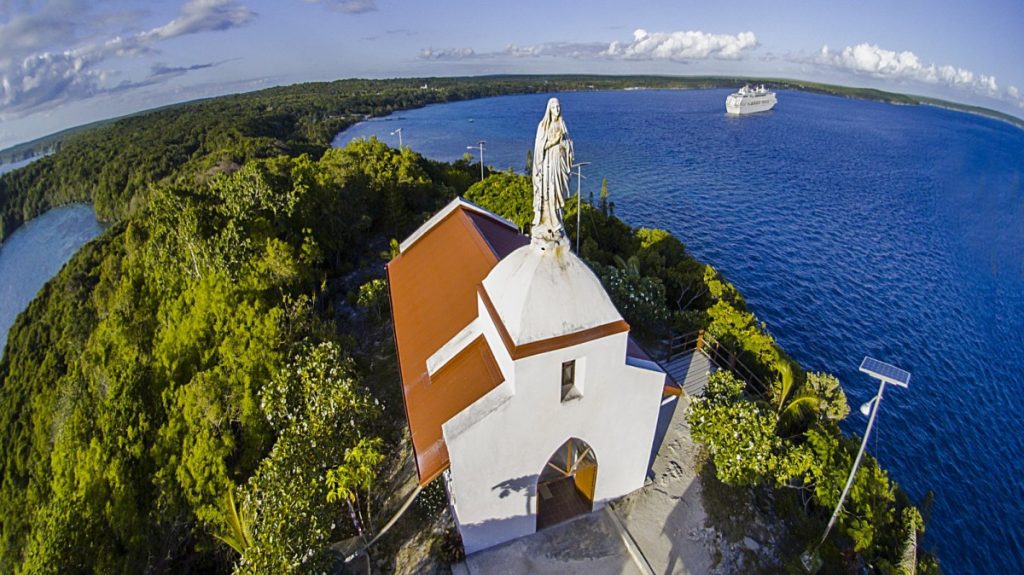 Markets
The markets in Lifou near the pier were very busy (particularly during a short downpour). While markets adjacent to some of the cruise ship terminals I've visited (for example Port Vila) contained a lot of products clearly imported from China, these seemed to predominantly sell clothing and souvenir items. There were also tents selling massages and hair braiding.
As well as public toilets there was also a small outdoor bar opposite the markets which sold local beers.
Learn about Lifou's Vanilla Industry
Each of the Loyalty Islands group has their own unique plant and factory. For Lifou it's the vanilla plant; the local province developed these industries in order to provide income to families at a time when people were having to leave the islands to find employment.
The vanilla plant was introduced to Lifou in 1860 from South America by Samuel Marsden. It wasn't until the 1960's and 70's that interest was taken in the vanilla plants and professionals came to the island to help. We visited private botanical gardens to learn about the vanilla plant and sample vanilla infused tea and coffee.
Vanilla is from the orchid family, the only one with an edible fruit. Lifou makes for a difficult growing climate as it's hot and humid all year round. The vanilla is very fragile and needs a lot of care.
It's planted from January to May when Lifou  has the nicest weather and grows against wood for support. Being a corral island the vanilla has to be planted far into the bush and organic matter such as dead wood, leaves and coconut is used as fertiliser.
The vanilla flowers only open for a few hours. The flower is not pollinated by birds or insects but is a hermaphrodite. The growers (called matchmakers) use a stick and their fingers to pollinate at daybreak before the flowers close up again.
It takes 8-9 months for a bud to develop and may be harvested between July and September after four years. Only the good pods are collected and families sell the green pods to the local factory who does the rest. Others sell straight to a large factory in Noumea or businessmen who visit. Once processed the vanilla is sold on to shops, markets and hotels.
Jinek Bay
Swimming at the Jinek Bay marine reserve is by donation towards the upkeep and imposes daily visitor limits. You're not allowed to wear any sunscreen in order to protect the corral and it's apparently like swimming in an aquarium with 2000 varieties of colourful fish.
See the Cliffs of Jokin
After taking in the clifftop vistas while drinking from a fresh coconut we were able to take the 200 steps down for up-close views of giant corral rock faces and emerald waters.
The descriptions of the walk we read on the cruise ship made it sound much, much tougher and of less stable terrain than it actually was. I guess it's better they scare people off than have them unable to cope! If you're reasonably mobile then take your time and it won't be a worry.
See a traditional hut
These days the people of Lifou tend to live in more traditional houses however there are traditional huts around the island which you can visit in exchange for a donation. Obviously ask before just wandering into one.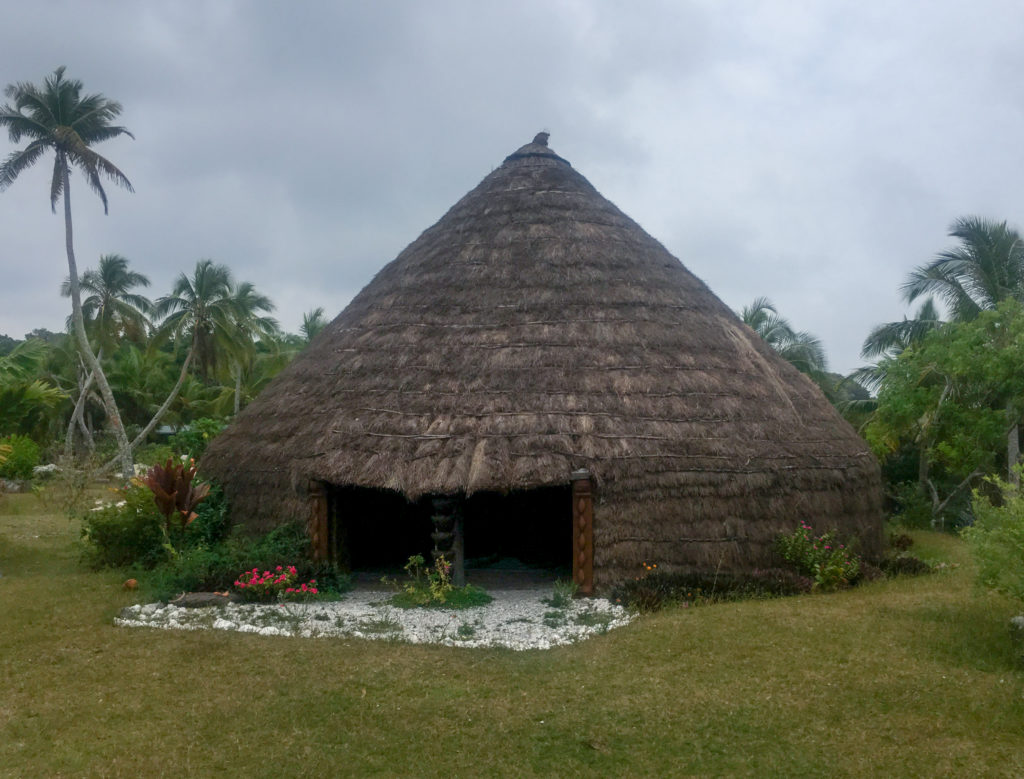 Easo Beach
If you just want to crash on a beach for the day you've come to the right place. Easo beach stretches in both directions from the pier where the cruise ship tenders arrive.
You have to swim a wee way out to snorkel around the clusters of corral housing the sealife but there was a turtle swimming close to shore the day we visited (sadly being chased around by a group of young tourists). I was also nipped at and chased away by a small but territorial fish so must have accidentally got too close to a nest.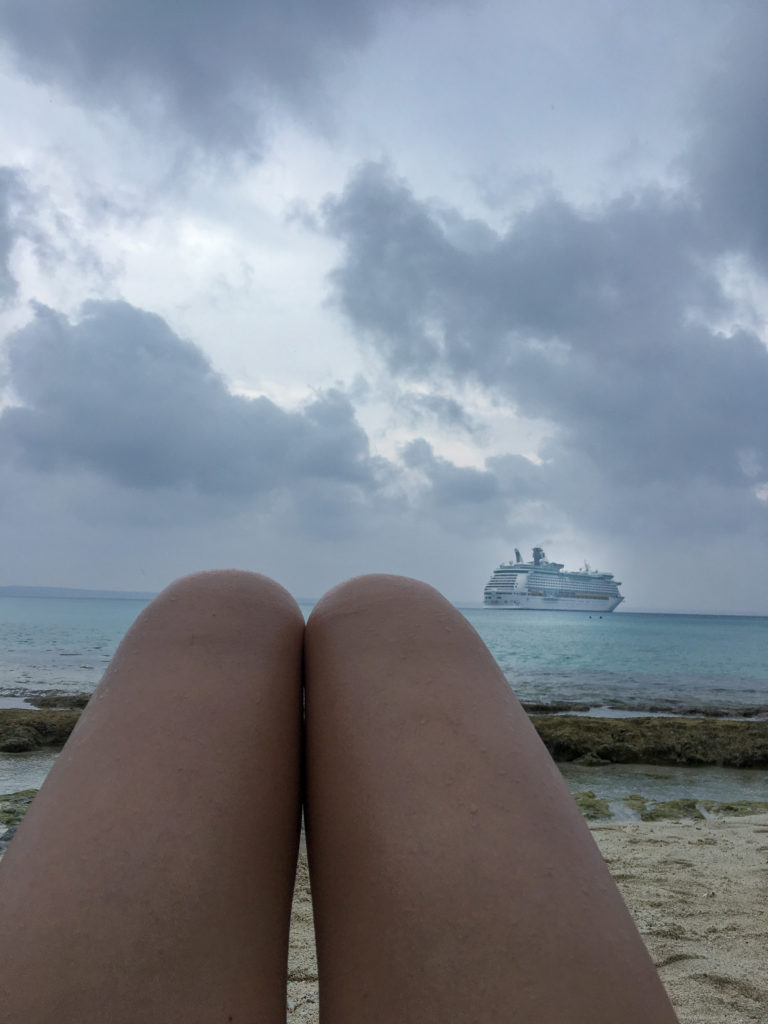 Have you been to any of the Loyalty Islands in the South Pacific? Do these look like great things to do in Lifou?