Weekend brunch outings to catch up with friends or family members is one of my favourite favourite pastimes and as a result I seem to have amassed an impressive number of photos of Wellington brunch places on my phone.
Wellington's best brunch spots have to be checked out if you're visiting – here are my absolute favourite places to have brunch in Wellington New Zealand.
Beach Babylon
232 Oriental Parade, Oriental Bay
Brunch at Beach Babylon is a vegetarian's dream: a menu with too many amazing options to choose between! Fortunately their Big Breakfasts contain a little bit of everything so you can have the eggs, the Mexican beans AND the mushrooms on toast should you wish to.
Beach Babylon doesn't take bookings which usually puts me off suggesting it as a location to meet large numbers of friends, however that's a sign of an establishment being excellent. The food comes out fast and the portions are decent. Sit outside on a fine day and take your dog if you have one – there's a menu for them too!
Maranui Cafe
7 Lyall Parade, Lyall Bay
If Maranui was busy before Harry and Megan visited, it's only got much busier now. Located above the Maranui surf lifesaving club with amazing coastal views, I love to pop in with visitors to Wellington on our way from the airport.
There's always a wait at weekends – the shortest time I've had to wait for a table on a weekend is around 10 minutes and often the queue is out the door and right down the stairs.
The food is worth it however, some of my recommendations being the crumpets which are sweet and delicious and the tofu scramble which was lovely though not a large portion and the toast with avocado seemed overcooked and dry. It was also a novelty having Rice Milk in my flat white.
The Bresolin
278 Willis Street, Te Aro
The Bresolin is somewhat out of the way from the rest of the city's restaurants and I doubt another venture would be as successful in the same spot without the name of the Bresolin brothers attached to it.
Don't be nervous to be seated outside when it's not particularly warm as it's actually well heated and very warm. Go for bottomless coffee and either the smashed avocado on toast or rice pudding – both are lovely with a slight twist on what you might make at home and well priced.
Whistling Sisters Brewery and Fermentery
Corner Ghuznee & Taranaki Streets
Not so long ago this corner building housed a dark and musty Salvation Army Store. Following a massive overhaul and the addition of a micro-brewery Whistling Sisters opened.
I've been known to walk in with no intention of staying – just wanting to sample a few Whistling Sisters beers and take some away, but the friendly staff, music, atmosphere and menu draw you in.
If beer with brunch isn't your thing be assured there are coctkails, good coffee, tea and even a kombucha of the day. for eating there are a range of 'add ons' to share (I can't go past the fermented fries) and breads and spreads to snack on on as well as main meals which range from the traditional free range eggs on toast, to a burger, french toast and a chia & coconut pudding.
Whistling Sisters has a modern setting to hang out and people watch through the floor to ceiling windows. The bathrooms are even a bit fancy, the women's having hairdryers should you have been caught in some of Wellington's famously windy weather getting there!
Choice Bros (Husk Bar & Eatery)
62 Ghuznee Street
When a new Wellington brunch eatery starts to regularly appear in my Instagram feed I take notice. The entrance way to Choice Bros Guznee Street (formerly Husk) features a lot of fairy lights which quickly made it a social media favourite among my friends.
Walking in for the first time I wondered about the history of the building and what used to be there but I have no recollection – Choice Bros just appeared suddenly and was immediately popular.
The Choice Bros brewery is on site as well as a roastery and their production is visibly exposed which is pretty cool to watch. As brunch spots in Wellington go Choice Bros has a great vibe, different spaces and the Skakshouka (Turkish style baked Eggs), Green Breakfast and Hot Smoked Salmon are all flawless meals.
Choice Bros offers some of the best coffee in Wellington but after a couple I'd recommend trying a cider or sour beer. The bar staff let me taste basically everything on tap in order to make an informed decision.
Southern Cross Garden Bar & Restaurant
39 Abel Smith St
Another of my favourite Wellington brunch spots is somewhere I love to to take out-of-towners to. 'The Cross' feels quite uniquely Wellington with it's garden bar. Blankets and hot water bottles are required most of the year, but the sun, lighting and atmosphere make it an awesome place to hang out.
There's enough space that you can rock up with a large group without a booking and get a table and be assured that there will be something for everyone.
My current favourite on the Southern Cross brunch menu is the Portobello Benedict (sesame seed avocado balls on English muffins with portobello mushrooms, spinach & cashew hollandaise) with a side of eggs and a flat white coffee with coconut milk.
Loretta
181 Cuba Street
A Wellington Brunch Guide wouldn't be complete without mention of Loretta.
The monthly menu is printed on paper and the helpful staff are happy to mark up what will soon those with intollerances. Water glasses are also topped up continually.
The plates are very pretty – Green Eggs, Continental Breakfast with Salmon, crumpets and open sandwiches for something smaller.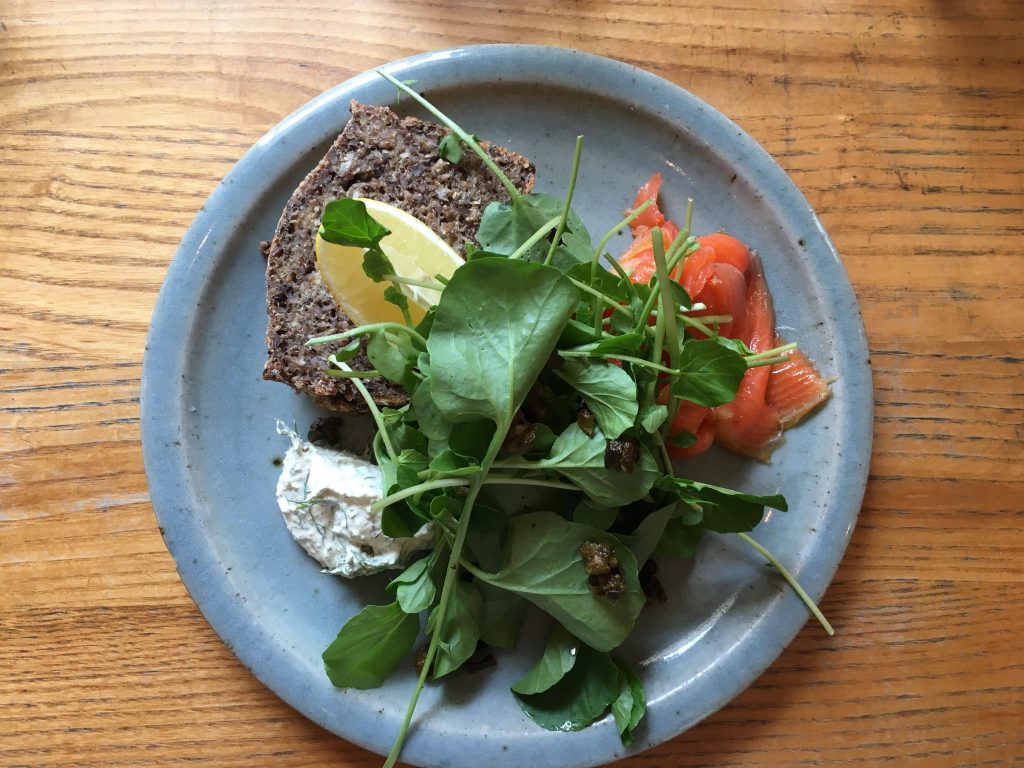 Loretta has seating for around 120 people but being busy and they way people and tables are dispersed around the place still makes it challenging to find a table for a large group if you don't have a booking.
The Hudson
Chews Lane, 56 Victoria Street
The Hudson was a surprising find. There have been at least two prior restaurants at this address that I recall failed to do well, but The Hudson might just have it with their New York-style bar which serves bottomless brunch on a Saturday.
For me a Saturday brunch at The Hudson becomes a toss up between the sweet of the french toast with lemon curd, the savoury of their eggs on sourdough, or the granola.
Field and Green
262 Wakefield Street, Te Aro
I've heard great things about Field and Green at all hours in the day but in particular about their dinner offering where the menu changes weekly. I've only ever been for bunch but found the restaurant has a great feel about it – bright, modern, and a good level of busy.
Brunch plates I've opted for at Field and Green include the Courgette and Halloumi Fritters which come with a delicous tomato and pumpkin seed salsa and was the perfect portion size., the Smashed Peas and Avocado on Toast and the Welsh Rarebit (every time I visit the wait staff politely explain the difference between a Welsh Rarebit and a Buck Rarebit as if they've never heard the question before). The Kedgerie, normally eaten by someone at a table near us looks amazing and I intend to try it for myself next time I visit.
Your turn – where is your favourite brunch spot in Wellington or anywhere else?