I was lucky enough to spend a week in August exploring the beautiful Solomon Islands. The archipelago of 992 islands is nicely off the beaten track and still untouched yet still within a three hour flight of Brisbane.
This untouched paradise is the perfect destination for those into getting outdoors whether it's diving, snorkelling, hiking, volcanoes, rainforests or fishing that you're into.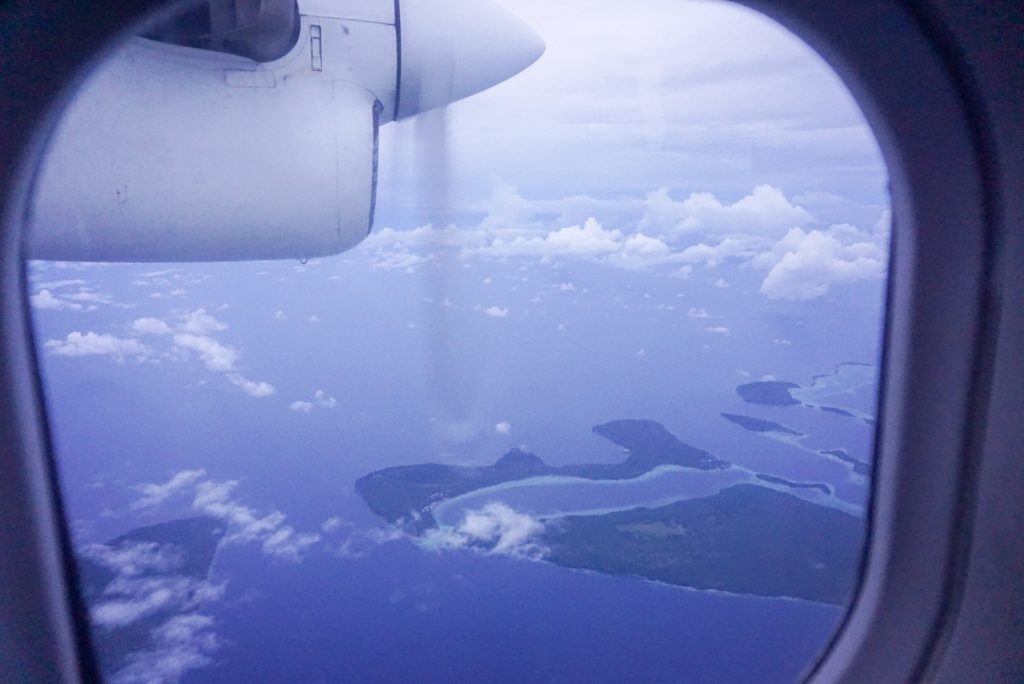 Here is a suggested Solomon Islands itinerary – your guide to exploring the beautiful Solomon Islands including how to get around the Solomon Islands, things to do and places to stay.
Getting around the Solomon Islands
The Solomon Airlines Dash 8 aircraft which services the main regional centres of the Solomon Islands was under maintenance when I visited, so two smaller planes were in service, twice a day, carrying passengers from Honiara to Gizo, pausing in Munda to drop off passengers and to refuel.
The airline was overbooking the aircraft. When we were flying from Gizo to Honiara our flight was one example, which resulted in a staff member struggling to find two people prepared to stay an extra night in complimentary hotel accommodation. But consider the fact that Paradise is not a bad place to be stuck if you have nowhere to be!
Between islands the main form of transport is banana boats. Here are some insights as to where I stayed and explored.
Munda
Munda is the largest settlement on the island of New Georgia in the Western Province of Solomon Islands.
Since March this year, a weekly flight service has been operating on Saturdays between Munda and Brisbane. The airport was always big enough to take large planes – it was just lacking an appropriate terminal and sealed runway.
Munda is ideally located for those who want adventure in a more isolated area, yet still have great meals in good restaurants and motel-style accommodation.
Things to do in Munda
Peter Joseph WWII museum
Away from the airport, the roads in Munda are unsealed. We travelled by taxi over a potholed route to visit the Peter Joseph WWII museum which would be a 20-30 minute walk from the town's centre otherwise.
The museum was named after the name on the first dog tag (ID disc) Barney, the museum owner, found in 2002 in an area of the island of New Georgia where World War II aircraft used to park, starting his collection.
If it wasn't for Barney's enthusiasm this museum would appear unassuming but these utensils, ammunition, machine guns, helmets, shavers and more left behind by both Americans and Japanese are in fact real treasure.
Explore nearby inhabited islands
As well as diving gear, you can hire snorkel masks and fins from the local dive shop in Munda and take off to explore the nearby islands. Our boat driver Billy took us out to Hopei Island to snorkel and enjoy a traditional barbecue lunch that included fish which had been cooked whole, taro in coconut milk, root vegetables, salad and rice.
I've previously visited Phare Amadee and Duck Island in New Caledonia where the basics of this offering were similar, yet this was so so different.
We had the island to ourselves, the coral is still in good health, there was no Wi-Fi and the experience just felt so comparatively uncontrived.
Later we took a sunset cruise with wine and snacks prepared by a local restaurant including fish bites, chips and meatballs.
Go Diving
As well as reefs being really accessible, there are a number of wrecks for recreational divers to explore, including a Japanese ship and American aircraft sunk or shot down during World War II.
Skull Island
Skull Island is named for the presence of skull shrines from the head hunting days when a sign of a chief's power was the number of severed heads he'd collected.
We'd planned to stop at Skull Island on our boat trip from Munda to Gizo but it was particularly windy and choppy and we were well behind schedule.
Where to stay in Munda
Hot water showers and other mod-cons are rare in Solomon Island hotels outside of Honiara. If I learnt anything about myself during my trip, it was that I prioritise Wi-Fi well above hot water in my personal hierarchy of needs.
Qua Roviana Accommodation
We spent our two nights in Munda staying at Qua Roviana Accommodation, which is only three minutes walk through the town from Munda airport.
It was a good-sized room with a comfy bed where I only needed a sheet. As well as a ceiling fan and aircon to cool the room down there was a mini-fridge and a jug to boil water.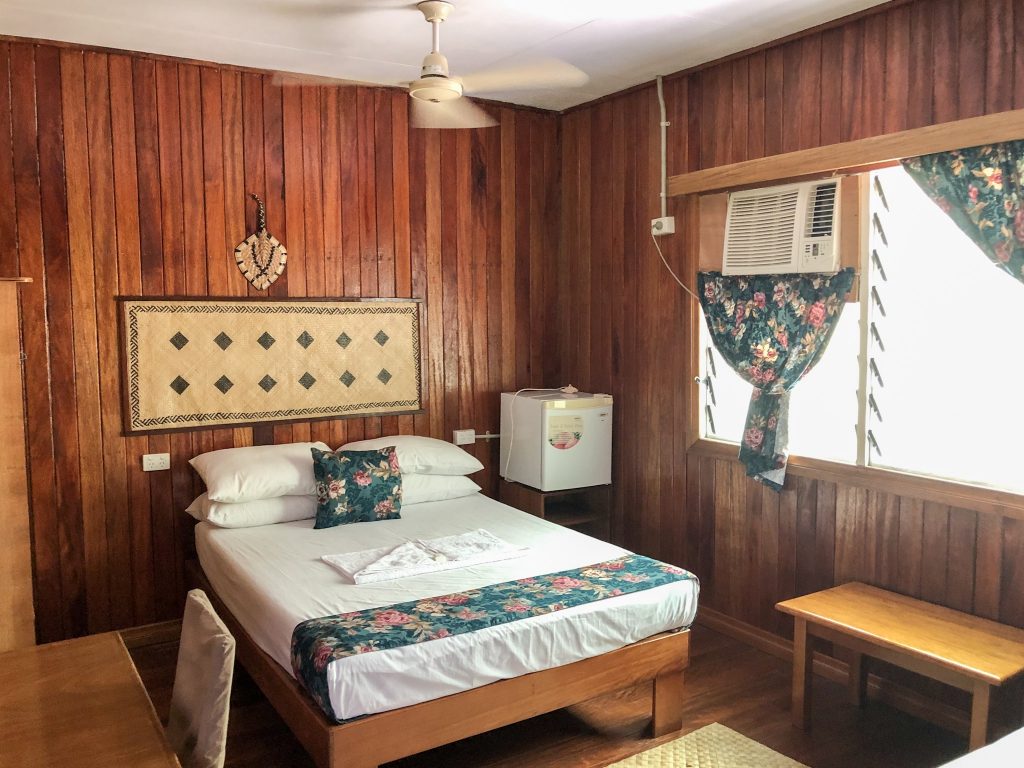 Being a light sleeper, and as the walls were paper thin, I could hear snoring from the room behind me as well as other people's aircon.
All the staff at Qua Roviana were super friendly, the public areas were clean and tidy and drinking water was available.  There were also a couple of cheeky kittens wandering around.
I feel that anyone staying should be warned there is no hot water in showers here but this is the norm in the Solomons. The Wi-Fi was very slow but it does work in the lounge.
Agnes Gateway Hotel
Agnes Gateway Hotel is on the edge of the waterfront at Munda with a magnificent outlook of the smaller nearby islands. The staff are extremely friendly and helpful and you can book tours from the dive shop to explore the area.
Roviana restaurant and bar at the hotel was good but also busy with a large group who were staying as part of a dive tour. There was a significant wait but the meals were large and the fish (snapper) was beautifully pan-fried and plentiful.
Titiru Eco Lodge, Rendova Island
Titiru Eco Lodge on Rendova Island, around 35 minutes by boat from Munda, was started in 2011 and caters for a maximum of 16 guests.
Upon arrival we received a traditional welcome including warriors, music, a drinking coconut and woven headpieces. Lots of divers are accommodated at Titiru Eco Lodge and a swimming pool is being built, as well as a medicine walk with medicinal plants being grown.
Our overwater bungalow had two rooms, one containing a double bed and the other twin single beds. The basic bathroom facilities included a toilet, shower and basin. Outside on the balcony there was seating including a table and chairs, daybed and hammock.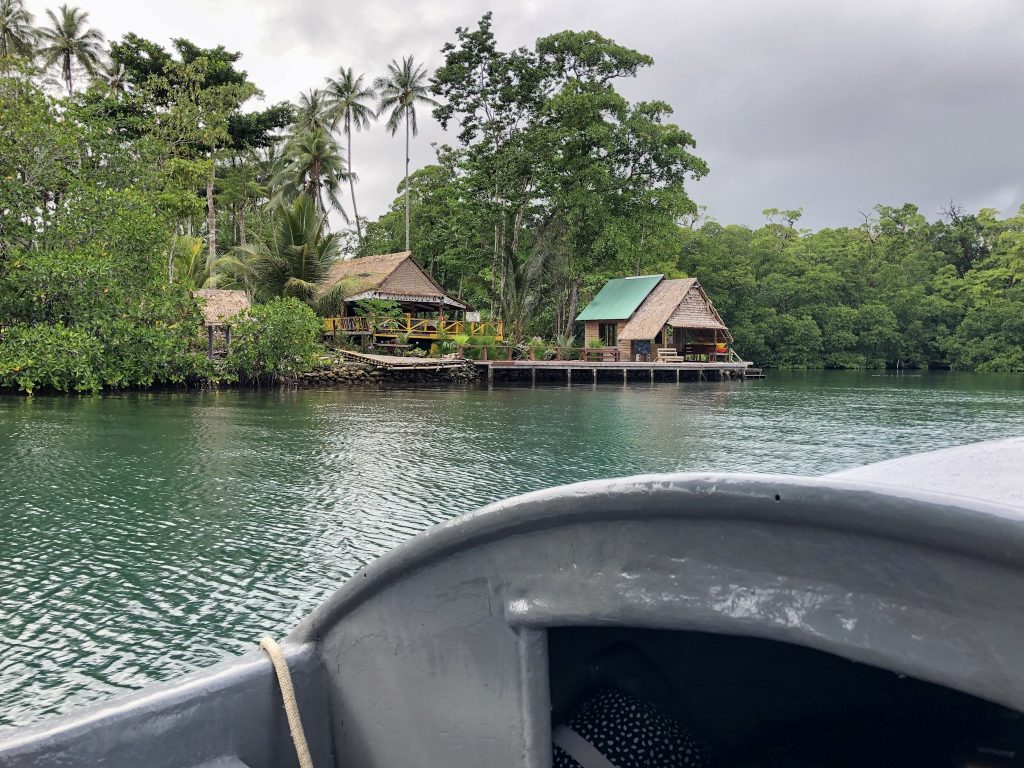 Tea, coffee and drinking water in the bungalows were nice touches and the meals were fresh and amazing, all the produce served having been grown in the garden onsite.
There's no Wi-Fi and if you want to drink you'll have to BYO alcohol. An electricity generator is turned on and off so there's mostly no power, but really all our accommodation was lacking was a bin – with wind and a partially open bungalow we worried our litter would end up in the ocean.
Kilo, our host at Titiru Eco Lodge, recommends visitors stay at least five days. There are lots of activities nearby, including hiking in the mountains, diving, an underground cave, snorkelling, kayaks, and picnics and a village walk.
Gizo
Gizo on Ghizo Island is the capital of the Western province and has a population of just over 6000 people.
The colourful fruit, vegetable and craft markets are open every day except Sunday and have seen recent additions thanks to funding from Australia.
The town also hosts an ANZ bank and dive shop and the balcony restaurant at Gizo Hotel is a lovely spot from which to sit and watch the world go by.
I loved Gizo's airport for its simplicity. There is no road to get there so you come and go via boat to a jetty in the lagoon.
Things to do near Gizo
Snorkelling at Njari Island
After pulling up at the long pier, we started our morning snorkelling on this side of the island. Later we walked a few hundred metres to the other side of the island and found that the water was a little colder and there were more fish to see, as well as reef sharks.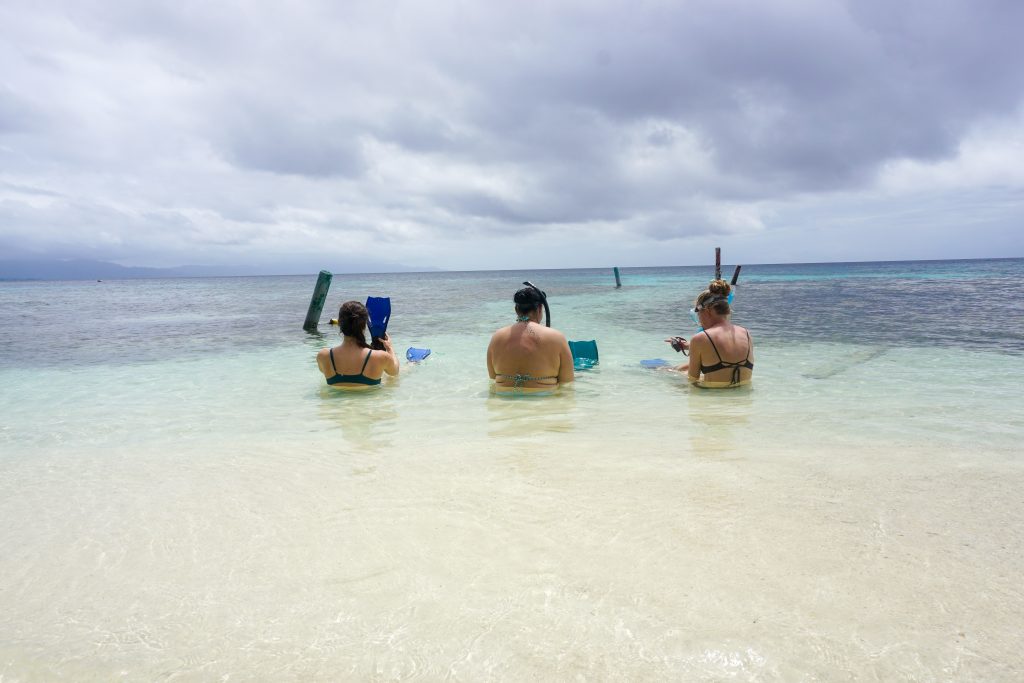 The famous Grand Central Station dive site is located here and we had the area to ourselves with no one else to be seen.
Kennedy Island
John F Kennedy and other crew members swam to this uninhabited island for rescue from a sunken American Patrol Torpedo boat (PT109) in 1942. If you're an able kayaker you could paddle here yourself for the day from Fatboys Resort.
There's a sheltered area with a bar area, tables and chairs as well as a DJ booth, and staff from Fatboys Resort can assist you with hiring the island and catering: a more unique spot for a Southern Hemisphere destination wedding than Rarotonga or Samoa.
Where to stay near Gizo
Fatboys Resort, Mbabanga Island
Fatboys Resort is a high-end resort in the Solomon Islands. It's Australian-owned but all the employees are from the local village where the people are of Micronesian descent following migration from Kiribati in the early 1970's. Everyone went out of their way to help us, staff turnover is very low, and it was nice to note that Manoj, the manager, started out working in the office.
The name Fatboys was derived from the character Joe in Dickens' Pickwick Papers, whose sole aim was to eat, drink and avoid work. Our bungalow had a double bed in one room, three single beds in the other, simple bathroom between.
100 metres along a private jetty out over the reef is Fatboys Bar and Restaurant and I really looked forward to the meals here. The menu changes every day, but crayfish and fish were available at every lunch and dinner service. The fish depended on what had been caught that day and always tasted super fresh. When we first arrived we witnessed a freshly caught Spanish mackerel being delivered and, sure enough, it was on that night's dinner menu served with salads and chips.
For breakfast there was the choice of continental with cereals and toast, eggs, omelets, fish, and banana pancakes. The coffee was weak for me the first morning but they took on my feedback, and fruit smoothies were popular among our group.
Quite amusingly for a group of people ridiculously dependent on Wi-Fi only one person at a time can use the internet in the bar.
They feed the reef sharks after dinner which might make you rethink your plans to snorkel, but if I had a week to disconnect and do very little, out of anywhere on earth I've ever been I would choose here.
Urilolo Lodge
If you're after an authentic Pacific experience then I'd recommend Urilolo Lodge at Saeraghi beach. It's staying in Paradise with the locals and really interacting with them and being a part of their everyday lives.
This homestay has been operating for over 10 years in a village which is home to around 1000 people. The village has a sad history, being affected by the 2007 tsunami, after which the village drastically reduced in size as many families chose to stay in the mountains, rather than return to the beach community.
People come to Saeraghi beach from Gizo by boat or land transport for picnics and to visit the beautiful beach which is in a protected maritime area.
Oravae Island Cottages
Oravae Island Cottages is a small family-owned accommodation provider 15 minutes by boat from Gizo.
The main bungalow sleeps six and has an overwater veranda looking over the beautiful blue lagoon. The island is only ever booked for one group at a time but there's an additional, smaller Penthouse bungalow if you're bringing a large group.
Honiara
Honiara is the capital and quite centrally located hub of the Solomon Islands on the island of Guadalcanal, with a population of around 673,000. Until March this year it contained the country's only International airport.
Public mini-buses run a number of routes and cost SBD $3 within the central city, or SBD $5 if you're going a bit further.
Things to do in Honiara
National Museum and Cultural Centre
The museum gallery at the Cultural Centre was a single room containing information on the history and culture of the Solomon Islands in a range of displays.
To be honest, so much I'd seen and heard during my time in the Solomon Islands only came together for me when I visited here, from aspects of the country's World War II history, weaponry, customs and traditions such as bride price and lengths of shell money, and times of conflict and resolution.
The museum is open from 9am until 4:30pm Monday to Friday. Entry is free and donations are welcome.
Crafts Market Centre
The Crafts Market Centre is a recent addition to the National Art Gallery grounds using funding from the Ministry of Culture and Tourism and other development partners. There were numerous vendors making and selling all sorts of unique, high quality arts and crafts from jewellery to carvings, clothing and paintings.
Central Markets
The Central Markets are open every day except Sunday and there were a lot of vendors selling fruit, vegetables as well as nuts (already split into small piles), fish, other seafood (often live), clothing, crafts and shell jewellery. In my mind a must-visit for anyone in Honiara.
Play golf
If you're looking for a golf course, you're in luck – the only one in the whole country is here in Honiara. It's built on the site of the second World War II airfield known as 'Fighter 2' and the sand bunkers are built on the actual bunkers used for shelter when the Japanese shelled and bombed the area. It's said every step in the Solomon islands is a step into history – even when you're playing golf!!
Where to stay in Honiara
Solomon Kitano Mendana Hotel
Solomon Kitano Mendana Hotel seemed like an older hotel. It's Japanese-owned and rooms came with an old-fashioned plastic punch card room key.
Rooms had a minimalist vibe with lots of dark wood and white bedding. The room came with a small bath and I liked the bathroom products.
Two restaurants – one Japanese, the other international which was also open for lunch and had a buffet breakfast offering.
The hotel has an outdoor pool, including a shallow children's pool but no gym.
Guests get 500mb free internet per room on a single device before having the choice of it being 'slower and free' or SBD 70c per mb.
Heritage Park Hotel
The Heritage Park Hotel is an International level hotel and probably the most expensive one I've ever stayed in for a standard room.
The hotel is 10 years old and on the original site of the Solomon Islands' Governor-General's residence. The main building is a renovation of the original house and sitting in the restaurant you can see the features of what was the main hall.
Heritage Park Hotel has a beautiful pool with a bar area, a gym which had good equipment for a hotel gym, and multiple eating places, including a restaurant serving an international menu.
Only 1G of internet each day per room, and, as I'd had a week largely offline, I used this in nine minutes as everything on my phone auto updated. Beyond that, internet pricing is extortionate and you're much better off picking up a local SIM card and buying a data pack.
Where should you go in the Solomon Islands?
If you only have around a week to visit the Solomon Islands my recommendation would be to fly into Honiara and spend a night or two exploring before taking a domestic flight to Gizo. After spending around three nights in the islands around Gizo you should then take a boat to Munda for a couple of nights before flying home from there via Brisbane.
This would make for the perfect round trip itinerary taking in a variety of the great things Solomon Islands travel has to offer.
Thank you so much to the Solomon Islands Tourism Board for hosting me for the purpose of writing and sharing my honest experiences.