Between longer stays in Berlin and Copenhagen I spent one day in Hamburg visiting my friend Bettina. Bettina took me to many places that I otherwise wouldn't have discovered and this one day itinerary is made up of things that I did on my short visit to Hamburg.
At the time I visited a €9 monthly transport ticket was available in response to rising energy costs which could be used in cities across Germany – long distance trains excluded. This made it incredibly affordable and easy to get around Hamburg in a day. Otherwise I would likely have purchased the Hamburg card for my transport which comes with discounts on a number of tourist attractions.
I used The Trainline to find my way on the train to Hamburg from Brussels, and then on to Copenhagen (on a Flixbus) at the end of my stay.
1 day in Hamburg itinerary
Starting from Hamburg Central Station (Hauptbahnhof Süd) walk down the tree-lined Mönckkebergstraße. This is one of Hamburg's main shopping streets and features all the high-street chain stores you'd expect of a European city.
If you're looking to pick up something to eat, I'd recommend picking up some goodies from Schanzenbäkerai (here's the location). I chose a delicious filled bread roll and a Franzbrötchen, which is similar to a croissant which has been stomped on (flattened) and dirtied (using cinnamon). The story goes that Hamburg bakers started making these in the early 19th Century in quiet protest of the French occupation.
Visit the Hamburg City Hall
At the bottom of Mönckkebergstraße you'll find the Hamburg City Hall. Almost 44 years after the old city hall was destroyed in the great fire of 1842, they began building the present version which was completed in 1897 and still houses the local government of Hamburg.
You can walk through the building into a courtyard which features a fountain of Hygieia, the goddess of health and hygiene in Greek mythology. The fountain was built in remembrance of the cholera epidemic.
Jungfernstieg and the lake
From the Hamburg City Hall, walk towards Binnenalster (or Inner Alster Lake) which is one of two artificial lakes in Hamburg. If you're interested in shopping designer labels, you can find the luxury stores around Jungfernstieg as you make your way there.
The waterfront at Jungfernstieg makes for a scenic spot to consume any purchases from Schanzenbäkerai, or you could visit Alex for brunch to enjoy the views from there.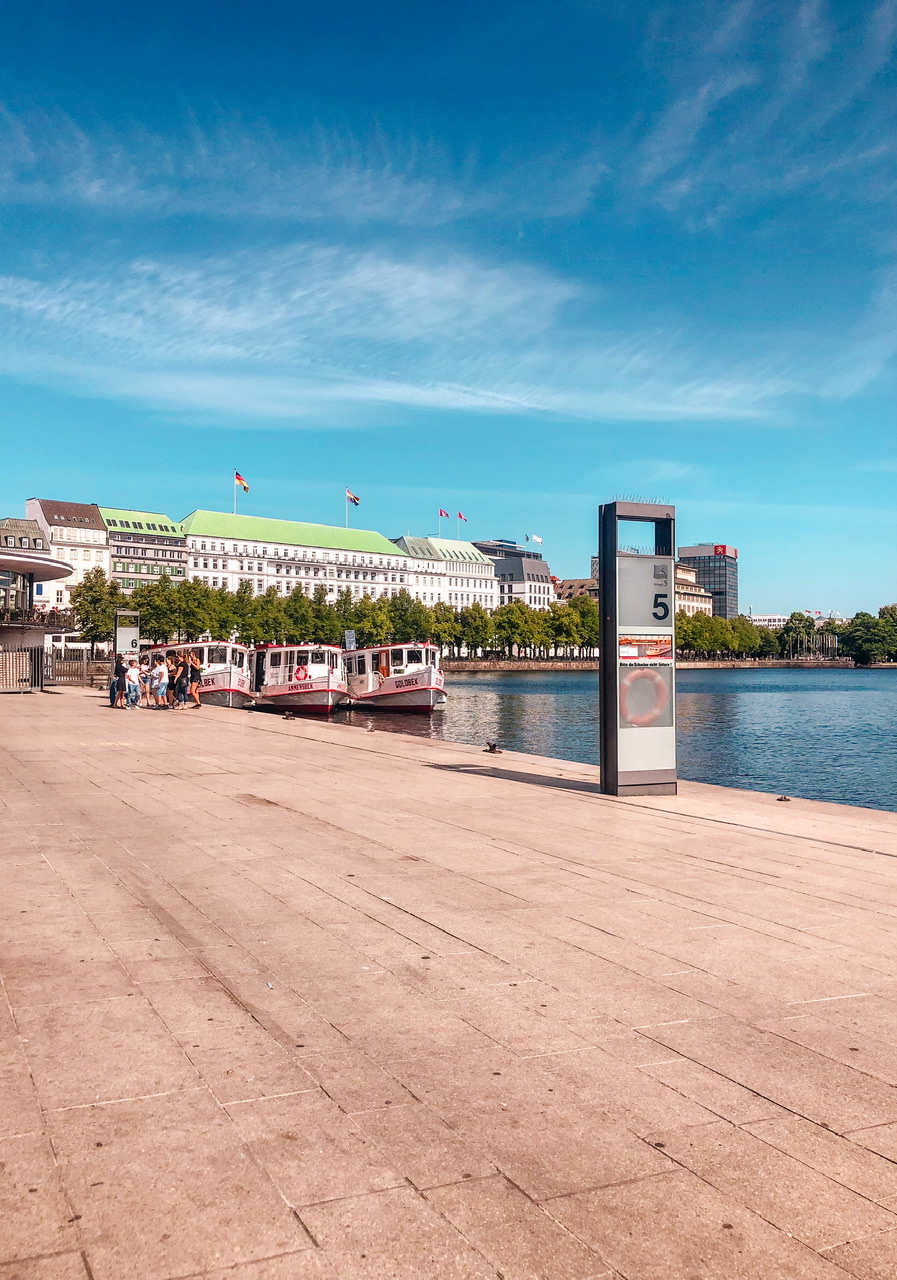 Sightseeing on the River Elbe
Once you've soaked in the views, from the Jungfernstieg subway station, take the U3 to Landungsbrücken. Here you'll find the Port of Hamburg on the River Elbe. As well as ships and boats coming and going from the piers there are numerous souvenir shops and places to eat.
There are popular sightseeing tours but I can recommend taking the public ferry to Finkenwader and back for a fraction of the price.
Views from Michaeliskirche
Next, walk to St. Michael's Church (Michaeliskirche). It costs €8 for adults to climb the tower or take the elevator up Michaeliskirche's tower for 360 degree views of Hamburg and was well worth it for the views, as well as seeing the beautiful interior of the church itself.
The most prominently visible building to me from the tower was the glass Elbphilharmonie, a large concert hall building which resembles an ocean wave. There's a busy public viewing platform there which tickets are free for and would also provide panoramic views of Hamburg however I didn't get there this time.
Somewhere I would never had discovered on my own is a small alleyway off Krayenkamp, opposite St Michael's Church. Here there is a row of tiny 17th century houses which provided charitable accommodation for the widows of local shopkeepers for almost 200 years. Now they contain shops and restaurants.
Relax in Stadtpark
Walk to Michaeliskirche station to take the U3 to Saarlandstraße and walk to Stadtpark. On a fine day you can purchase ice creams or coffee from the cafe, swim in lake, rent a boat, or just walk around and admire the beautiful gardens. There might also be a performance on.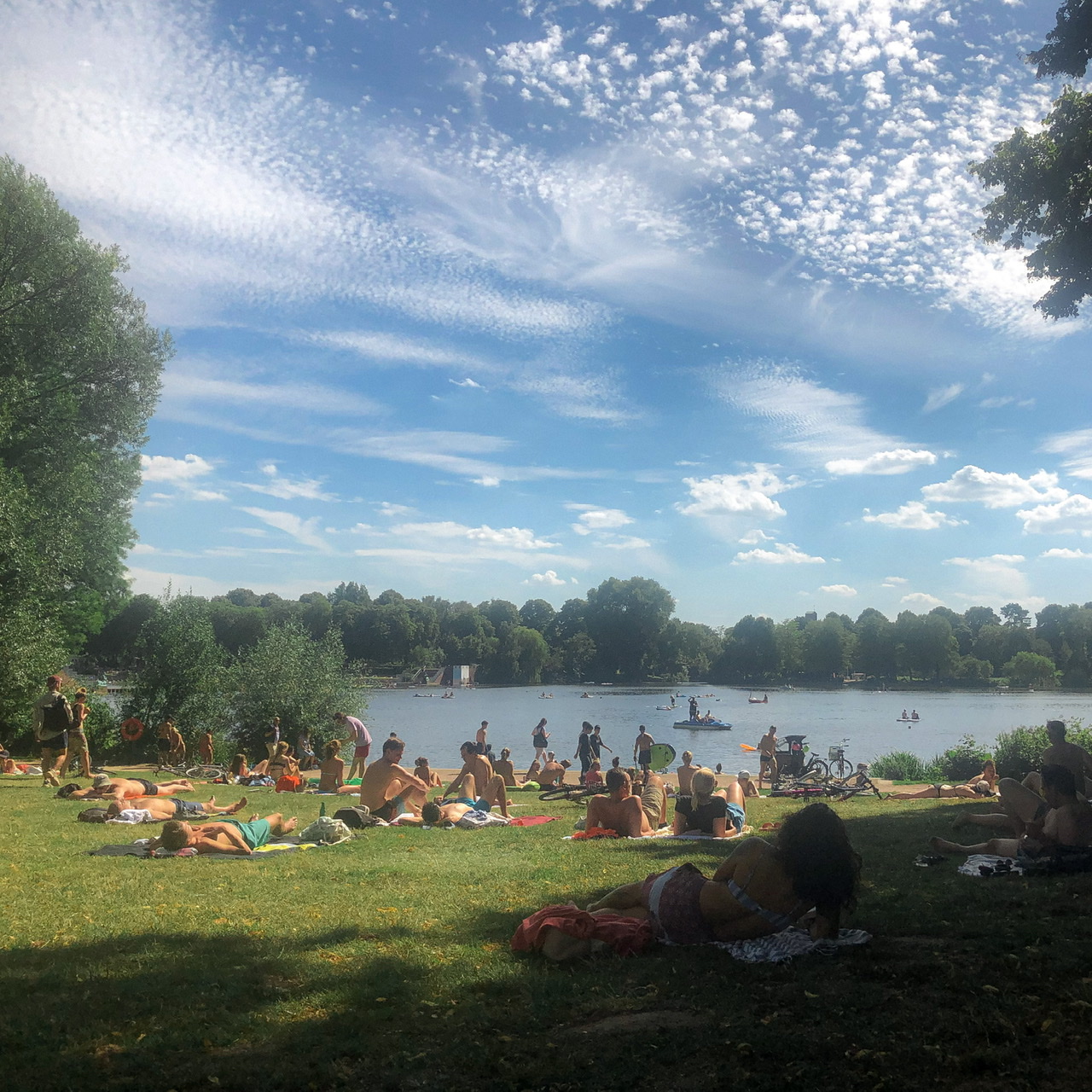 If your one day in Hamburg happens to be during one of the three months of the year the Hamburger DOM is on, head back to Saarlandstraße and take the U3 to St.pauli. The Hamburger DOM is Northern Germany's biggest public festival and is full of thrilling rides, stalls selling traditional foods, and drinks and snacks typical of fairs the world over. Both Bettina and I felt nostalgic despite growing up on opposite sides of the world.
And there you have it – all my suggestions for spending one day in Hamburg. It's a fantastic city with plenty to see and do. You can find the locations on the map below.