While basing myself in Canggu during my stay in Bali I wanted to tick off a number of attractions around Ubud. I ideally also wanted to do this within a day without hiring a scooter.
After I was I was quoted Rp 650,000 to hire driver for 8 hours (despite their ad in my villa saying Rp 500,000), exclusive of parking and entrance fees, I decided it was too pricey without having a friend or group to split everything with.
I ended up booking this small group tour through GetYourGuide† which covered a range of attractions around Ubud. The group was only myself and two other guests.
After being collected from my accommodation I was extremely grateful I was not driving. Scooters in Bali veer everywhere you can't escape them even in a car. They'll turn the corner towards you on the wrong side of the road just to get around. I also noticed petrol being sold at a significant mark-up in vodka bottles at roadside stalls as petrol stations are so far away. 
Tegenungan Waterfall
Amusingly all the stores at the entrance to this attraction have signs promising a good, clean toilet, with purchase. Having chosen the tour option which included entrance fees there was no queuing, we were just handed tickets and set off down the steep trail to the base of Tegenunan Waterfall.
You've no doubt seen people in Bali sitting in human-sized birds nests on Instagram. There are plenty here placed with Tegenungan waterfall in the background and donation boxes sit beside them. There are also a couple of swings – I was quickly realising that Bali loves swings. They're everywhere and I blame Instagram.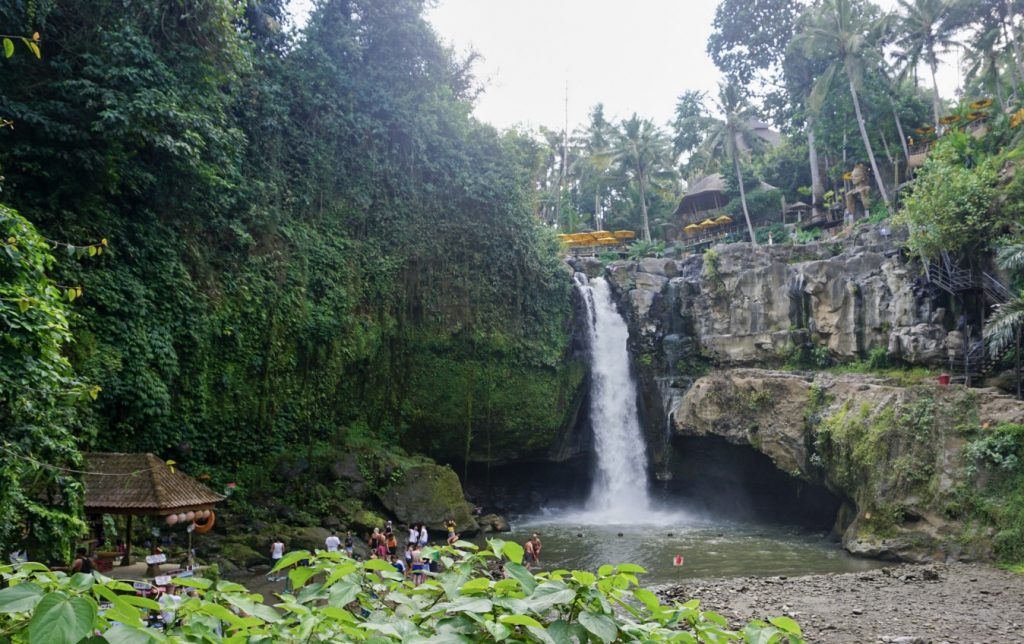 Tegenungan waterfall itself is pretty but I didn't feel the need to swim or get too close to it. To get anywhere near it you need to cross bridges made of bamboo without hand rails which just don't seem that stable underfoot. They make the seemingly excessive safety precautions at some of New Zealand's tourist attractions seem perfectly reasonable.
As with any of these attractions around Ubud,  you want to get here early to avoid the crowds.
Entry fee: Rp 20,000
Temple complex of
Tirta Empul
Tirta Emple was a really nice temple and not too busy. Sarongs are provided and women must have their hair tied back inside the temple.
I didn't go in the water. There were people everywhere and I didn't want to be the person holding the group up (perhaps a negative of visiting as part of a small group tour) but I enjoyed seeing people do so as well as people participating in prayer and feeding the fish within the complex.
Tirta Emple entry fee: Rp 50,000 for adults, Rp 25,000 for children. Fish food is Rp 5000.
Tegalalang Rice Terraces
If you don't wish to pay around RP 250,000 to stand in a queue for the famous Bali swing, or you can find cheaper ones here. I wanted to do it for the gram so minimal people in the background was my aim, and I found a great swing at the tegalalang rice terraces.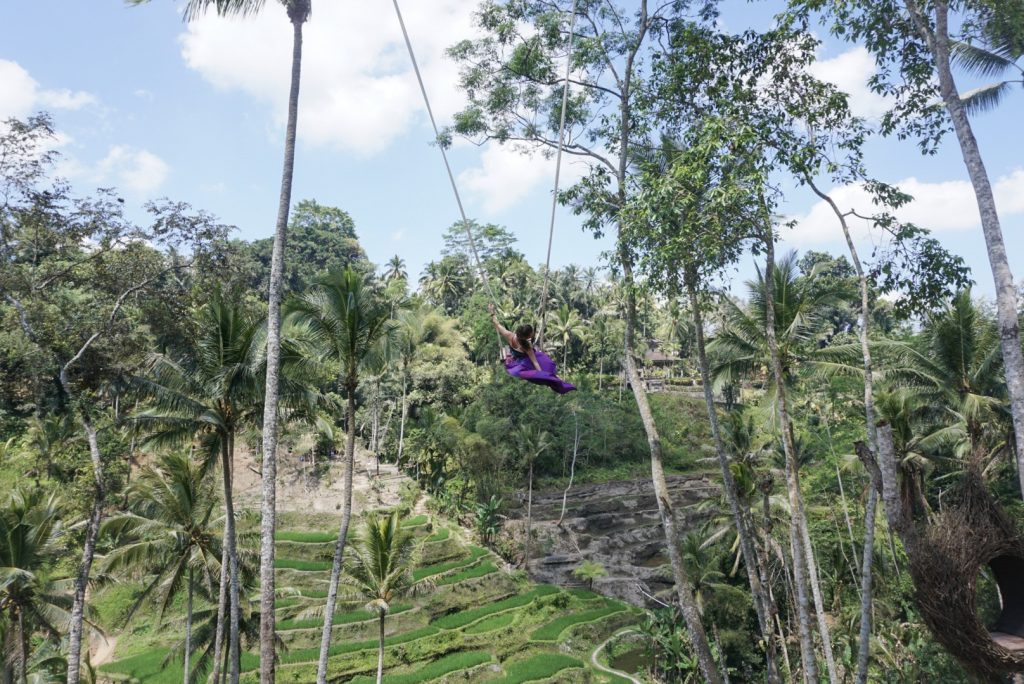 Perhaps the most well known of the attractions around Ubud the rice terraces are beautiful and it was nice to take a short (but hot) walk around the area. It's definitely become a bit of a tourist trap rather than anything peaceful however. 
Prices vary depending on how much you want to engage in the attraction.
Sacred Monkey Forest Sanctuary
Signs at the door clearly state that the if the monkeys smell food in your bag they will go for it and you should just drop the food and back away slowly.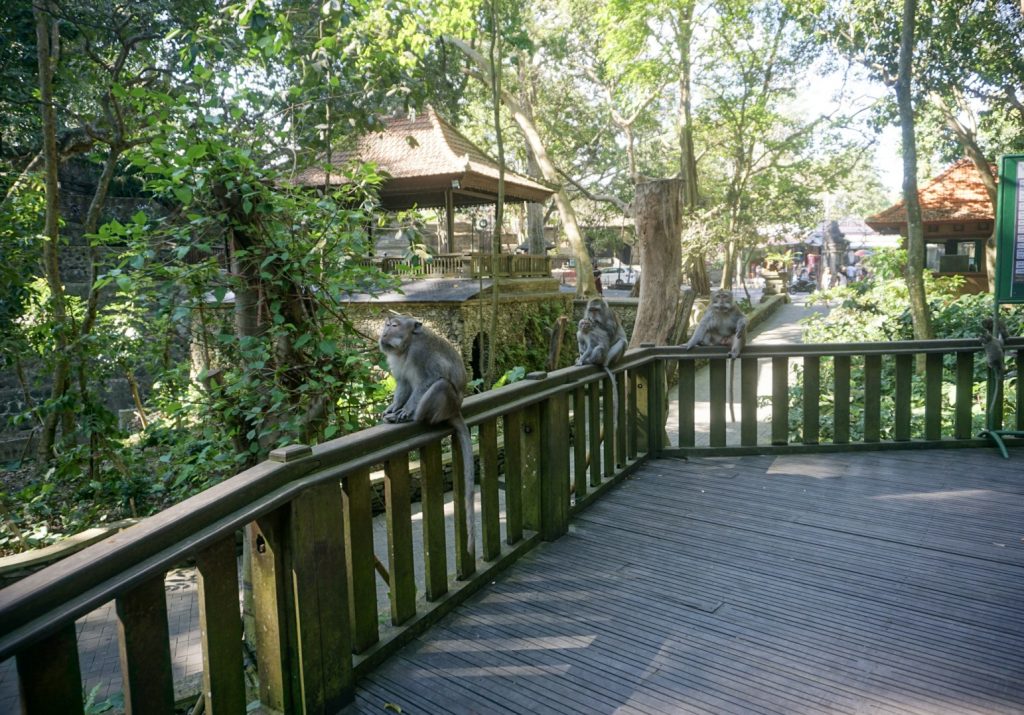 I thought I was the perfect visitor for not having food on me but hadn't considered food flavoured items. A monkey climbed onto my backpack, unzipped the front pocket and removed my coconut flavoured lipbalm and lemon scented antibacterial wipes. 
Realising neither was good thing for a monkey to be eating I tried to alert an attendant and discovered the two in close proximity already had their hands full with mischievous monkeys.
I left the Sacred Monkey Forest extremely nervous of monkeys (something which didn't help me the following day at Bali Zoo). The monkeys closest to the gate are much better behaved than those on the far side, no doubt because they get offered the most food as visitors enter.
Entry price: Rp 80,000
Luwak coffee plantation
I'd fully intended to go in, try Kopi luwak, avoid the crowds and leave again but my plans changed when I saw the luwaks in cages and I decided didn't want to spend money supporting this.
I did try a range of 14 other teas and coffees (only four of which were not to my taste due to their sweetness) and it was nice place to sit down out of the heat. They definitely try to up-sell at every opportunity – from walking in the plantation, having photos taken, swinging or just coffee from the gift shop.
I was impressed with the attraction's old-fashioned wristband number system which someone enabled the staff to track my tea and coffee order and call for my driver.
Again, prices vary depending on how much you want to engage in the attraction.
Would I recommend this tour?
It was a long but great day out exploring the highlights around Ubud. San, our driver, communicated well through Whatsapp, dealt well with hiccups and was always clear about timings and anything our group needed to be aware of. I really appreciated being driven in an air conditioned vehicle right to the door of the attraction. Our guide also did all the queuing to get the tickets and took the fabulous photos of me!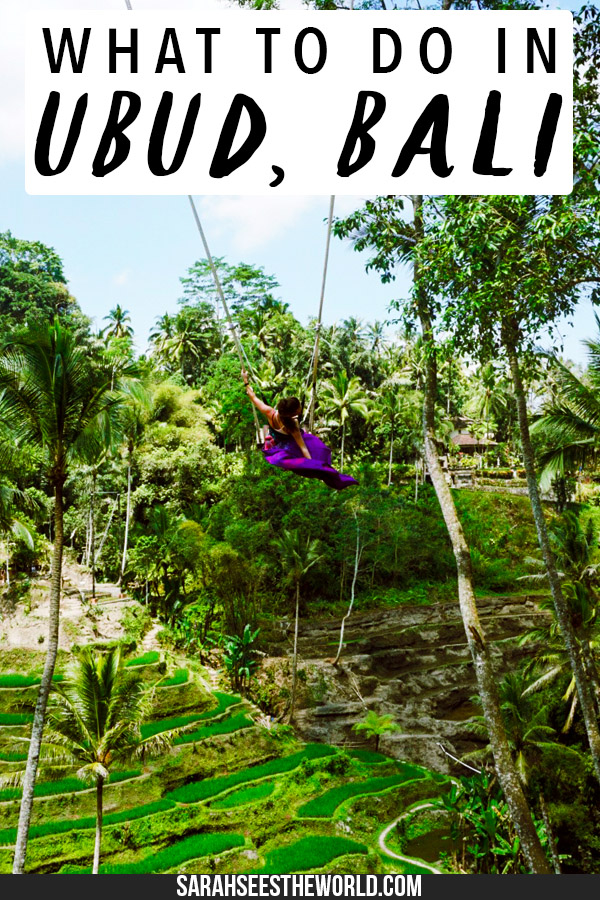 † I received a €20 discount on the retail price of this tour (which I chose personally) thanks to GetYourGuide.