Bali Zoo's motto is to "Love. Conserve. Share." and the conservation institution is finding new and unique ways to demonstrate this.
A recent conservation success story is the release of an nine year old Silvery Gibbon called Boris, back into the wild along with a female of the endangered species called Inge. They'd each spend just under a year in a school of sorts, learning how to survive in the wild and will hopefully breed.
In sharing Bali Zoo clearly understand that people want authentic experiences with animals they love and care for. While I was in Bali I was invited to visit Bali Zoo and experience both their Breakfast with Orangutan and Elephant Mud Fun experiences.
I was picked up from my accommodation bright and early by Wayan who drove a car decorated in Bali Zoo livery and navigated the weekday morning traffic with ease. Reaching the zoo I picked up my tickets and map and, through the entrance, quickly found myself amongst a lot of deer and slightly concerned I'd walked through the wrong gate!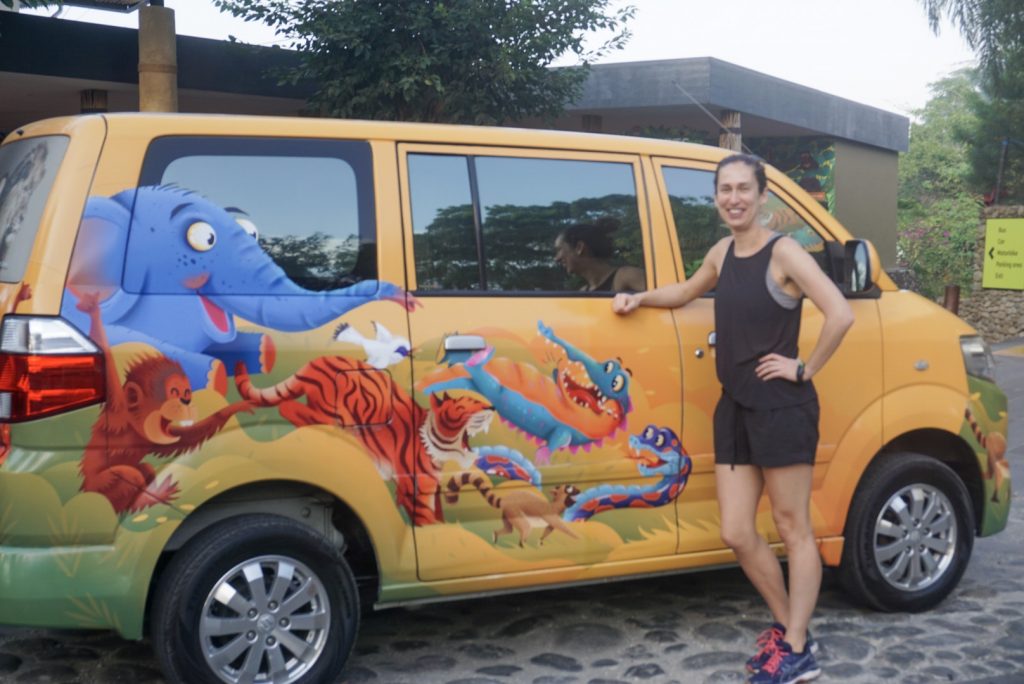 Breakfast with Orangutans
I was on the first bus to reach the breakfast buffet which opened at 8am. The breakfast buffet spread was amazing with tea, coffee, a range of juices (orange, apple, pineapple and water melon), pastries, fruit, warm items suck as waffles, pancakes and banana fritters and an egg station offering omelettes, eggs cooked to your liking and Indonesian fare.
While Bali Zoo's advertising might suggest an entire family of orangutans chilling out right beside you while you eat your breakfast in their natural habitat, in actual fact two swing their way in along ropes and sit on platforms to eat their own breakfast and have photos taken.
As well as the two orangutans named Dara and Septi who were adopted from Borneo following deforestation in their home, two elephants and their Mahout were near the restaurant at breakfast time. Having lost my lipbalm to a cheeky monkey at The Sacred Monkey Forest Sanctuary the day prior I was keeping a close eye on absolutely everything I had with me.
It would definitely help to have a friend of family member to take photos of you with the animals or trade photo taking with other visitors. Staff needed to keep an eye on the Orangutan so are unable to take photos of guests and the roving zoo photographer obviously prioritises photos using their own camera to sell.
Staff I met were very attentive asking questions about I was from, how I was enjoying my morning and whether they could get me anything else. I would have viewed this as excellent customer service however they were prone to then hand me a Tripadvisor card with their name on it asking me to leave a Bali Zoo review on the site and mention them.
After an hour at breakfast with the orangutans it was time to move on to the elephant experience.
Elephant Mud Fun
Elephant Mud Fun is a new experience at the zoo, introduced this year. Bali Zoo adopted their 13 elephants following deforestation. Three elephants were taking part in the Elephant Mud Fun experience the morning I was there – Molly, Terri and Enna, with groups of about 10 designated to each elephant for the session.
We enjoyed a welcome hot drink and Balinese bites before chopping up carrots and pumpkins to feed to the elephants as well as whole bananas. We then had time to change after receiving a run down of how the session would progress.
I was excited to meet the elephants and feed Terri some vegetables.
We were free to take photos during the feeding but cameras and phones had to be handed into a box before we got muddy and wet in the elephant area.
In the elephant mud pool we learned from the mahout that it's common to find elephants basking in mud during the summer. They have a high body temperature and no sweat glands and rely on mud to stay cool and protect themselves from the heat of the sun getting sunburned (even though their hide looks tough!).
Naturally we covered ourselves in mud before thoroughly covering the elephant.
After covering the very happy elephants thoroughly in mud, we washed them and ourselves off in an elephant-sized outdoor shower, using brushes to massage them, before relocating to a cleaner pool to splash around with them. The mahouts were fabulous and it was a very cool experience.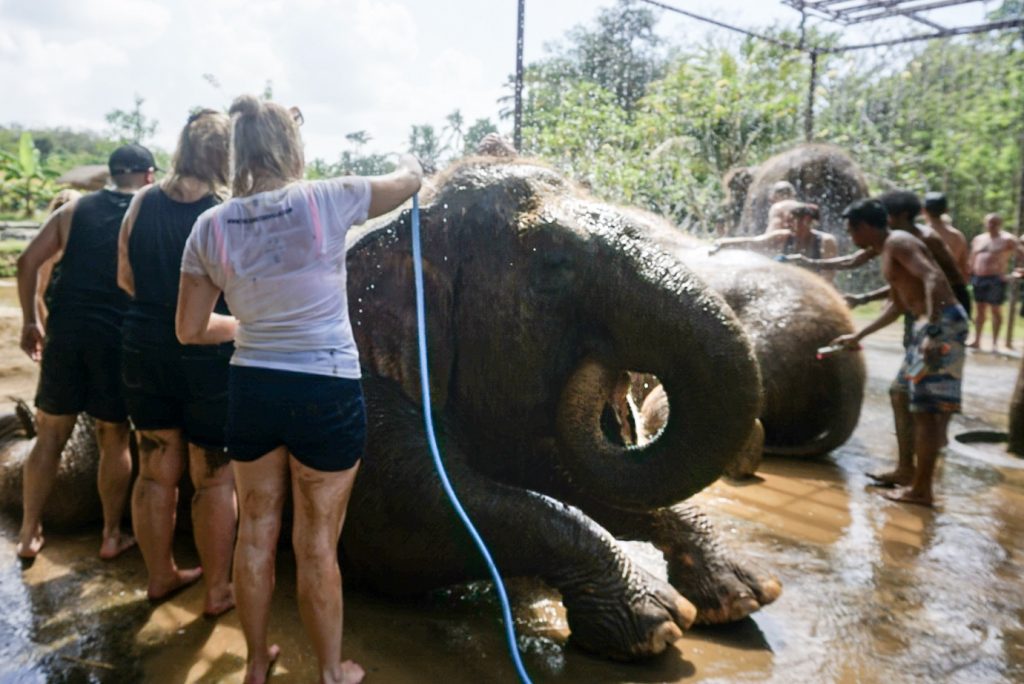 My only small caution is that the changing room and locker area are very small and there is nowhere in the showers to balance your belongings. I'd recommend arriving ready to go (dressed in swimwear and clothes to get muddy and wet in) with fresh clothes to wear afterwards. But I really appreciated that towels, locker keys, bags for wet clothing and antibacterial shower gel is all provided.
After you've showered and changed lunch is also on offer.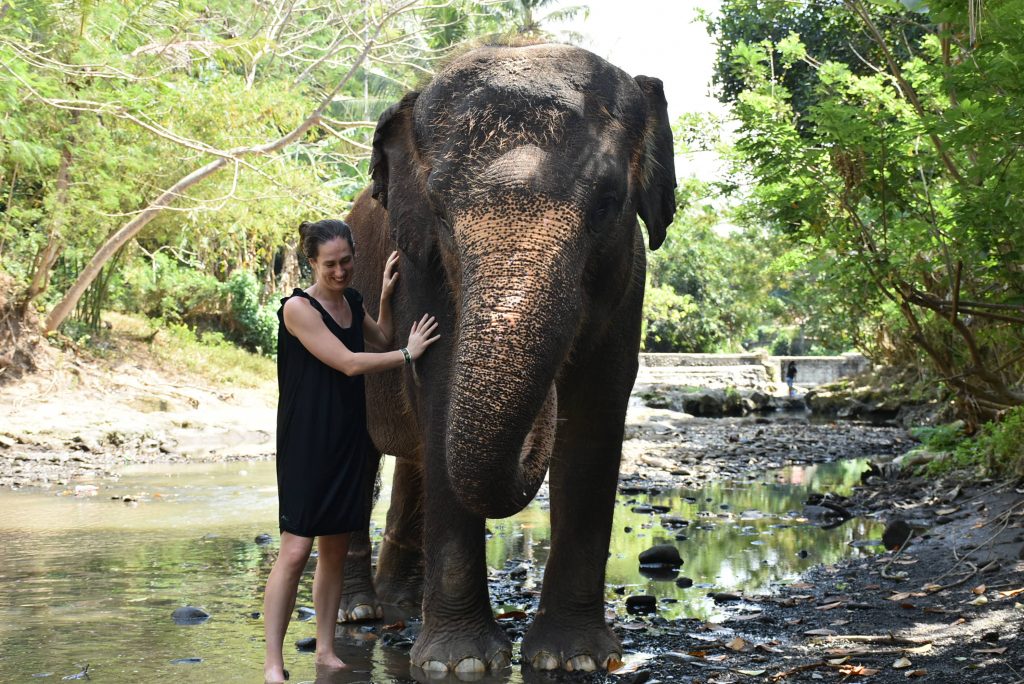 Bali Zoo experiences
I highly recommend both these experiences at Bali Zoo. The Elephant Mud Fun encounter was my favourite but I think children would love the Breakfast with the Orangutans.
Both packages allow you time to explore the rest of the zoo at your own leisure afterwards before you're driven back to your accommodation. A safari area is currently under construction but I can recommend a visit to see Blessing, a baby tiger who was abandoned by it's mother, and feeding the deer, lions and tigers.
Walking around the zoo it didn't appear to be smoke-free (Auckland Zoo has been since 2010) which made me concerned for the lungs of the animals as well as my own.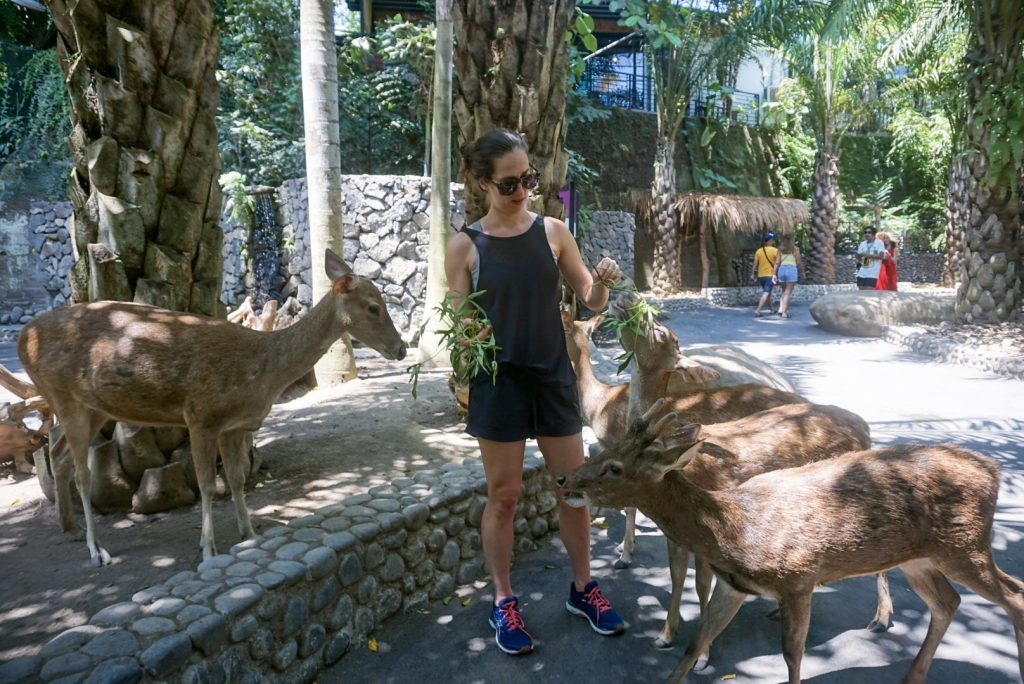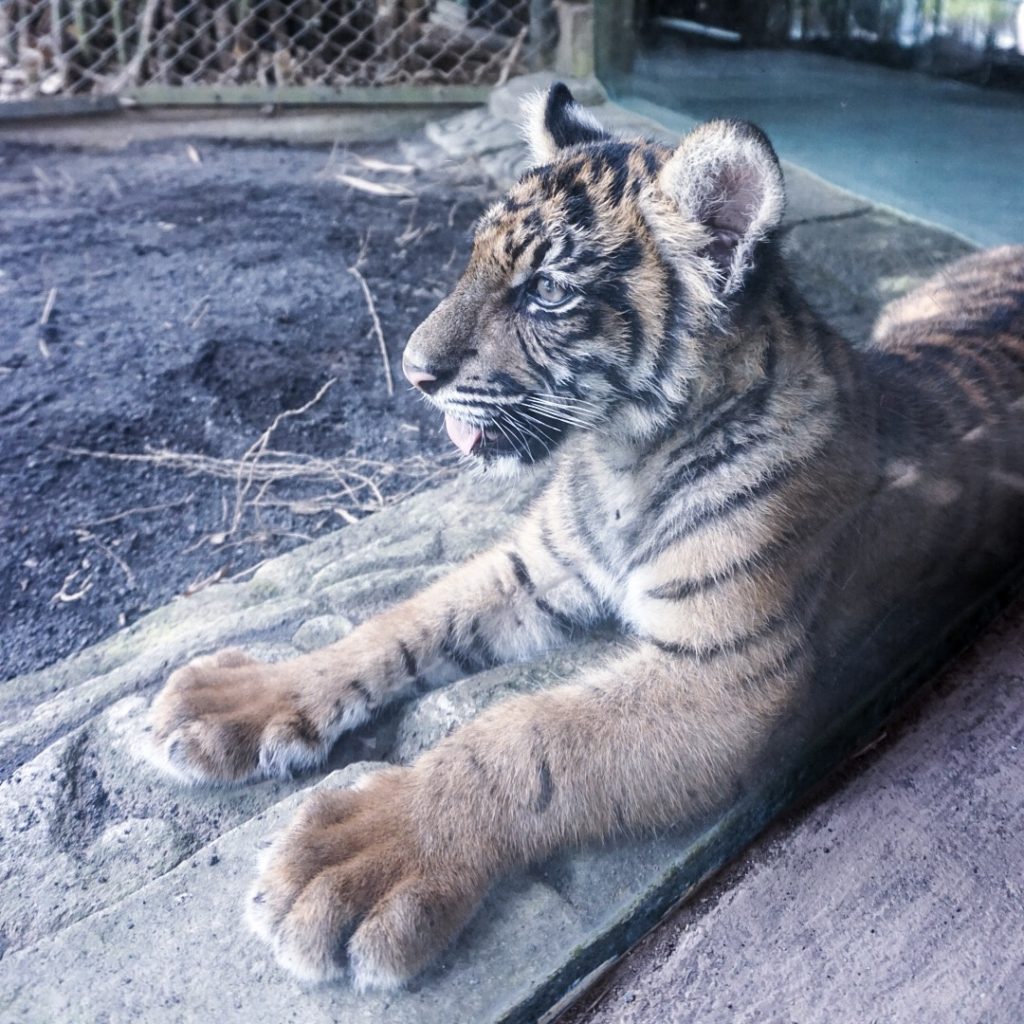 Booked online through the Bali Zoo website Elephant Mud Fun tickets cost $100US or $87US without transfers and Breakfast with the Orangutans costs $51US or $39US without transfers. You can do both for $124US and I'd highly recommend doing so! Children are cheaper. Note at the Elephant Mud Fun experience is closed on the 28th of each month for pool maintenance and new mud.
Thank you to Bali Zoo for hosting me for the purpose of writing this honest Bali Zoo review.