At 50 miles long Scotland's Island of Skye is the largest of the Inner Hebrides and features some of the most iconic landscapes in Scotland.
It was the famous scenery which led me first to Inverness, the capital of the Scottish Highlands, and then to take a day trip from Inverness to Isle of Skye and Eilean Donan Castle with Timberbush tours.
The 12-hour tour, which I booked through Get Your Guide, left the Inverness Bus Station at around 8am and included the best things to do in Skye. Being peak season there were two comfortable air-conditioned mini-buses full of us.
Our driver guide 'Alex S from Inverness' told stories the whole way and was very informed and engaging and played a soundtrack of Scottish music. Travelling solo I was invited to sit up the front which gave me the best views.
Here are the highlights of my day trip to the Isle of Skye.
Urquhart Castle and Loch Ness
After feeding a group of Hairy Coos carrots and apples on our way out of Inverness we headed for the famous Loch Ness, an obviously popular tourist attraction in the Scottish Highlands. Loch Ness is the deepest loch in Scotland while Loch Lomond is the biggest. Unfortunately Nessie the creature of Scottish folklore who is said to inhabit the deep lake was nowhere to be seen during our visit.
Our group had a quick photo stop to view Urquhart Castle on the edge of the stunning lake. In 1692 Urquhart castle was partially destroyed to stop Jacobite forces from using it. Today the ruined castle is under state care, open to the public, and one of the most visited castles in Scotland.
Eileen Donan Castle
Eileen Donan Castle was our first proper stop. Now owned by the Macrae family Eileen Donan Castle sits on its own island in the Western Highlands. It has been rebuilt numerous times due to it being destroyed or mismanaged. I recognised the castle as the Scottish headquarters of MI6 in a James Bond film but it has appeared in other movies including Highlander.
Entrance to Eileen Donan Castle was not included in our tour price so was an additional £10 for those wanting to go inside the castle or £3 if you just wanted to cross the bridge to the castle grounds for a closer look at the outside.
Sligachan
After crossing the Isle of Skye Bridge to Skye we stopped at the settlement of Sligachan. Here we viewed the Black Cuillin mountains, Sligachan Old Bridge and the sculpture of Collie and Mackenzie commemorating two mountaineers who developed climbing routes on Skye. If you were to stop here longer there was a hotel, pub, decent looking children's playground and a brewery.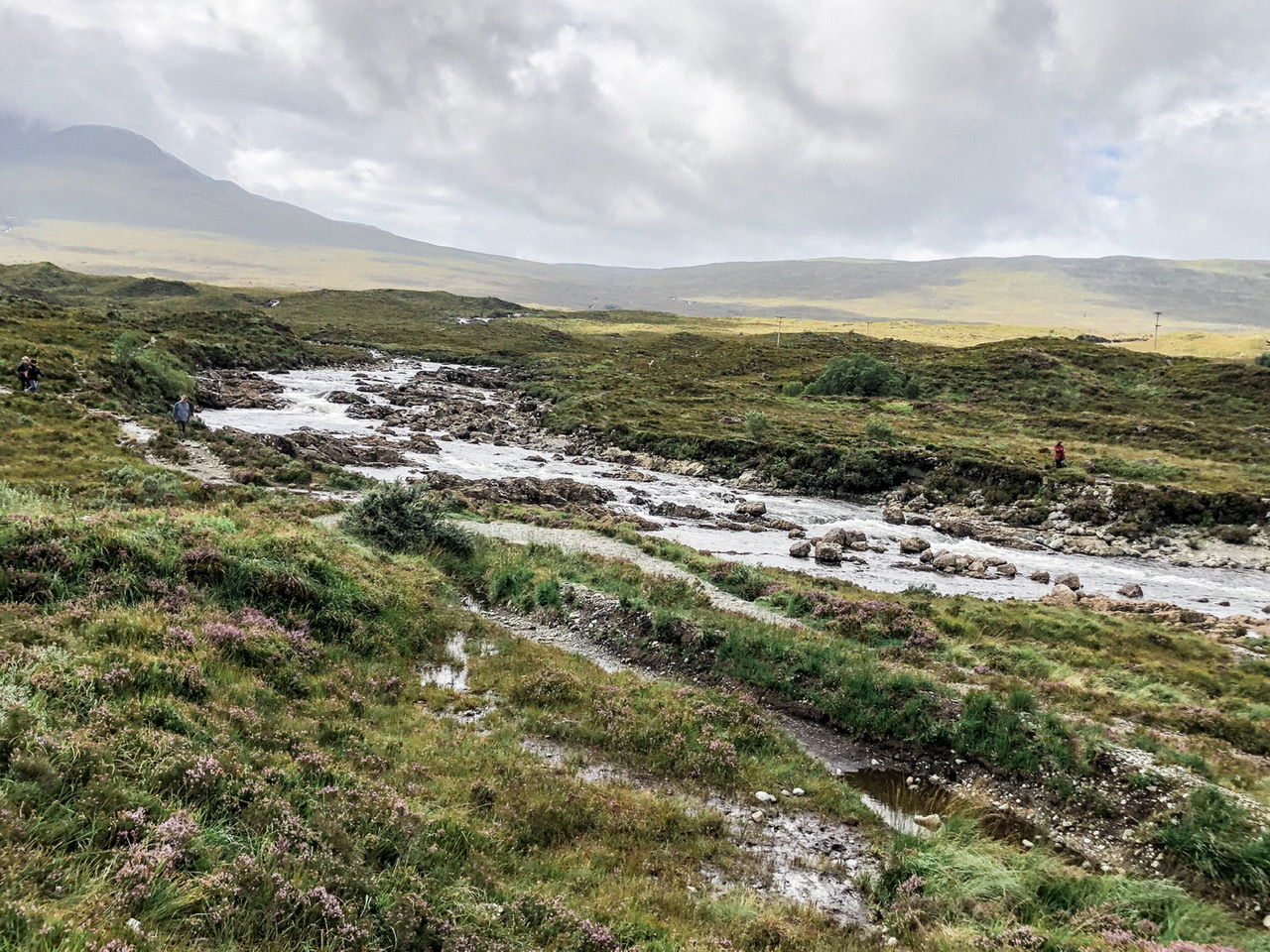 Portree
Portree, the largest town in the Isle of Skye was our lunch stop. If you're looking to plan your own trip with a few days in Skye, Portree would make an excellent base as it has the largest concentration of accommodation providers and restaurants.
Portree has a picturesque harbour with boats, colourful buildings and cute shops full of gorgeous items to take home as gifts. A busy fish and chip shop at the port seemed like a popular lunch option and there was also quite a queue for ice-cream at The Wee Ice Cream Shop – being in Scotland I had to try their whiskey ice cream.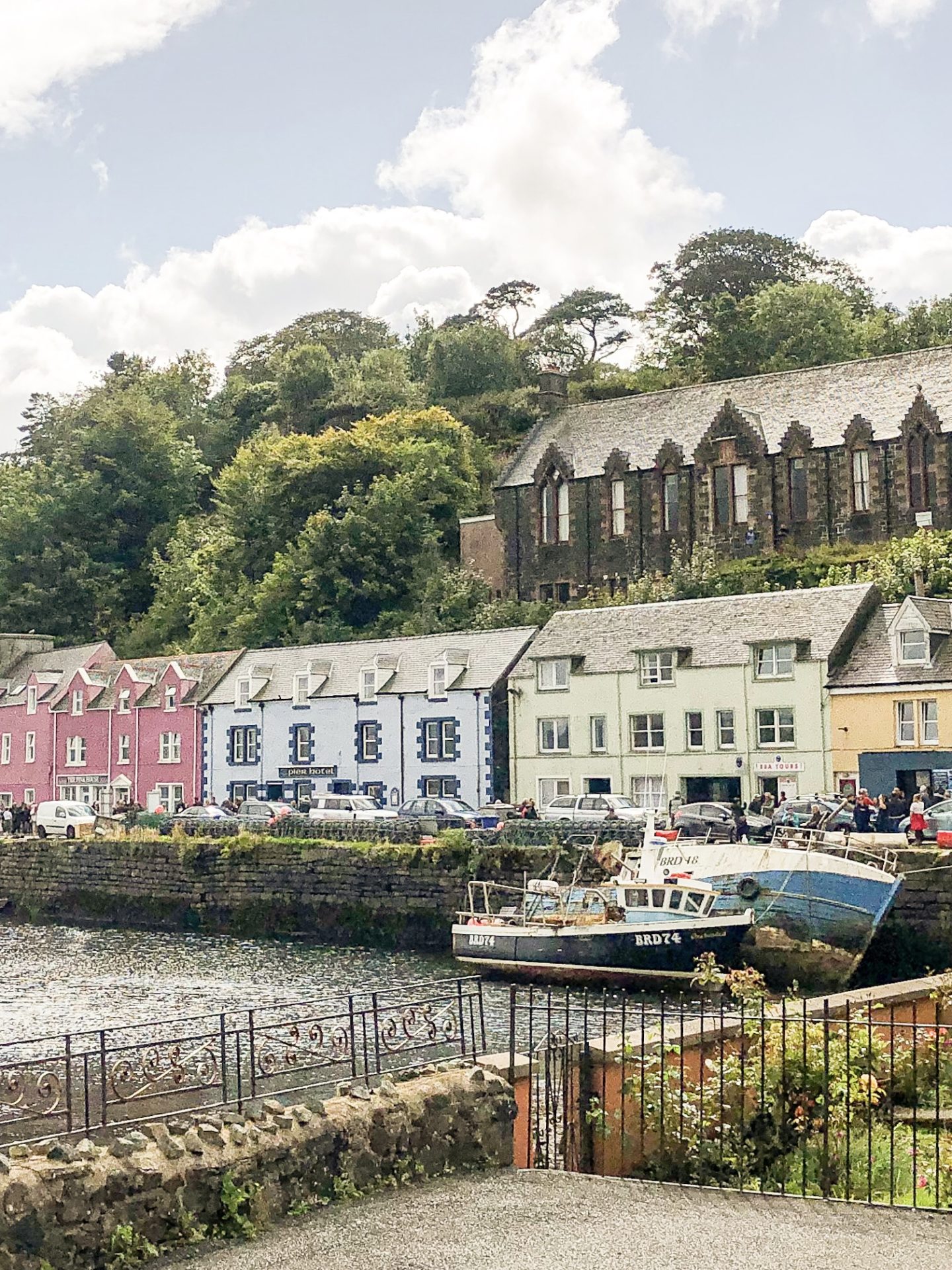 I'd packed my own lunch to make the most of my time in Portree and there was a supermarket for stocking up on snacks. If you're visiting on a tour and ordering lunch in a pub it would pay to check how long your meal will take as not to miss your departure time!
Old Man of Storr
Old Man of Storr is a large pinnacle of rock high on the rolling hills along the main road from Portree to Staffin which can be seen for miles around. There's a popular short walk or hike from a busy carpark to see this natural wonder up close, but on our day trip our guide stopped roadside for us to take photos of it from a distance.
Lealt Falls
There were two viewing spots to walk to from where our tour bus parked at Lealt Falls – a wooden platform to admire two waterfalls, and a higher area from which you could look down the Lealt Gorge as well as see out to the cliffs and sea.
This was the busiest place we stopped and it was a tad overrun with visitors.
Kilt Rock and Mealt Falls
The coastal Kilt Rock area gained its name as the coastline looks like the pleats of a Scottish kilt. Mealt Falls drops off the side of the cliff into the ocean. We only had a short stop at Kilt Rock but it was enough time to take in the views and the dwindling rain and busking bagpiper near the carpark gave the place a truly Scottish feel.
Loch Carron Viewpoint
Our last scenic stop was the Strome Viewpoint for views over Loch Carron and it was refreshing to be the only tour group there enjoying the panoramic views. The carpark at the Strome Viewpoint would be a stunning place to camp and up to four campervans are allowed park up at no cost each night.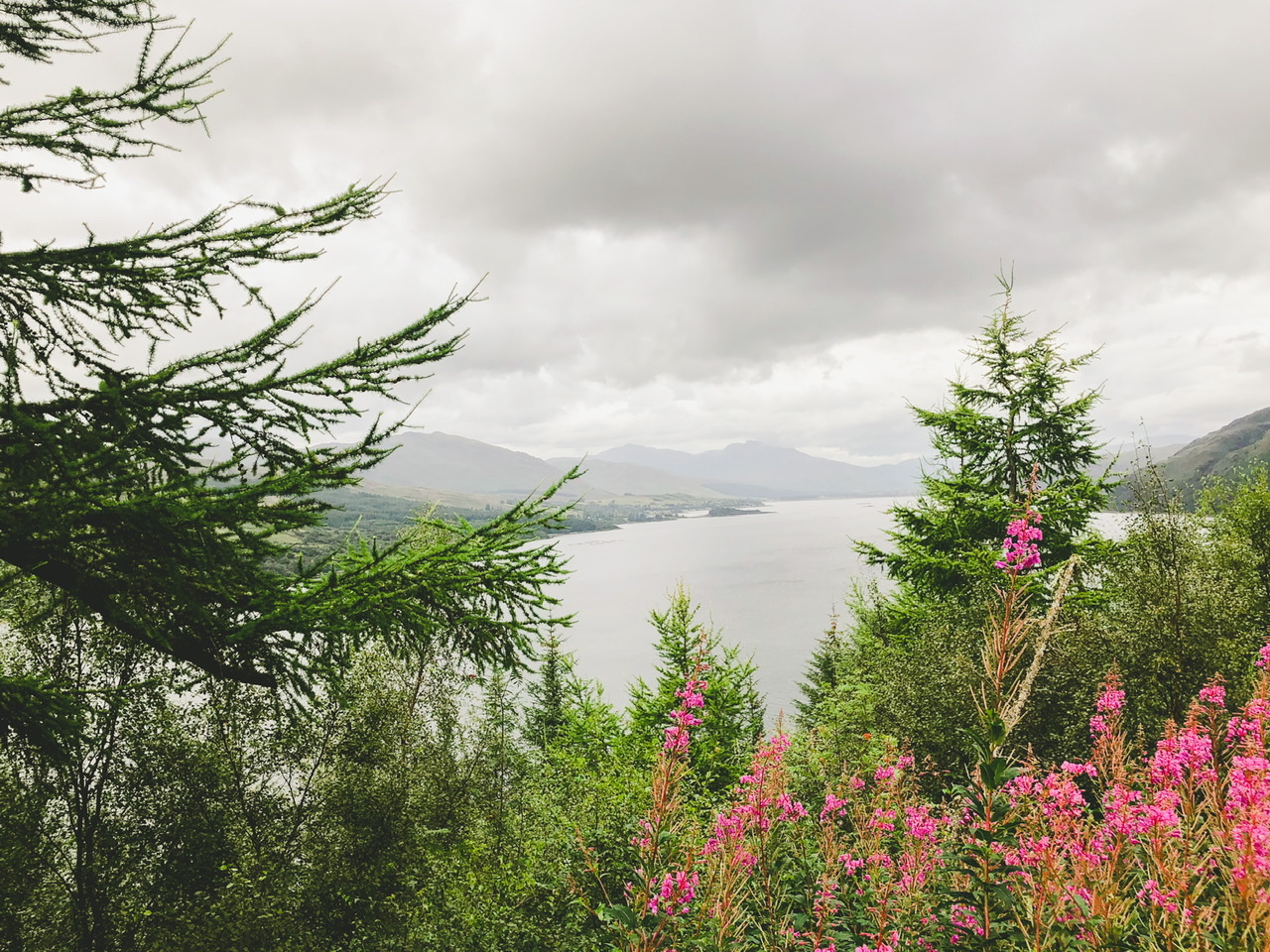 Skye's main industries are tourism, agriculture, fishing, and forestry and we saw signs of all of these on our route back to Inverness as our day trip to Isle of Skye came to a conclusion.
My Inverness to Isle of Skye day trip review
I'd pictured the Inner Hebrides to be quaint and sleepy but the Isle of Skye was far busier than I'd imagined. Being Summer at every major stop the carparks were crowded and some places were quite overwhelmed with tourists.
The day trip from Inverness to Isle of Skye with Timberbush Tours is comprehensive and our guide was amazing as both our informative host and driver. While it was a long day, it sped by with so many stops. I did feel like I reached a point where getting off the bus for yet another quick stop was growing tiring, however the beautiful views meant making the effort was always well worthwhile.
If I'd had less luggage I'd have taken a three day trip to Isle of Skye from Glasgow or Edinburgh to spend more time on the Isle of Skye, but dragging a suitcase weighing over 20kg around with me went against the minimal baggage policy these tours come with. However this would have meant that I'd missed out on Inverness which was an interesting city to visit.
The Scottish weather is changeable so however you see this part of Scotland, take plenty of warm clothing layers as well as sturdy footwear.