I spent one week in Santorini in August. I'd vowed to return to Greece to visit Santorini having previously spent one day in Athens as well as visiting smaller islands with The Yacht Week Greece.
Getting around Santorini
The buses in Santorini are modern air conditioned coaches and you pay cash on board (from around €1.60 per trip) however both the stops and timetables are limited even in peak months. All the buses start and finish at the Fira Bus Station so to get to Oia you may first need to get a bus to Fira and then a bus on to Oia which is around 25 minutes drive around a windy road.
Generally you're looking at €25-€30 any time you get a taxi, regardless of the distance you're going. If you're travelling solo be aware that the per-person price may not take into account solo travellers- as an example I was quoted €12 per person for my transfer from Santorini airport to my accommodation in Kamari which was arranged through the hotel. What they failed to mention (despite knowing I was checking into a single room) was that there was a minimum charge of €20 so travelling solo the transfer actually costs €20.
Oia
It's photos of Oia, on the southeastern tip of the island, which bring so many people to Santorini. Wanting to avoid the crowds I caught the first bus from Fira Oia and left after the buses of cruise ship passengers started arriving in droves. With the famous white houses built into the clifftops overlooking the water, Oia is picturesque.
I visited the ruined castle and wandered the streets as the shops were just being set up for the day. If you are wanting to watch the famous Oia sunset you need to book restaurants in advance as they sell out.
Things to do in Kamari
Kamari Beach
Kamari Beach is a volcanic shingle beach so while the water is warm and clear it is rough underfoot. The beach has chairs and umbrellas for hire and the street is lined with boutiques, bars and restaurants to choose between. Being close to the airport it is also great for plane spotting.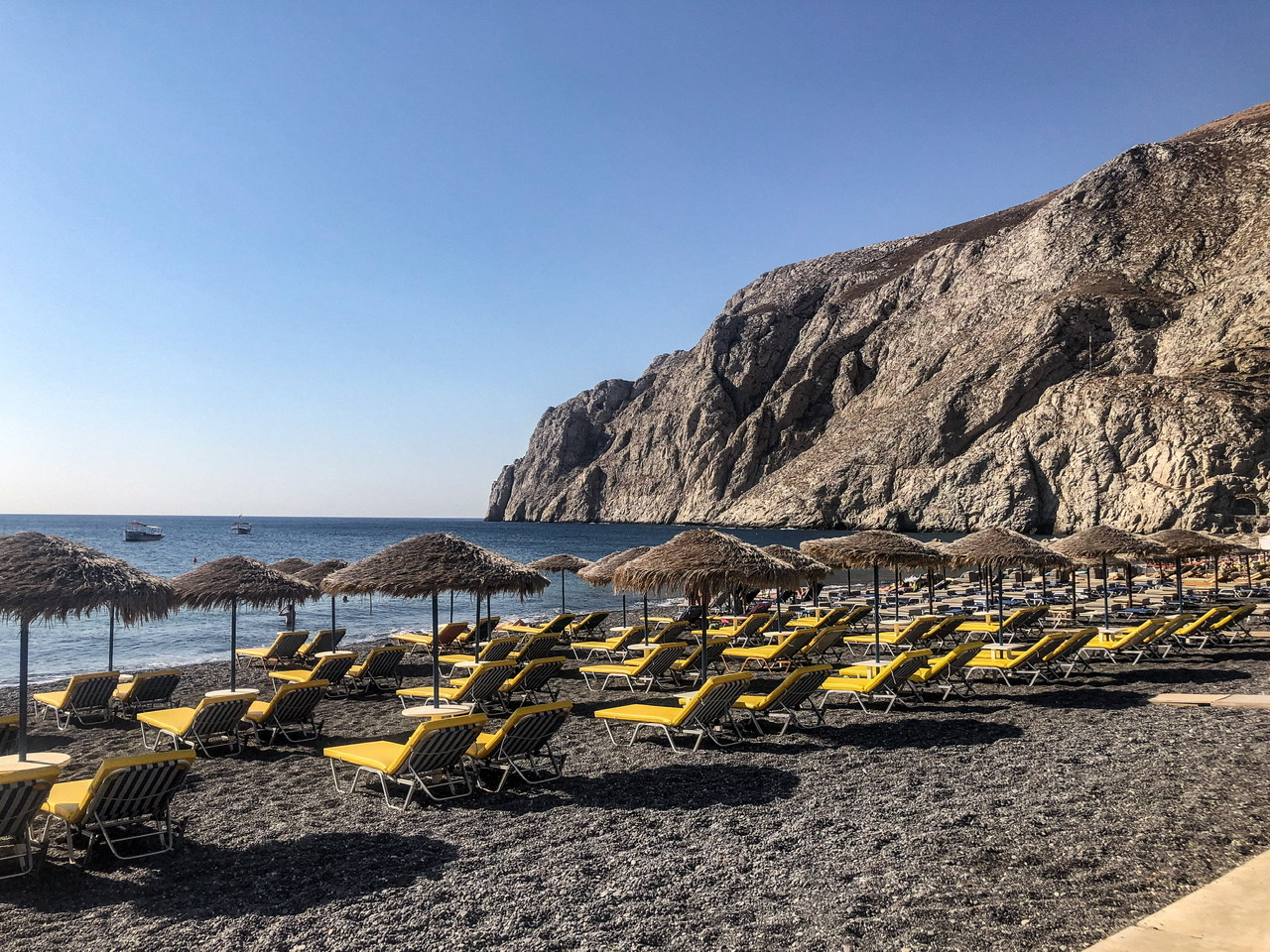 Visit Ancient Thera
If you have access to transport definitely take it as far as the carpark at the top of the hill for Ancient Thera. You can get a ride up in a minivan for €15 which I considered steep until I started walking! It took me over an hour in the heat with plenty of stops for water and to take photos of the stunning views.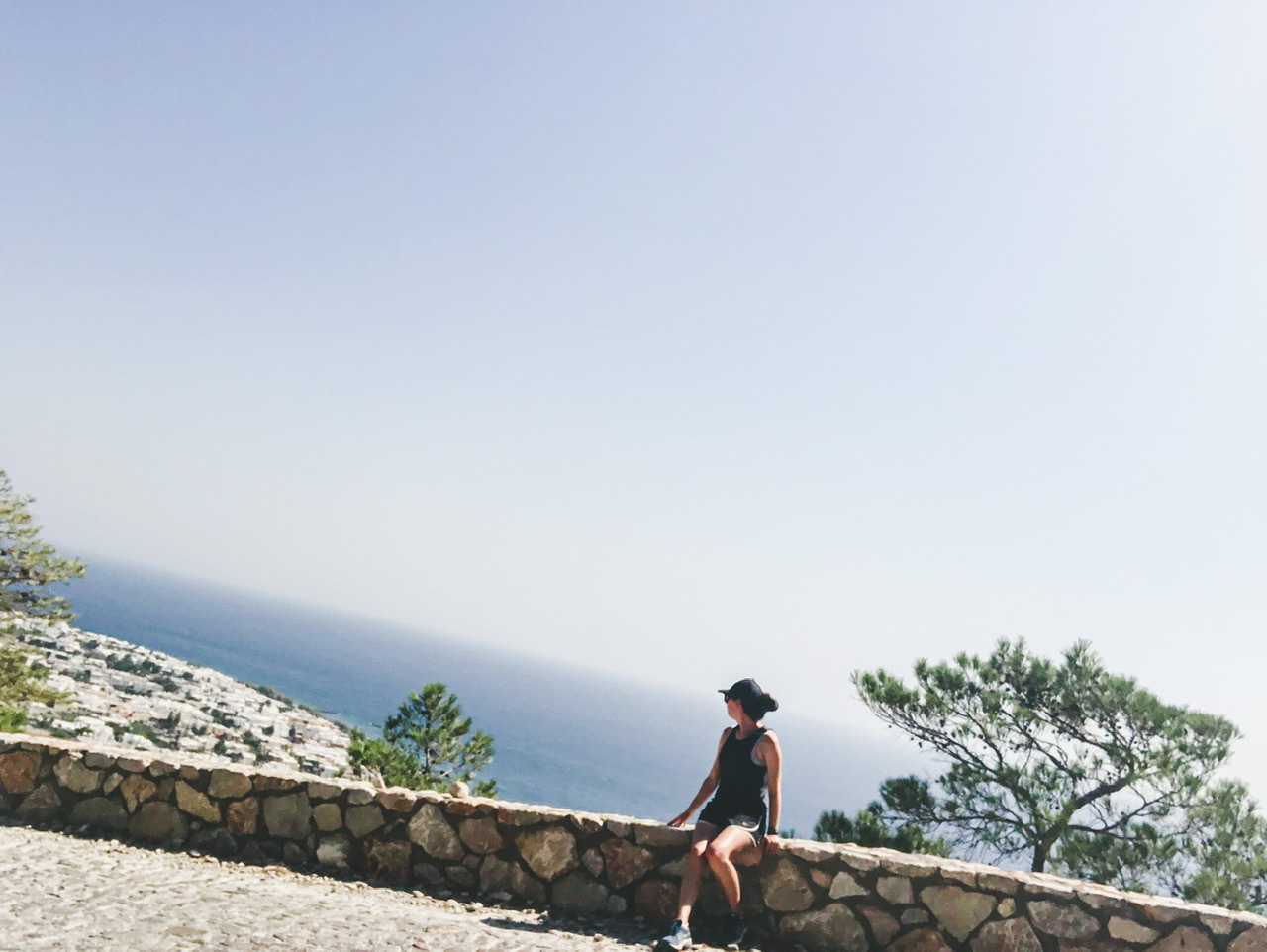 Reaching a ticket box I handed over my €6 and began exploring the site of the ruins. While I suspect the real finds are in museums somewhere there was plenty of signage to read, clearly marked paths and the ruins were interesting. You could reasonably spend an hour to an hour and a half here – wear sturdy footwear, take water and hold onto your hat as it gets quite windy.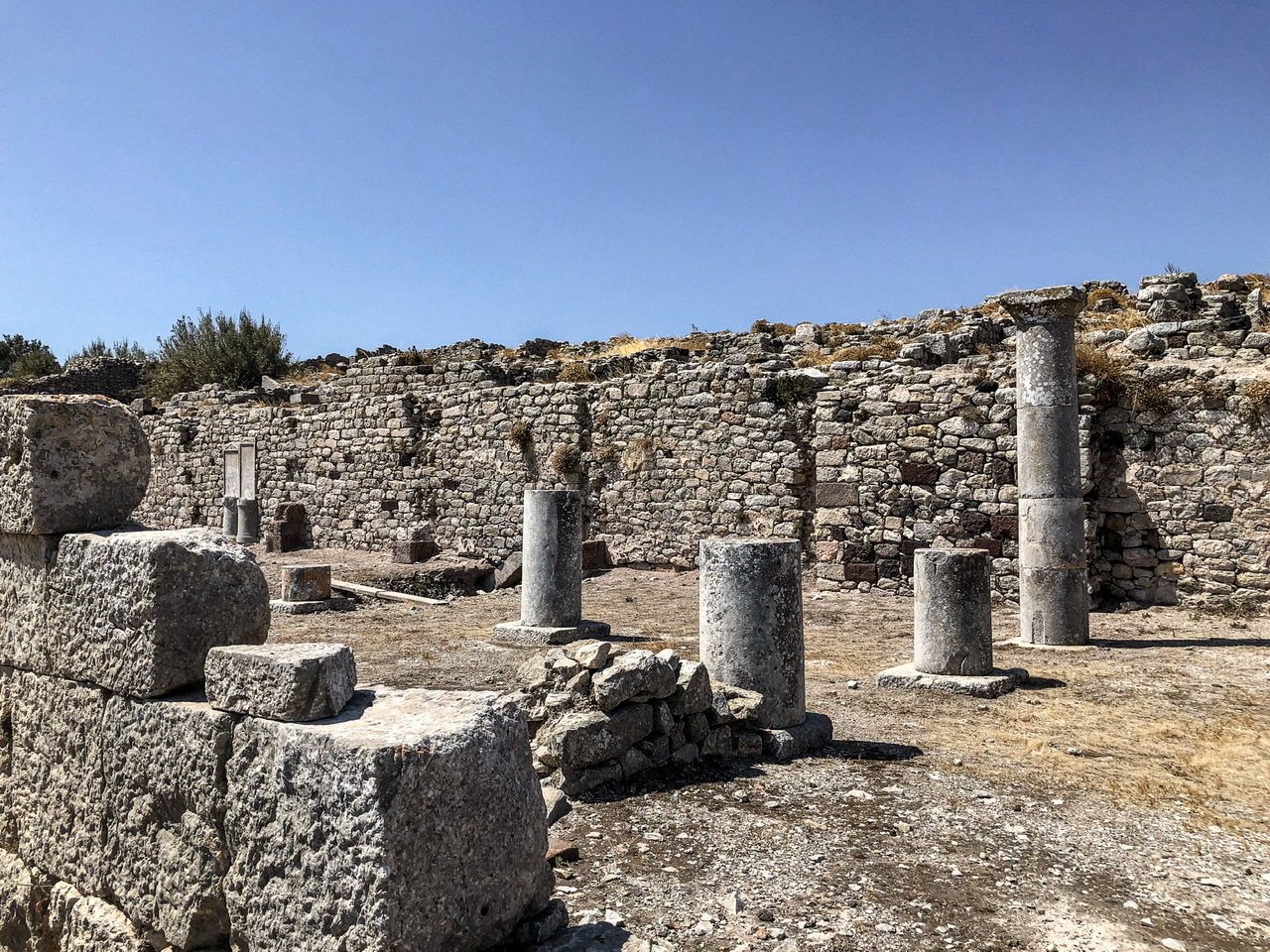 Where to go in Pyrgos
Pyrgos is the highest village in Santorini. From Pyrgos Square follow the signs towards "Kasteli" – the fortress.
The church of Agia Theodosia is near the entrance to the fortress – with it's white walls, bells and blue dome it has the iconic form Santorini is famous for.
There are several more churches inside the castle, as well as sweet souvenir shops all along the narrow streets and cute bars and restaurants where you could stop for a drink. The top of the Castle of Pyrgos where the best panoramic views are.
So many people were wearing white and blue to match their clothes to the colours of the scenery for elevated photos.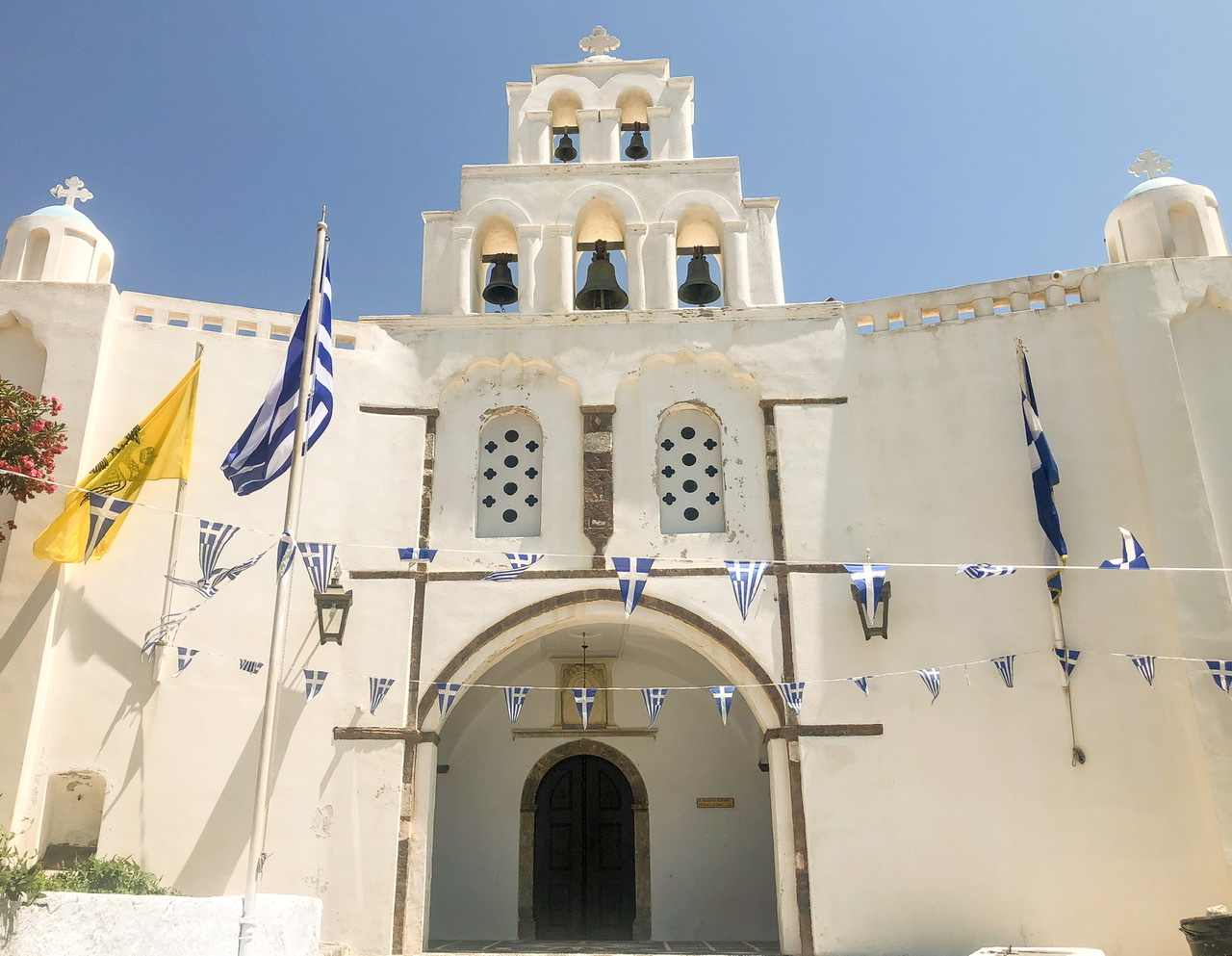 Things to do in Megalochori
Megalochori seemed like a bit of a hidden gem – I was visiting after 5pm but the streets were very quiet and without the continual bus loads of tourists I'd seen in Pyrgos earlier in the day.
Take a photo of the iconic bell tower
The bell tower of Virgin Mary Church in Megalochori is one of the most beautiful in Santorini.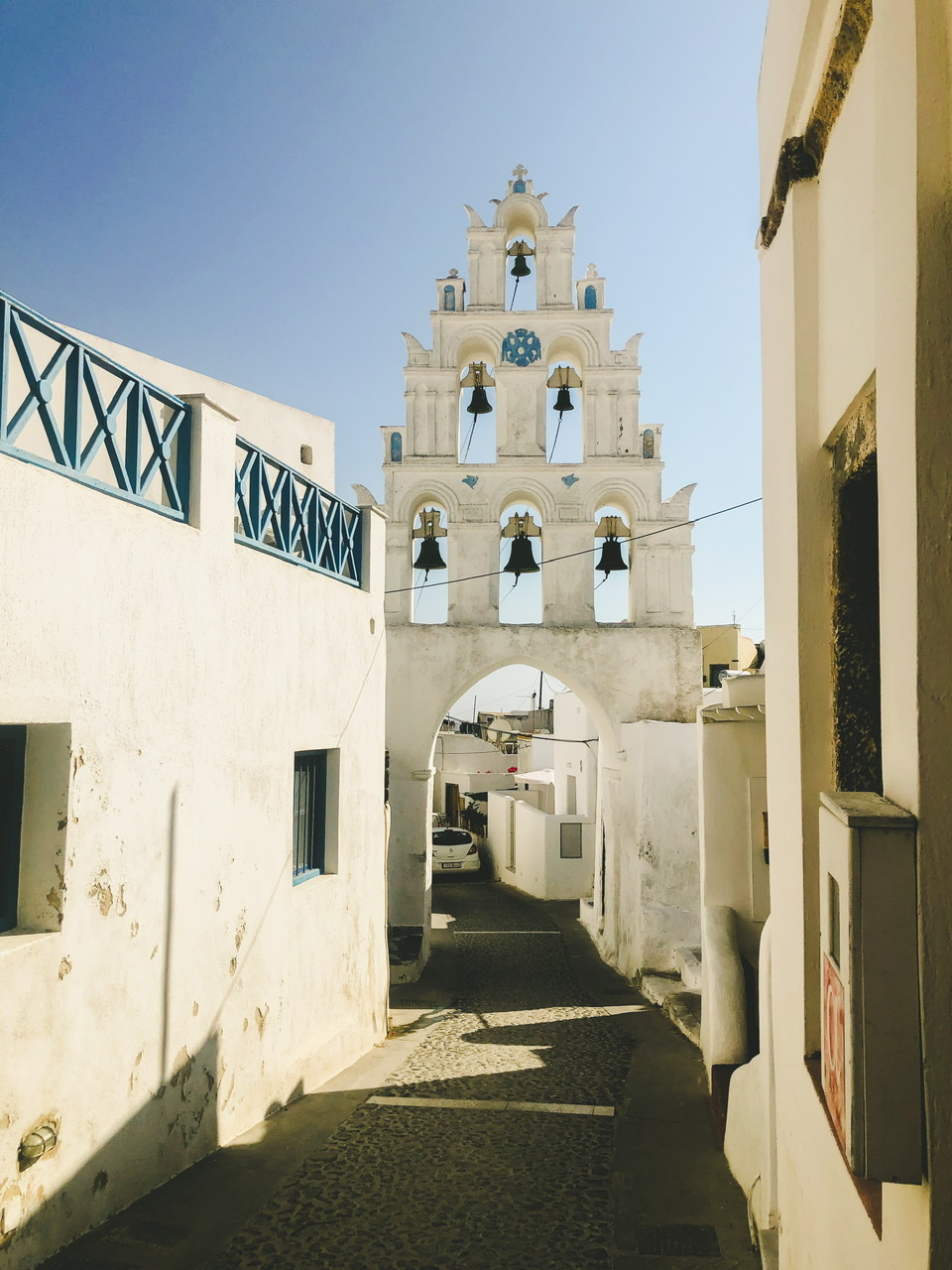 Visit the Authentic Traditional Underground Caves
Signs on the main street led me through a courtyard of colourful buildings to the Authentic Traditional Underground Caves. The unlit cave rooms were free to enter and were an unexpected and interesting find.
Estimated to have been opened during the 1700's these underground caves had two main rooms as well as a few smaller ones. They were at first used as homes before becoming storage places for food and wine as they are naturally cool during the summer and warm during the winter.
Caves were also used to shelter in during earthquakes. From the 1980's many Santorini caves were renovated to become hotel rooms.
Visit the Heart of Santorini
A beautiful place to go to watch the sunset in Santorini near Megalochori is the Heart of Santorini, a vaguely heart shaped hole naturally carved into the caldera. It's a bit of a slippery climb down and you may have to wait for a photo but it wasn't overrun with tourists.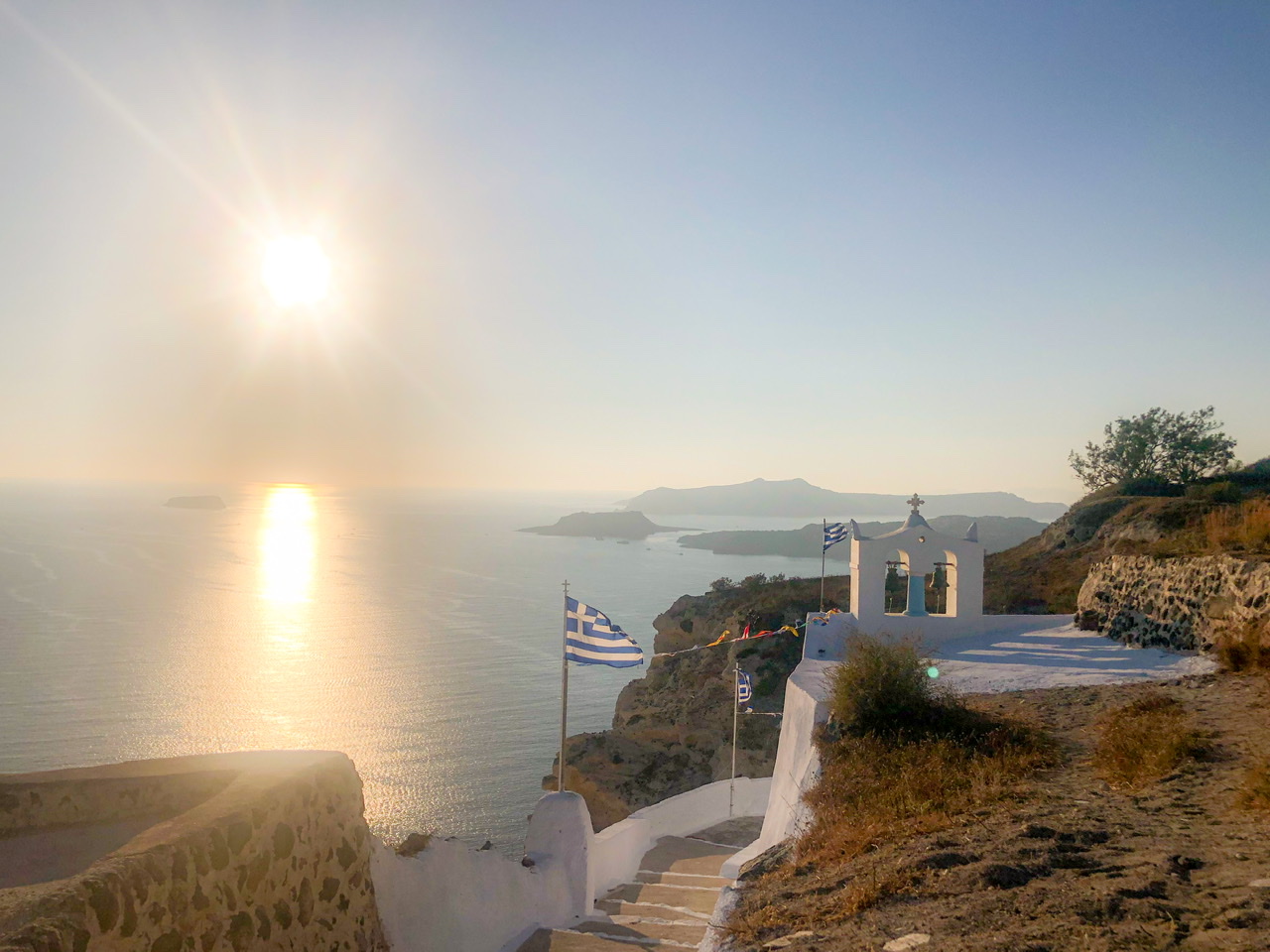 Fira
I didn't enjoy visiting Fira – it was incredibly busy during the day, but I did appreciate watching the sun set there.
From Fira, I'd recommend that you keep walking uphill and you'll reach Imerovigli. The crowds of Fira die away and you have stunning views, expensive boutique accommodation and perfectly perched bars and restaurants.
Exo Gonia and Episcopi Gonias
Close to Pyrgos is the ochre Exo Gonia where there are specific limits on the numbers of restaurants and bars and restricted accommodations. If you've explored all the bucket list areas and still have time it's somewhere different to head.
Exo Gonia is Santorini without the hype of tourism – mostly empty streets, the white paintwork not so fresh and without the bright blue accents, an absence of infinity pools and the streets are rough rather than smoothly paved.
The ascent down to Episcopi Gonias was fast and I was concerned at every corner about how much further I'd have to climb back up, but there are bus stops at the bottom. There are several Santorini wineries and a brewery at the bottom.
Where to stay in Santorini
You should definitely stay in Oia if you want to be in the thick of it, however, booking very late I was unable to get anywhere at an affordable price and decided to stay at three different hotels around Santorini in order to explore different parts of the island – Kamari, between Pyrgos and Megalochori, and Karteradhos which is just over 1km from Fira.
Out of these three hotels the only one I'd really recommend is Hotel Makarios in Kamari. It was incredibly clean and the front desk was very helpful when it came to providing information about were to go, tours to book and what to see and do. It was near Kamari Beach and a bus stop to get to other parts of Santorini, and 16 minutes walk from a supermarket. Breakfast was included, and there was a pool bar which also served reasonably priced food until 6pm.
I had the only single room in the hotel which was interesting, continually being surrounded by couples and families. One of the downside of changing hotels was also paying for taxis between them in a location where bus transportation is limited.
Can you drink the water in Santorini?
Articles and forums on the internet suggested that while the water in Santorini was safe to drink, it might not taste the best. It tasted fine at the first hotel I stayed at however at the second, it tasted as though sea water had got into the supply somewhere and there was no kettle to boil it.
There are restrictions on the price bottled water can be sold at, my primary concern is the environment and the use of plastic bottles.