There are numerous options when it comes to high tea in Wellington and it is the perfect treat whether you're catching up with friends, celebrating, or just breaking up a busy day exploring the sights of Wellington.
The high tea we enjoy today stems from a British afternoon-tea tradition which began in the mid-1700s and tended to be served in the late afternoon. It is now deemed acceptable to enjoy it earlier in the day.
High tea typically consists of a selection of small sandwiches, cakes, pasties and scones served with jam and clotted cream. The food is served on tiered stands where you work your way up from the savoury items at the bottom to the sweet items at the top while your choice of tea is poured into dainty china cups and saucers in front of you.
Spaces at all of these spots are limited and require booking in advance for catering purposes. While it's possible to book vegetarian high teas and often gluten-free ones, if you're vegan, dairy-free, egg-free or have allergies it definitely pays to check you can be catered for.
Here is where to go to experience the best high tea in Wellington.
High Tea at Lola Rouge
10 Dunlop Terrace
You can find Lola Rouge in the colourful Naumi Studio Wellington Hotel on Cuba Street. Their high tea is described as 'Asia meets Paris'.
Putting aside the terrible service our group received (I understand due to understaffing) the food items and teas were gorgeous. The high tea at Lola Rouge includes unlimited T2 teas, coffee and hot chocolates while many other high tea venues limit the number of hot drinks included.
I did feel that the price of adding a glass of sparkling wine to the $48 high tea was steep at $18-$24.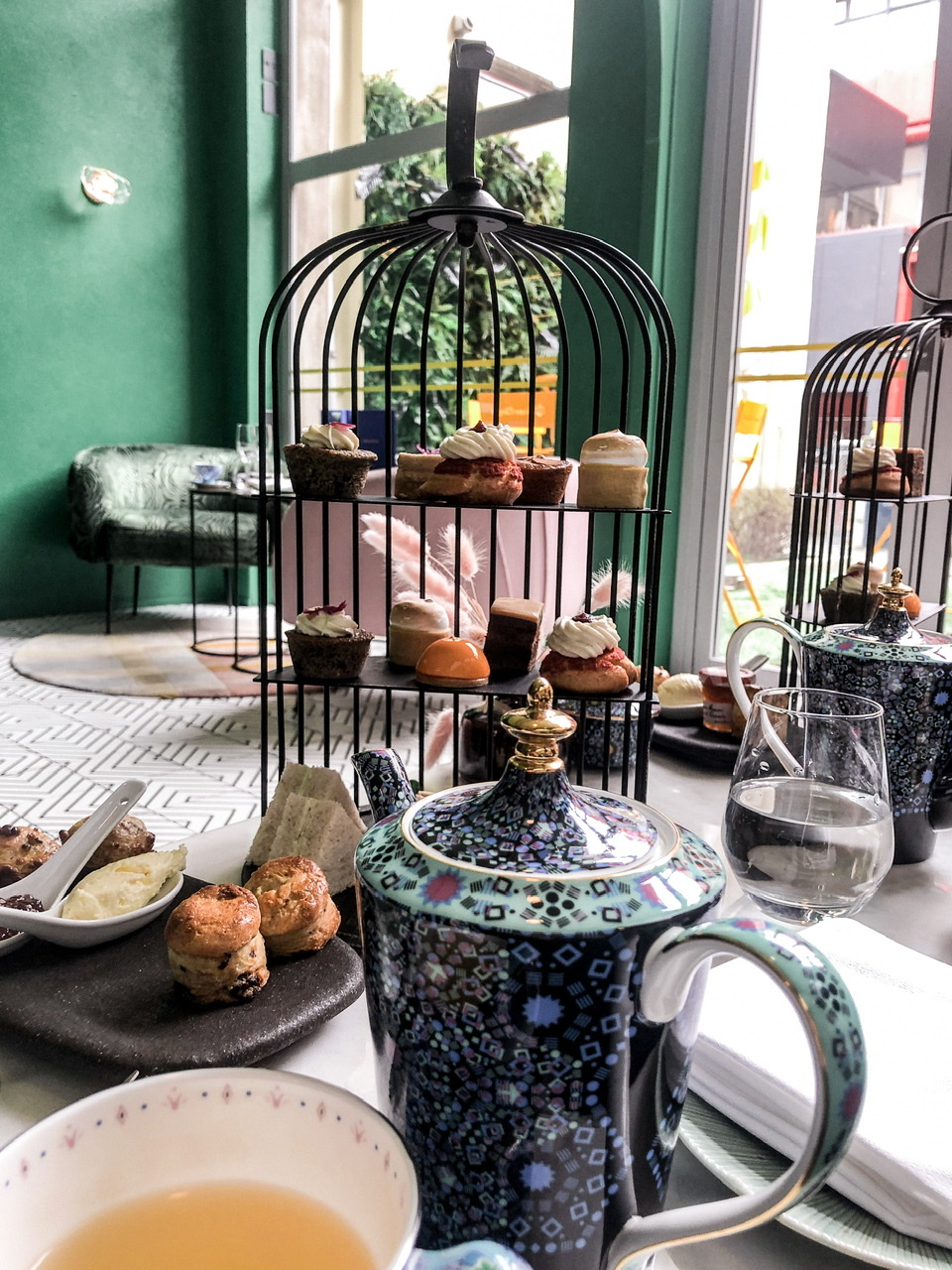 High Tea at the Bolton Hotel
12 Bolton Street
The Bolton Hotel is another Wellington hotel with High Tea. We were the only group having afternoon tea in their comfortable restaurant on a Sunday afternoon so were lucky to have the place to ourselves. It was $45 for their classic high tea or $55 for the delux version which included a glass of Cloudy Bay Pelorus Brut and we got three savoury items and six sweet items.
My favourite pieces were the tomato arancini and the chocolate dome mousse. The teas were TWG Tea, a luxury tea brand which I'd not tried before and did not disappoint.
High Tea at Grace Patisserie (currently closed)
Shop 6/100 Tory Street
With five sweet and three savoury options as well as a buttermilk scone with jam and cream the balance of items included in the Grace Patisserie high tea swings sweet. I also wasn't left full here so the portions are perhaps on the smaller side.
Something unique the unlicensed Grace Patisserie offers is a small range of mocktails. Celebrating two pregnant friends it was a nice enough experience but lacked the class of the other Wellington high teas as it was basic cafe seating without the table cloths and flowery china.
High tea at Grace Patisserie cost $50 per person and we had to pay in advance.
High Tea at Hippopotamus
90 Cable Street
Hippopotamus in the QT Hotel offers beautiful harbour views making it a gorgeous place to go for high tea in Wellington to celebrate a special occasion. With sweeping views of the water, highly attentive staff and some impressive artwork on the walls, the scene is set for a first class experience.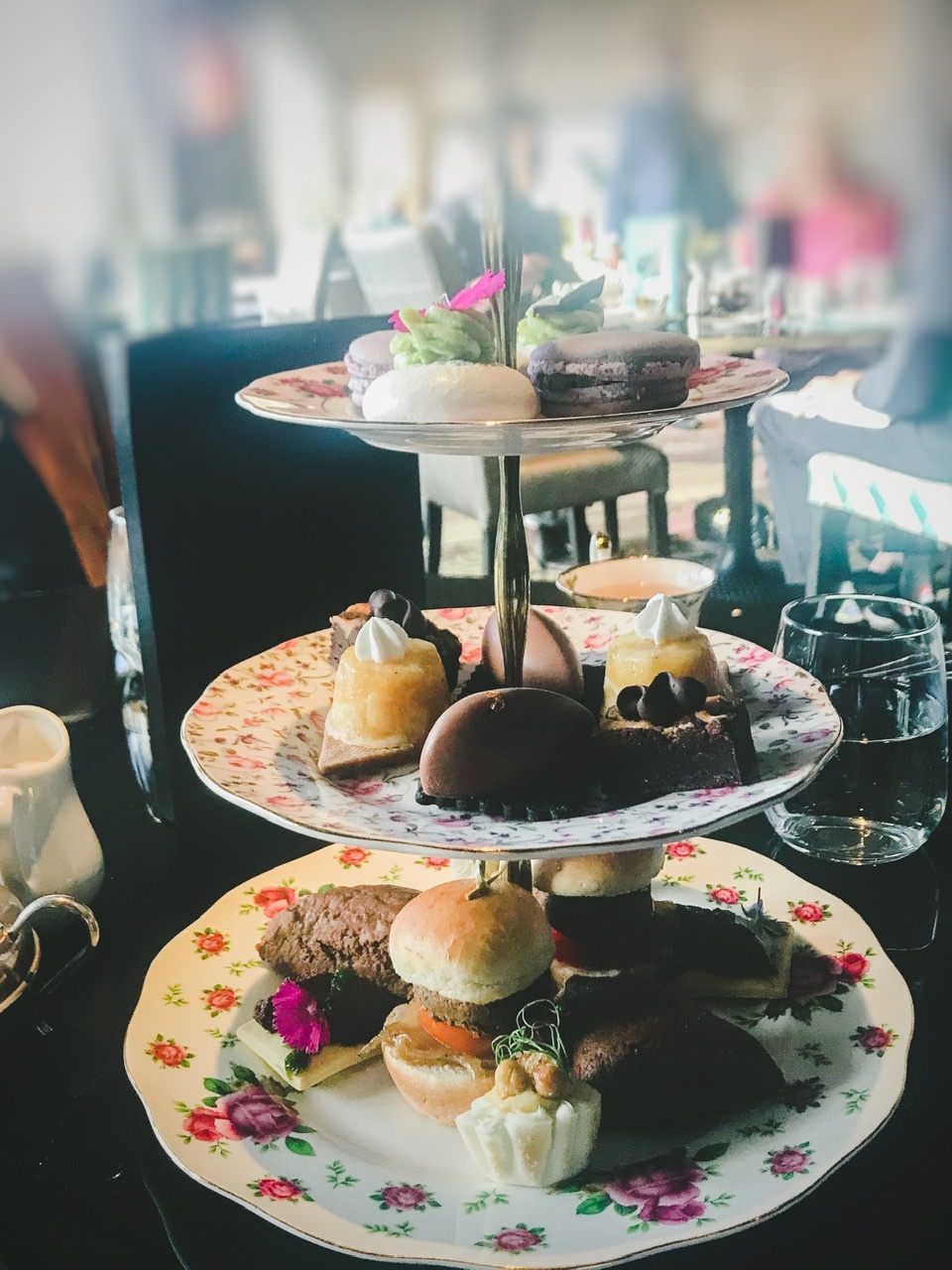 Priced from around $41 this is a top-end high tea experience with a range of teas, cocktails and sparkling wines to choose from which complement delicate food items it is impossible to choose a favourite from. Hippopotamus offer themed high tea experiences throughout the year too which are inspired by the seasons, local events and holidays.
In 2015 the Hippopotamus team were crowned the world champions of high tea beating 20 teams from 13 countries. Book well in advance as the Hippopotamus High Tea is very popular for good reason.
The t-Lounge by Dilmah High Tea
22 Willeston Street
One of the newer high tea options in Wellington, we went for the regular $47 high tea at the t-Lounge by Dilmah which included 10 sweet and savoury items unlimited hot teas. It is possible to upgrade to a premium high tea which comes with an additional four high tea items and an iced tea.
Our teas came out with a timer so we knew when to pour it depending on the type of tea and desired strength. There were also a couple of extras – a small sweet tea before our food came and a k-titch, a warm milky spiced tea to finish.
T-Lounge by Dilmah is a Sri Lankan tearoom so there were some really unique high tea items with the inclusion of spices, lentils and jackfruit. The balance of sweet to savoury was perfect, the hospitality lovely, the range of teas excellent and the decor exquisite.
High Tea at Martha's Pantry
276 Cuba Street
The high tea at Martha's Pantry felt quite authentic and homely and the beautiful mismatched tea cups, plates and saucers were a point of delight and discussion.
Martha's Pantry is not licensed (making it a popular option for baby showers) so if you're looking to add on a glass of wine you'll want to choose one of the other high teas in Wellington instead.
Martha's chocolate brownie alone is worth coming for and they had an app we could download to receive a small discount making the price $32. I highly recommend ordering a tea which opens like a flower.
Where is your favourite place to have High Tea in Wellington? If you're looking for more dining options in Wellington check out the best Wellington bars to visit and my Wellington brunch guide.
Pricing accurate as at October 2022.