I had no idea that this Greek island produced excellent wine before I spent one week in Santorini and discovered the number of Santorini wineries offering custom tastings, tours and experiences.
80% of Santorini grapes produce crisp white wines – the three classic varieties being Assyrtiko, Athiri and Aidani, along with the red Mandilaria. Vinosanto, a dessert wine is the other variety this bucket list destination is know for.
The vines are grown in a low basket shape called kouloura to protect them from the strong winds and provide moisture from the soil, as water is absorbed overnight and given back to the vine during the day.
The soil being an inhospitable mixture of lava, ash and stones meant the Santorini vines escaped phylloxera disease which hit the rest of Europe in 19th century. Having never been replanted these vineyards are some of the oldest in the world, some as old as 400 years, so expect to pay a little more for wines from Santorini than from rest of Greece.
Here are five Santorini wineries worth a visit.
Santo Wines near Pyrgos
At €50, the Santo Wines tour and tasting was by far the most expensive wine tasting experience I took in Santorini. The views are incomparable and the small-group tour of the winey buildings was very thorough and a great introduction to their wines. The production facilities are built across different levels of the volcanic cliff and gravity is used to flow the wine downhill from one tank to the next rather than it needing to be pumped.
I booked well in advance for a four wine flight of Santo wines which came with a variety of traditional delicacies to nibble on.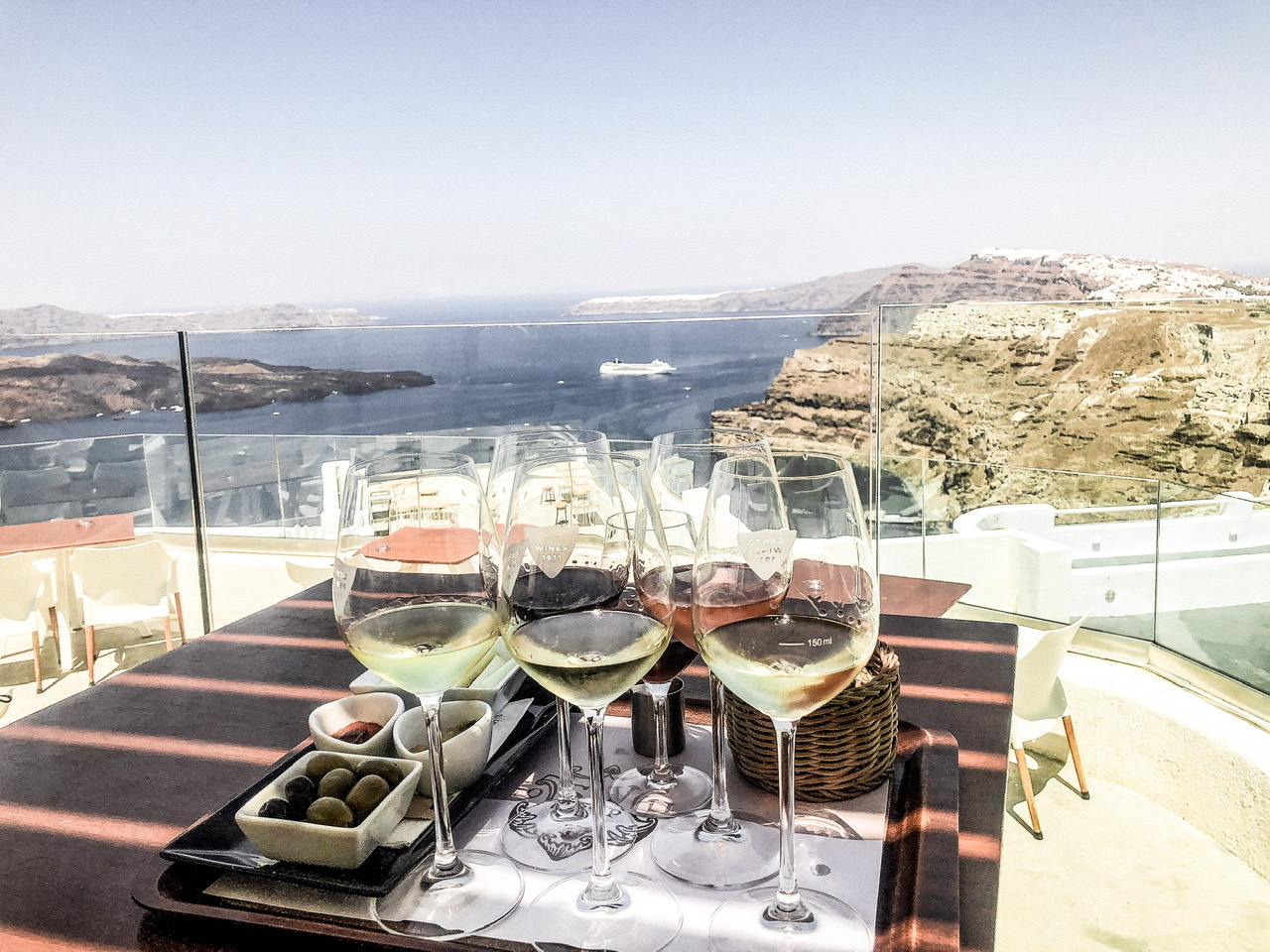 Gai'a Wine in Kamari
Gai'a Wine is on the coast near the airport and was the first Santorini winery I visited so I learnt a lot. Gaia was the Greek goddess of the earth and mother of all life so the winery's name has been meaningfully chosen.
I booked a four wine tasting online and definitely regretted not booking the option for eight wines. The first three wines I tried were all 2021. Their Thalassitis, which translates as sea wine and is aged in stainless steel barrels and would pair beautifully with seafood. I also enjoyed their Assyrtiko, which I was intrigued to hear is fermented in a mix of steel, french oak and clay pots. It was very full bodied, dry, and had a higher alcohol content.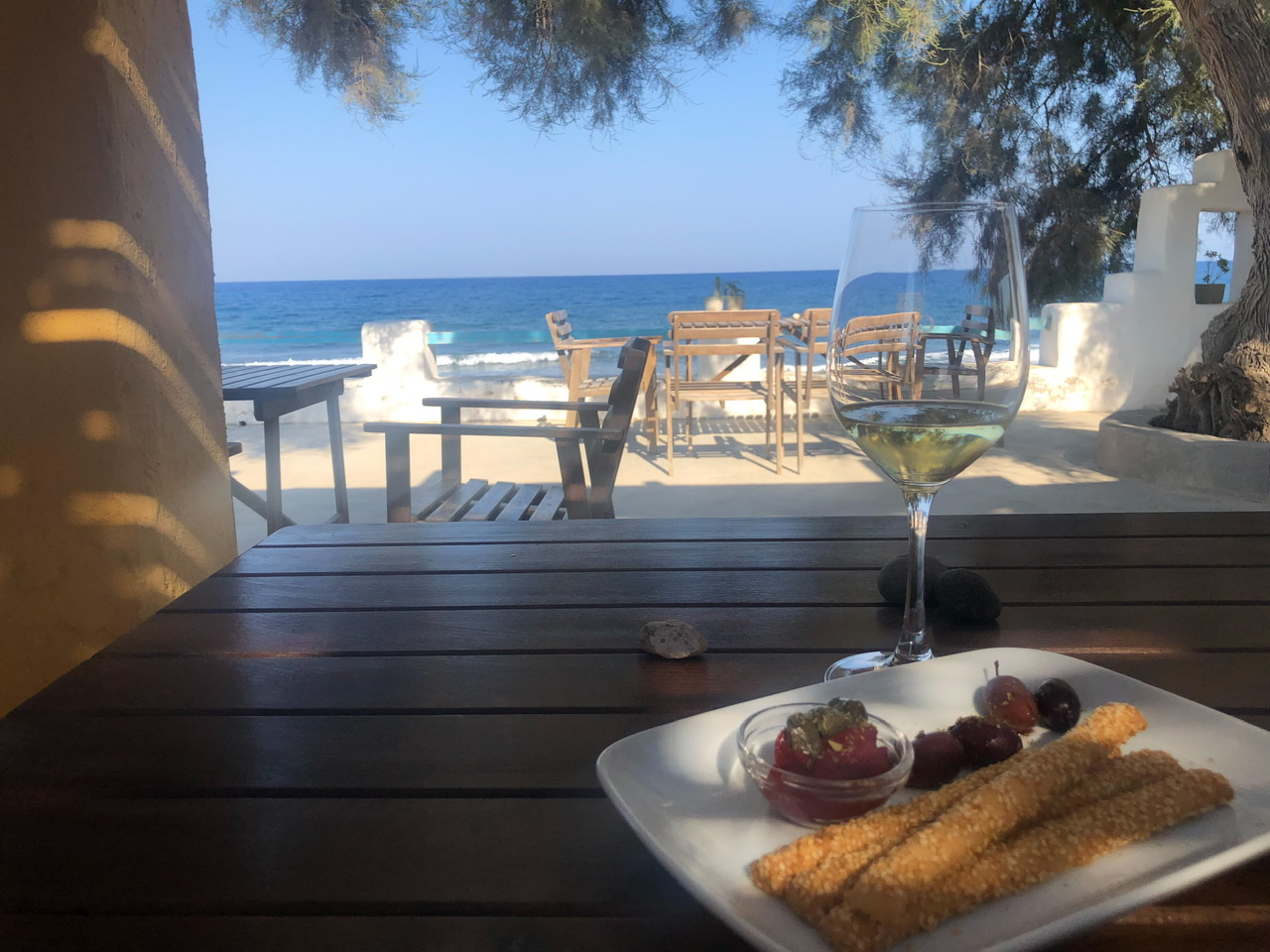 My hostess explained each of the wines to me personally. I also loved seeing their two Rosés – named "4-6 hr" and "14-18 hr" after the amount of time the skins are left in, the 14-18 hr was significantly more coloured.
Water and a small platter of nibbles was included with my tasting.
Gavalas wines in Megalochori
Gavalas is a much smaller, family owned winery in Megalochori. It was busy when I popped in but they still took the time to find me a table and tell me about each of the wines I ordered as well as giving me a pamphlet to take away.
Realising that a wine tasting of four wines (€18) equated to one glass of wine (averaging around €6.50). I went for a glass of Rosé and then the Santorini Natural Ferment at the recommendation of my host.
A small platter of cheese, crostini and olives arrived as well as a small bottle of water.
Venetsanos Winery in Megalachori
Venetsanos Winery is above the port of Athinios with panoramic views of the caldera and beautiful Santorini sunsets. They offer wine tastings with food pairings and light lunches as well as the opportunity to book to watch the sun set from Vanetsanos' sunset terrace.
Artemis Karamolegos Winery in Exo Gonia
After a long walk I had a Rosé and Vinosanto wine in the beautiful garden at Artemis Karamolegos. To make Vinosanto, a raisin coloured desert wine, a sun drying technique is used, where white grapes are not only harvested late, but cut down to the ground and left around for around two weeks.
Georgia happily gave me a tour of the wine cellars, as well as the garden, the produce from which is used for kitchen and cooking school.
The best Santorini wineries to visit
Each of these Santorini wineries offers great hospitality and beautiful wines so you can't go wrong picking and choosing from the Santorini wine experiences in this post according to your location and budget. I'd recommend taking your time to explore a few different wineries during your stay in Santorini, but if you're short on time and transport, why not try a tour such as this one.