Running a Half Marathon was looking like it'd be the hardest item to cross of my 30 Before 30 list. In March last year while training for Auckland's Round The Bays my already stuffed left foot flared up in pain. I spent the next 8 months unable to run, popping anti-inflammatory meds and having physio and steroid injections to get it better. It soon became apparent it was not going to get better and surgery was not an option.

I considered alternatives such as training for an ocean swim or long cycle but they felt like cheats. I decided if there are amputees competing in ultramarathons, I could run a half marathon on a sore foot with the help of some decent footwear, orthotics, strapping tape, pain killers and whatever else was going to get me through the training and event.

BP offered to sponsor my entry fee for the Half Marathon event at Wellington's AMI Round The Bays. And so, against the advice of my 'medical team' I began training, making use of Leah's 11 week training plan.
The Training

I started the training plan in it's second week. My first run was 6.5km from Waitangi Park to Balena Bay and back on a lovely Wellington evening. While I'd done zilch running in 8 months I had a good base level of fitness from sporadic Ride Classes at City Fitness, the occasional swim and odd Bootcamp style sessions with a group from work.
It wasn't until my first 'long run' (9.5km) that I first struggled. It was a terribly windy day and after almost having an asthma attack running through the fumy Haitaitai tunnel, I realised I'd run the wrong way so I had the wind against me as I ran along the bays. From a previous 1km average split of just under 7 minutes, on this occasion I was taking an average of 8 minutes 50 seconds to run a single kilometer!
The first time my foot REALLY hurt was the following run, 5km into a 6.5km run which included hills in Karori on Christmas Eve. I decided to just push on and finish it as I'd have to walk back to my parents place anyway, then I'd have a good two days to rest it before my next run but in hindsight I should probably have just walked it as I only made it worse.
The runs kept getting longer and the long ones didn't usually fall when it was convenient. Mike motivating me was the only reason I was able to complete a slow 11km around Gisborne on a very hot day shortly after New Year. After completing that run though my 6.5km short runs suddenly became easy and 8 runs no longer phased me.
The Event
By the time February 23rd rolled around the longest run I had completed was 16km on a hot (27 degrees) Auckland day which had taken me 2 hrs and 16 minutes which seemed like a ridiculous length of time to be running. But I felt confident I could make the full distance.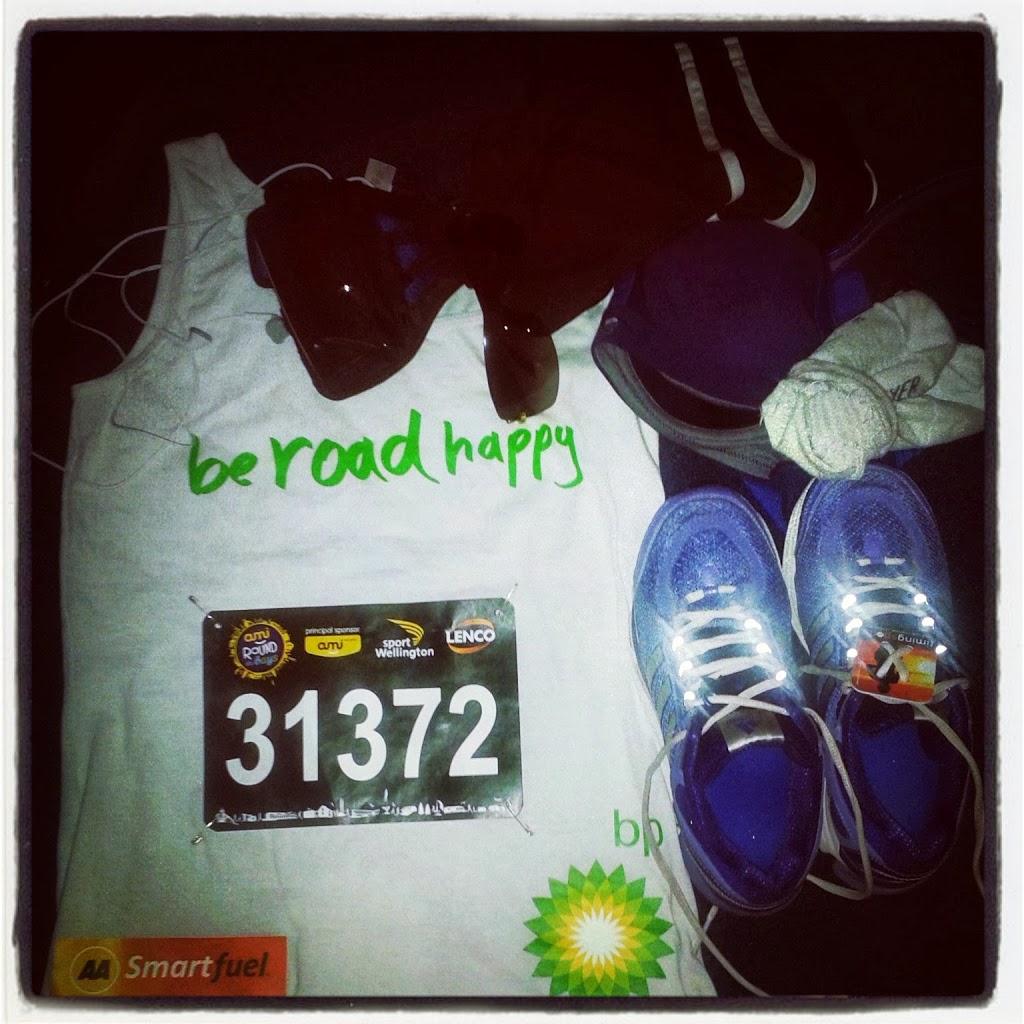 February 23rd turned out to be a lovely day in the midst of a changeable Wellington summer. Mike and I were at the start line 10 minutes before the scheduled 8am start. My colleague Hannah was doing the 10km run and found us at the start line thanks to our BP singlets. After the gun finally went off it didn't take too long for us to cross the start line.
I was smiling most of the way as it was a beautiful day with amazing scenery and it was awesome running on the closed roads around the bays. At the first water stop my old PE Teacher was serving and gave me some words of encouragement as I grabbed a cup of water from the lady next to her. Soon afterwards we ran through Balena Bay where there were bagpipes, jetplane lollies and residents with hoses and water guns!
Up until Miramar Wharf I was in known territory from my training runs and quite comfortable. It was also good when the 10km runners turned at their mark and the crowds subsided for those of us continuing on. This also thankfully spelled the end of the Dominon Post branded signage telling people running the fun run they were almost there – painful when you know you're actually less than a third of the way through your race.
I'd wanted to finish in under 2hrs 45min and asked Mike to pace me to this but apparently he was secretly pacing it to more like 2hrs 30min most of the time. He kept me focused by picking someone slightly ahead that I next had to catch up with.
My Mapmyrun App was pretty much bang on every kilometre until the turning point just before Scorching Bay, then suddenly it was close to 1km behind the road markings. What had happened? Was I suddenly zig-zagging? I later learned the turning point had been set up incorrectly so we ran around 600m further than an official half-marathon distance. Frustrating!

Around the 17km mark and again at the 20km mark I hit walls and needed some serious encouragement to fight through it. I was pretty proud of us having run the entire way (Mike had done no training aside from three runs with me) and I didn't want to walk at all as I realised it would just be longer until it was over.
The final water/isotonic station was within about 600m of the finish. I grabbed a cup of each and said 'ok lets finish this thing', with a sudden burst of energy we upped our pace for the remainder of the distance. The 6.5km walkers still finishing were all over the road and completely in the way which was really annoying but finally we stumbled over the finish-line in Kilbirnie Park.
Total Time – 2 hrs 44 min 14 secWhile I'd promised my mother I'd only ever be running the one half marathon, two days later I'm no longer I wouldn't say 'never again'…. there's an awesome sense of achievement which comes with completing such a challenge.
Adjusted Time – 2 hrs 39 min 25 sec
Disclaimer: BP Oil New Zealand Limited paid for my entry into the Lenco Half Marathon and gave me a singlet. All opinions, thoughts and running my own. Please note I am in no way endorsing running with an injury.