Hong Kong is clearly a city much loved by many; I've not struck a city before where so many friends (whether they've lived there or just visited) have been so keen to offer suggestions as to cool places in Hong Kong I should visit.
I chose to visit Hong Kong this month as I was travelling alone, it's deemed one of the safest cities in the world, was within the budget I had and was a single flight from New Zealand at a time when getting back quickly should I have to is important to me.
I unexpectedly loved Hong Kong – between the ferries, buses, trams and MTR it's super easy to get around (as well as to China or Macau for the day) and the Westernised culture makes it familiar but different. Only being able to speak English was never an issue and the streets are super well lit at night and everything in the central city is open late.
Sights to see in Hong Kong
Victoria Peak
Leaving my hotel at 7am on my first morning in Hong Kong  I was told to walk down the road until I hit the queue of people for The Peak Tram. I was stoked to discover that there wasn't one.
I took the tram up the steep peak and meandered around the Morning Trail – a 2.8km loop around the top which is fully paved and totally do-able in heels (though I wouldn't recommend it).
I passed plenty of dog walkers, a few runners and several small park areas. In most parts of the trail there is little to see (even on a clear day) as the foliage obscures the water, in others there are stunning Hong Kong vistas.
The Wellington Cable Car at home has both back and front facing seats so that whichever way you're travelling you face forward. Getting on board for the return journey I thought it was a shame everyone had to face backwards – until the steep slope where I realised everyone would fall out of their seats facing forward!
The Star Ferry to Tsim Sha Tsui
Ridiculously cheap and surprisingly enjoyable the Star Ferry from Central Pier to the Kowloon side of Hong Kong offers awesome views of the city. The real money shot can be taken from the pier on the Kowloon side.
Mong Kok
MongKok is a hotbed of underground activity from way back. There's gambling, prostitution and underground activity. The red buses are inefficient, don't run to schedule and just hang out in the street.
Mong Kok is the place to go for the ladies markets, to feel 'the real Hong Kong' or if you want to buy the latest sneakers from a street full of sneaker brands.
Lamma Island
Lamma Island is an easy ferry trip away from Central Hong Kong but so so different. There are beaches (ignore the eyesore which is the power plant at the end of the beach), fishing villages, markets and fantastic seafood eateries. It made a nice break from the bustle of the city.
The Big Buddha on Lantau Island
I managed to hack the queue and crowds to see the Big Buddha by ordering my ticket for the cable car online for the earliest time slot of the day (10:15am) then rocking up before the ticket booth opened at 10am. This meant I was in the second standard car of the day.
The views are amazing and the largest, seated bronze Buddha in the world was impressive.


Stanley
Where the locals hang out during their weekends in Summer, Stanley made me forget where I was – the beach felt like Thailand and the seaside eateries and malls like parts of Australia. The markets and some of the buildings were neat and there was hardly anyone around. An easy bus venture from Central as is the beautiful Repulse Bay a little earlier on in the winding route.
Cool places in Hong Kong to eat and drink
Pici is low key and offers fancy-feeling Italian at very reasonable prices. I sat at the bar and watched both pasta and cocktails being made before me.
For the 'gram I ordered an egg waffle sundae at Oddies Foodies as well as the signature coffee at Amber Coffee Brewery – all of these places were suggested to me by friends who have lived in the city.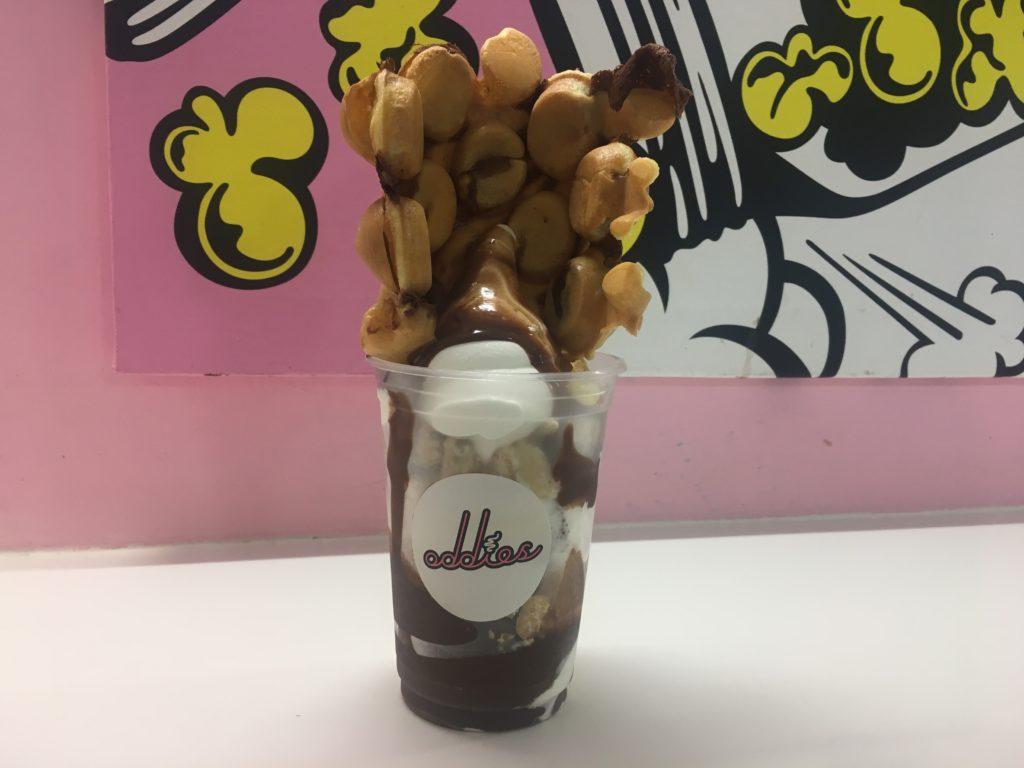 I was very happy to discover Hong Kong does coffee well:  also proving themselves good for coffee were Elephant Grounds, % Arabica and Brew Bros.
If someone tells me somewhere is 'their favourite brunch place in the world' I will go there. At Green Waffle Diner I ordered a vegetarian hot plate and a coco butter coffee which I felt was a bargain at a total of $144HK.
For Dim Sim you can't beat the casual but Michelin Star rated Tim Ho Wan which took me an embarrassingly to long to find even with (or because of?) GoogleMaps. It's located in the IFC Mall which also distracted me on my mission to get there with all of my favourite shops as well as those amazing designer ones I am always too scared to enter.
Rooftop Bars
Sky bars in the daytime are my happy place in new cities. Drinks on the outside rooftop at Sevva, 25 floors above Hong Kong start at a pricey $160 and cocktails $175. My peachy cocktail was served in a heavy tall crystal glass and the first sight of the views made me gasp involuntarily.
Dress at least slightly nicely if you go there – i'm told activewear is frowned upon.
C'est la Vi seemed far less pretentious and the staff were much friendlier. I was talked into upgrading my glass of Pinot Grigio to a wine which was $10HK more expensive BUT also two for one as it was happy hour. Despite my protests that I was on my own and only had 40 minute it turned out he was right – I could drink two.
Chilled cocktail bars
Ori-gin and Quinary (one of the world's top 50 bars five years in a row) are two bars run by the same group which are very near each other. They're similar in their long, quiet feel and have free sour cream and onion chips which just keep coming. I had a gin-based honey and lemon cocktail at Ori-gin before heading down the road for Quinary's earl grey caviar martini at the recommendation of another travel blogger on my final night in Hong Kong.
Have you visited any really cool places in Hong Kong during your travels? Let me know about them in the comments!