This lounge has been closed permanently.
Following a recent trip I paid $78AU to visit the Qantas Hong Kong Lounge prior to flying home to Wellington after I received an email invite. I adore airline lounges and they make the start of any journey feel extra special.
Rarely a Qantas customer, I opted to pay for lounge entry over paying a similar price to select a seat on the 9 hour flight to Sydney. I was grateful the gamble paid off -I scored my preference of an aisle seat when I checked in in Central Hong Kong around 8 hours prior to my flight.
I've visited Qantas lounges in Auckland, Melbourne and Sydney before and this was the most spacious and least busy. It's open from 7:30am until 11:30pm to service the Qantas flights departing from Hong Kong each day and is a large space. There are other OneWorld Alliance airlines in Terminal 1 as alternatives for eligible customers.
The Qantas Hong Kong lounge has a new feel and receives plenty of natural light unlike some lounges I've been in in Australia. The decor is really understated but comfortable and there are lots of large tables for shared dining as well as lounge areas to suit those travelling alone or in pairs.
There are plenty of power sockets in the seating areas which take a UK plug as in Hong Kong as well as USB cables. There were also plenty of newspapers and magazines to read however I was disappointed that the Cosmopolitan, my choice in magazine was not an English language edition.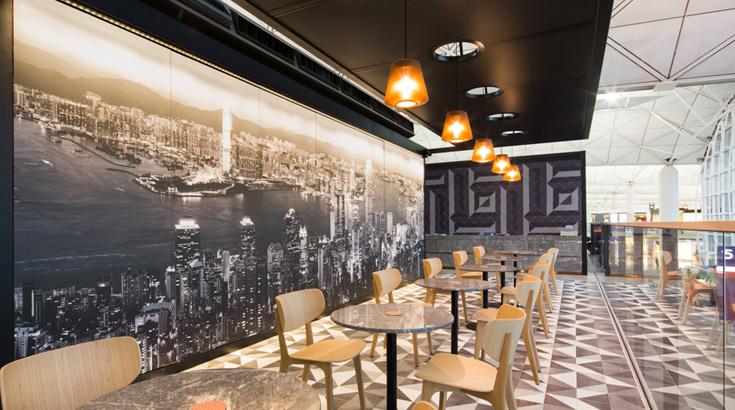 As well as the long bar there are several self-service drinks stations where unsurprisingly, being an Australian airline the wines are Australian. Deciding that ordering an Espresso Martini when I'm caffeine sensitive before an overnight flight was unwise, I stuck to the bubbles and ordering a peach Bellini as well as the great range of soft drinks and juices including iced tea and chilled water.
If you are looking to stay awake there are several coffee machines as well as a barista who can make you a decent coffee.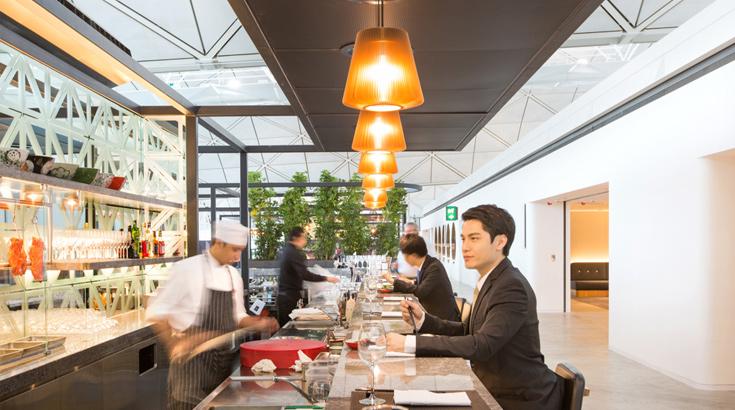 My only real piece of criticism about the lounge is the fact plastic straws are supplied with drinks from the bar. Not a week goes by where the effects of plastic on sea life doesn't cross my Facebook timeline and given Qantas's reason for being isn't exactly environmentally friendly, this is a small thing they could easily change.
As well as a decent buffet which changes throughout the day there is a daily special. When I visited it was pork and prawn wonton soup at lunch, and fish during the dinner service.
Among the buffet options were plenty of salads, fresh fruit, hot items (including a vegetarian Japanese curry), cheese, crackers and grapes (a must in any airline lounge) and desserts (poppy-seed and orange cake, chocolate brownie, panna cotta and a salted caramel cheesecake).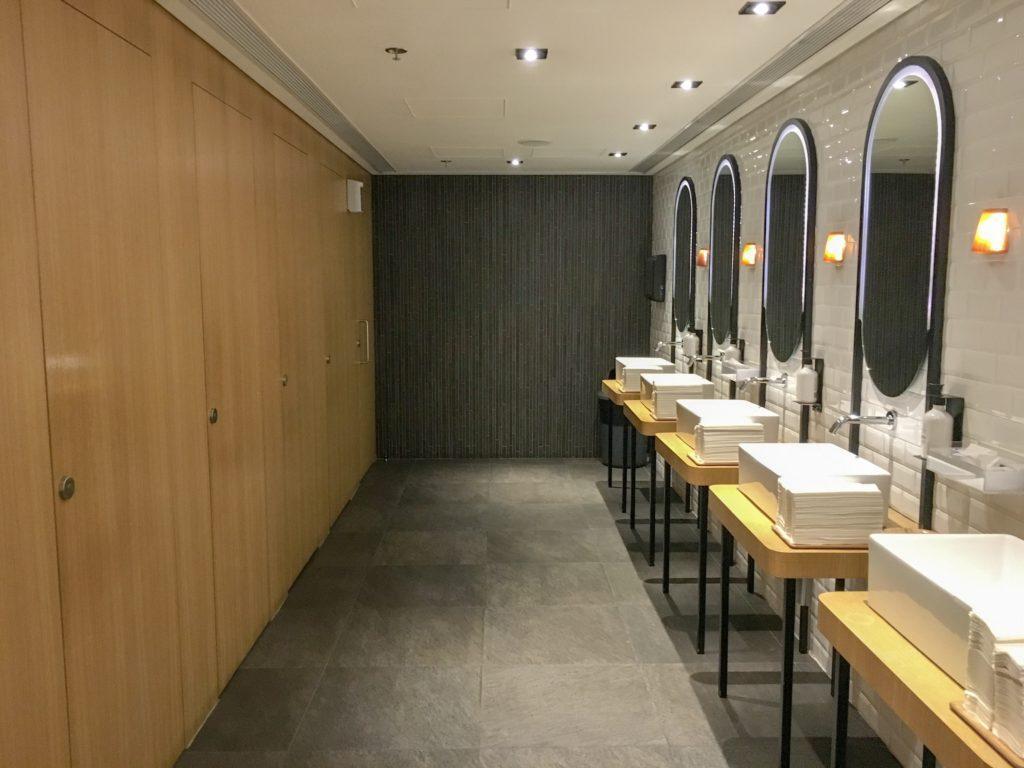 The bathroom was also stunning and contained products by Aspar which smell absolutely divine.
Despite being basically empty when I arrived it did fill up to the point of all seats basically being filled around an hour before my boarding time. This  Hong Kong airport lounge is obviously meeting the needs of this airline's customers and my experience in the lounge was absolutely fabulous.