The Bondi to Coogee walk follows a cliff-top paved path which takes in Sydney's Bondi, Tamarama, Bronte, Clovelly and Coogee beaches as well as the occasional park and sculpture.
The Bondi to Bronte Beach walk section is around 4km in length which includes a few staircases and steeper bits, but it is dog friendly and there are toilets, water fountains and a coffee spot along the route.
Renee, Kali and I did the middle 1.5km or so from South Bondi to North Bronte one slightly miserable Saturday morning and found the path was very busy even at 8am. There were many runners in small groups getting annoyed at our ambling pace (though the three of us were hardly in the way).
Turning a corner the weather seemed to change from one bay to the next, from completely overcast to just cloudy.
Ahead at Bronte we could see a park, beach (which I'm sure is a quieter spot than Bondi in the summer if you wanted to enjoy a beach with fewer tourists) and Waverley cemetery which seems dangerously close to the cliff edge and makes me concerned about the effects of erosion.
We stopped for coffee and caramel slice, watching the volleyballers on the beach. When we realised what the time was we had to race back along the road, avoiding the congested path but taking in some amazing real estate  and views along the way.
We came out by Bondi Icebergs. The pool must have been freezing in May and the strong waves crashing over meant the outer lane was empty. A group of yogis practised overlooking the ocean – Sydney dwellers do seem a fit and healthy bunch.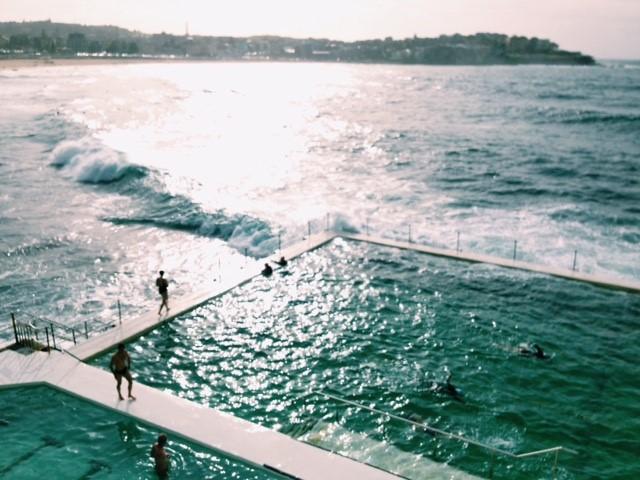 Returning to Bondi we sat down for brunch at Gertrude and Alice, a bookstore cafe. It was busy and stuffy inside after our walk. I asked one of the staff clearing the other end of our table whether there was wifi and received an odd look as she told me they did not – I guess you're supposed to read the books not your phone!
While we agreed no one should ever have to pay $16 for Avocado on toast, they had some nice alternatives for around the $10 mark.
In summary: The Bondi to Bronte beach walk is lovely, but go early to avoid the crowds. Brunch at the end makes a great morning.