Madrid is a wonderful Spanish city, voted the 10th best city in the world, made famous for art, food and history as one of the oldest cities in the world. Madrid has eclectic architecture throughout the city, which is vibrant day and night, with traditional and modern activities.
When your time is limited it's important to schedule your time so that you don't miss out on the best that a city has to offer – this post will help you enjoy Madrid to the max.
For a great time here are my top things for you to do during your 36 hours in Madrid.
Parque de El Retiro
Start your time in Madrid with a stroll around the glamourous green oasis that is Parque de El Retiro. The UNESCO World Heritage Site is open from 6:00am until late and has more to offer than just footpaths and 15,000 trees. Within the park are multiple gardens and monuments for visitors to enjoy. The most noteworthy are:
The Rose Garden
The Fallen Angel which is a statue dedicated to the devil and sits at 666 feet above sea level
The Galapagos Fountain
You also can't miss the big lake in the centre of the park where uou can rent a paddle-boat, admire the views (as we did with drinks from the cafe) and watch locals jog and skate around the park.
Museums in Madrid
After the fresh air of the park, it's time to go inside and immerse yourself in some culture. Madrid has more than 50 museums, so you will find at least one that interests you.
My suggestion is to visit the Prado National Museum and Madrid Royal Palace. You can get a combo ticket, with a guided tour in English for €65. By visiting these two attractions you'll see masterpieces, such as The Naked Naja painted by Francisco Goya and The Garden of Earthly Delights by Hieronymus Bosch, and experience life as a royal, in West Europe's largest palace.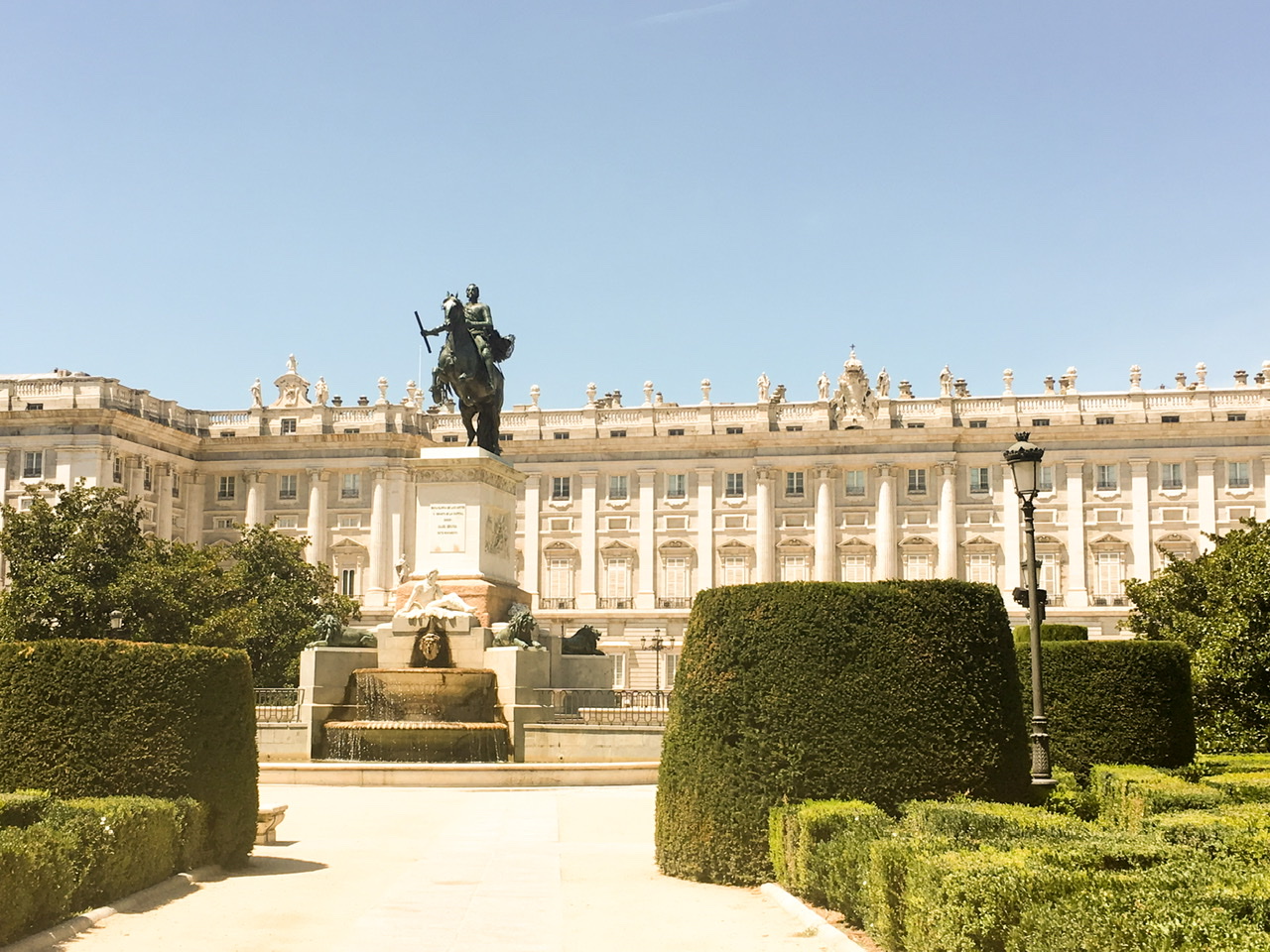 Plaza Mayor
In the afternoon head to Plaza Mayor a large buzzing square. It has an array of things to see, including the bronze statue of Felipe III, who ordered the square's construction in the 17th century. Don't miss the coat of arms, a bear and a strawberry tree statue and the plaque on the floor, titled 'Kilometre 0,' marking Spain's geographical centre.
Lunchtime is the perfect time to visit Plaza Mayor as it is filled with restaurants and bars, famous for calamari sandwiches. This carb fuelled treat will give you an energy boost for your next activities.
Templo de Debod, an Egyptian temple
The temple dates back to 200BC and was a gift to Spain, after they helped Egypt to save historic artefacts during a flood, linked to a dam, in the 1960s. It's located in Parque del Oeste and is a true wonder to see. From there you'll also have spectacular views of the city.
San Antón Market
A great place for a merienda (an afternoon snack around 5pm), is San Antón Market. It's a 3 floored market that focuses on sustainability. Both local and national culinary delights are sold.
The first (main) floor is open Monday to Saturday 9:30am to 9:30pm and is located at Calle de Augusto Figueroa 24.
The Biggest Zara in the world
Shopaholics and fashionistas should carve some time out to visit Zara, owned by Amancio Ortega, Europe's second richest man. Located at Paseo de la Castellana 79, this Zara covers almost 6,000-square metres (65,000-square feet) andhouses everything you need to give your wardrobe a makeover.
Evening Activities
Madrid seems like a city which never sleeps and continues to provide entertainment and activities throughout the night. Here are a few options for you to consider:
Watch Real Madrid: Grab yourself tickets and watch the most successful soccer team ever. They have won an astonishing 109 trophies, including winning their national league 34 times.
Hammam Al Andalus Madrid: Pamper yourself at the Turkish baths. Hammam Al Andalus offers an array of relaxing treatments and experiences.
Take a Tapas Tour: As you stroll the moon covered streets of Madrid, you`ll discover more about its food culture and taste a wide range of the city's most popular tapa dishes with an expert guide. Check out Madrid Secret Food Tours for some ideas.
When is the Best Time to Visit Madrid, Spain?
According to Statistica, the most popular months to visit Madrid are May, June and October. While it is unusual to see that fewer visitors schedule their holidays during the summer break, for Madrid, this is a sensible idea as temperatures can reach an uncomfortable 42°C (106°F).
I stayed at Dear Hotel Madrid near Plaza de Espana which was super central. Madrid was sweltering in July but the rooftop pool was beautifully cool as well as being located in the vicinity of views and cocktails. The breakfast offering was also outstanding and our room probably the biggest Renee and I had while travelling through Europe.
The best times to visit for fewer visitors and agreeable weather are March and October. But if you don't mind crowds, cold weather and love festivals, then Christmas will be a lot of fun.
What are your favourite things to do in Madrid? Do you like exploring a city thorough it's food? Share your thoughts below in the comments.