When I booked a solo trip to Bali friends who'd been and knew me well pointed me in the direction of quieter parts of Bali to base myself. As there were plenty of things to do in Canggu within easily walkable distances the area won out.
Visitors from Australia and New Zealand in particular far outnumber locals at this hipster hotspot. There are scooters and surfboards bound for the beach everywhere and the prevalence of shared office spaces show this is a hub for digital nomads escaping Winter.
But despite the number of New Zealanders heading to Indonesia on holiday ANZ considers Indonesian Rupiah an exotic currency requiring 3-5 working days to order it in. Not being super organised I got a small amount of currency from a currency exchange outlet before I left and took New Zealand dollars to exchange in Bali at a much better rate thanks to a tip from a friend.
Transport to and around Canggu
Uber is banned in Bali. The local alternatives are Grab and Gojek for transport via car or scooter or for food delivery, and Blue Bird taxis. There's a bit of a taxi mafia so exercise caution when using transport via an app around traditional taxi drivers.
Alternatively hiring a private driver is reasonably cheap with 200,000Rp seeming like a fair deal for a private driver between the airport and Canggu. With literally hundreds of drivers standing at the airport gates with signs waiting for people though it was impossible to spot my own.
Thankfully I had the number for my driver and Whatsapp seems to heavily used by transport providers to make contact. Make sure you have it downloaded.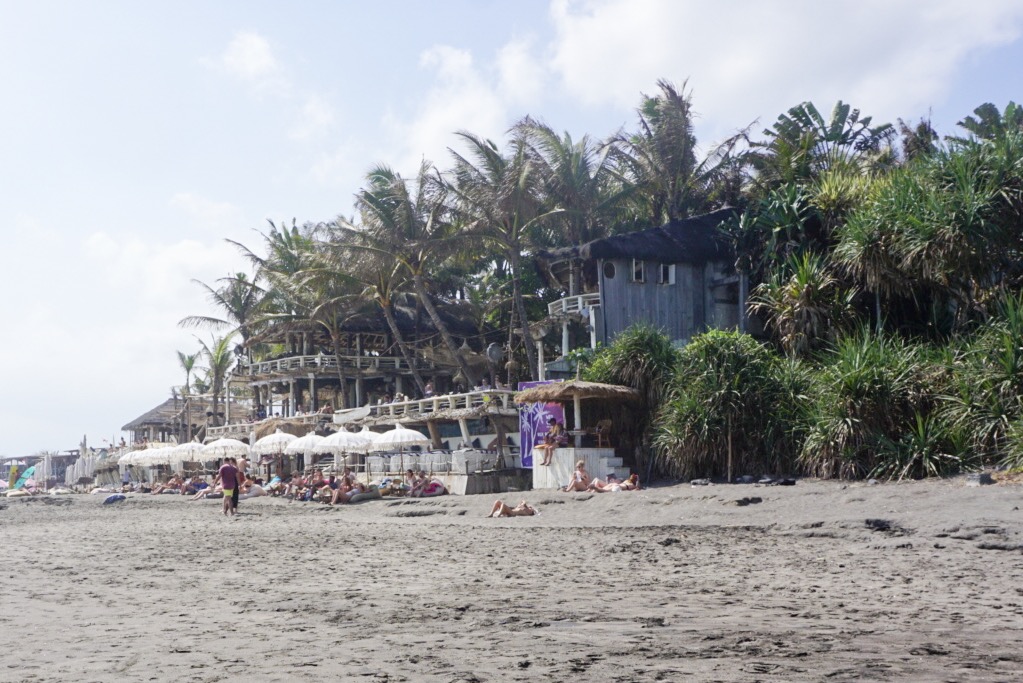 It also pays to note that Bali traffic is terrible. On my return trip to the airport on a Saturday afternoon I booked a Blue Bird Taxi and while GoogleMaps estimated this would only take 19 minutes, I knew better. It took an hour and a half and came to just under 160,000RP.
Canggu itself is fairly walkable you just really need your wits about you in the busier parts of town as pavement is inconsistent and scooters pass close to curb. If you're confident on a scooter yourself they're cheap to hire, just make sure you have an international drivers licence.
Finding somewhere to stay in Canggu
There are heaps of guesthouses in Canggu to stay at. I stayed in a villa I found on Airbnb which lacked a pool but met all my other needs. It was down a long driveway off the main road so I was close to the shops and cafes but it was quiet, served a great breakfast, offered wifi and was clean and spacious.
It was also pleasing to see bulk filtered drinking water available at my accommodation. On previous trips to Asia two plastic bottles of water per day being provided at my accommodation seemed to be the norm and then I was reliant on buying additional plastic bottles or boiling water.
Things to do in Canggu
Eat out
The number of cafes and eateries to choose from in Canggu is insane and you're guaranteed a good meal wherever you go. Raw and vegan meals are huge and there was nowhere I felt hesitant to dine alone and plenty of places had long shared tables.
I appreciate the fact that in New Zealand the price you see on the menu is the price you pay at the end as tax is included. In Bali it varied so consult the menu carefully to be sure of what you'll be paying.
Betelnut Cafe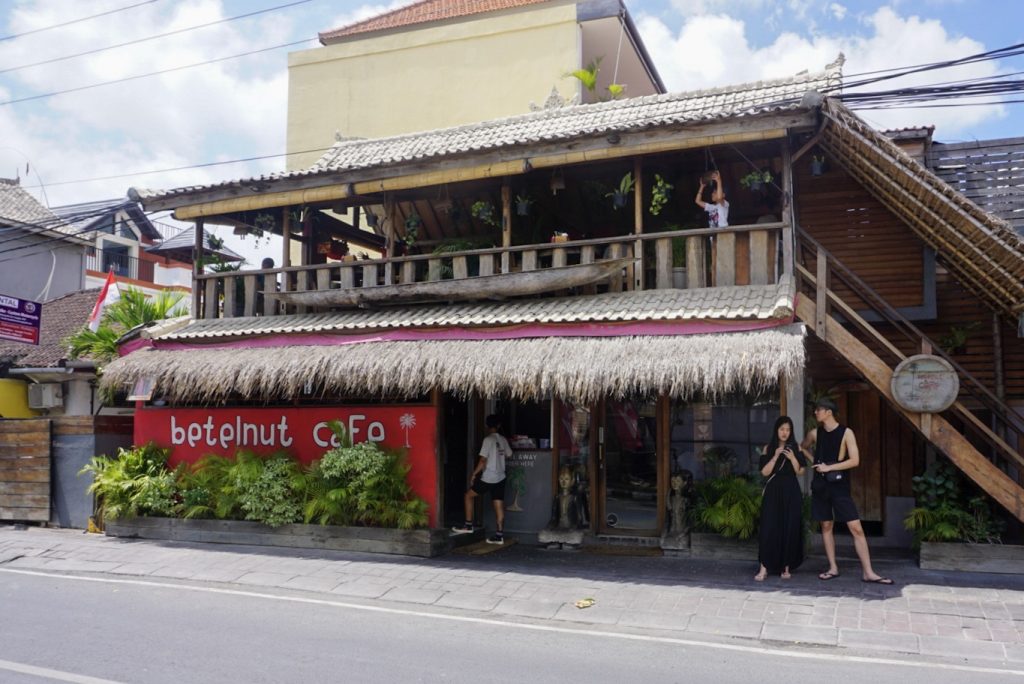 I'd seen more than one blogger rave about Betlenut Cafe and as it was close to my accommodation I went there the night I arrived.
Realising three kiwis were dining alone at a shared table meant I had several people to talk to. They have a great menu making meals hard to choose between but can highly recommend the naked burrito and salted caramel protein smoothie. They also have free drinking water available.
Pantai Batu Bolong St No.60, Canggu
Warung Dandelion
If you want cheap Nasi Goreng it's available further out of town but Dandelion has extremely enthusiastic and attentive wait staff and an open deck area featuring leafy plants, candles and shelves of books giving it a more modern vibe.
I ordered the vegetarian Mee Goreng which was beautiful with heaps of fresh vegetables and an Iced Tea.
Pantai Batu Bolong St No.10, Canggu
Milu by Nook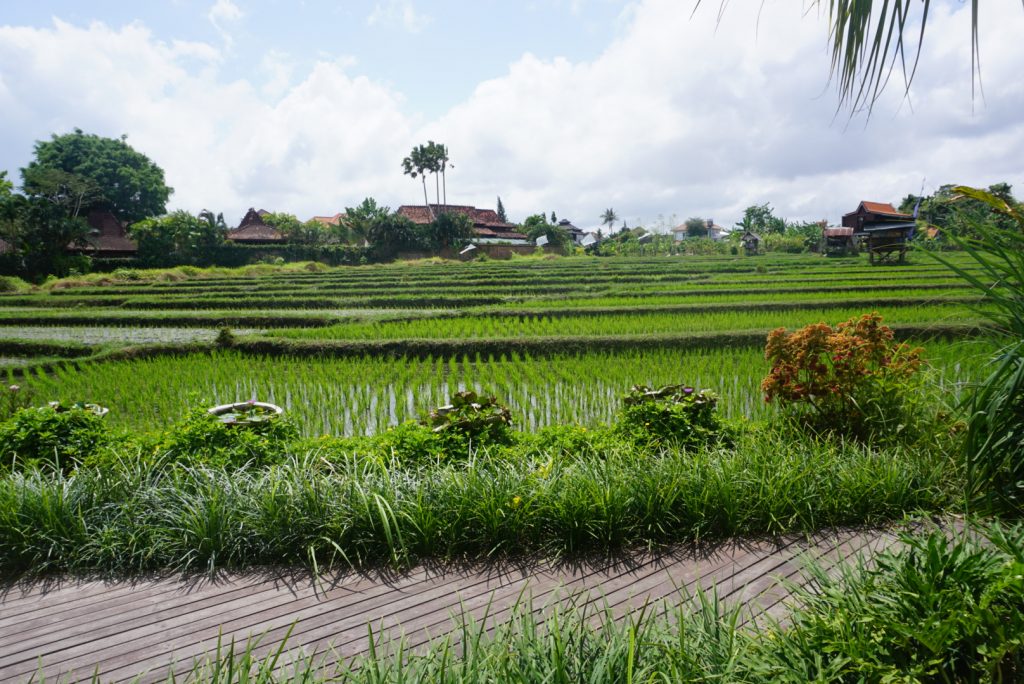 Bali is full of cute places you can't see from the street. Walking into Milu by Nook I was surprised to discover not only the gorgeous tiled floor, decor and garden area, but that I was at the bottom of a rice terrace.
The menu is full of health goodies but having just had breakfast and just after a juice I opted for the Berry Good Work Out smoothie with strawberries, blueberries, raspberry, honey and lime. Slightly sour and definitely better than anything I could throw in the blender at home.
Jl. Pantai Berawa No. 90 XO, Canggu
Shady Shack
Cute and busy 'shack' overlooking rice fields which is a cool refuge from Bali's midday heat. Their Nori Bowl is one of the best things I ate in Canggu with dried tofu sticks, edamame, nori wraps, seaweed, cucumber, seaweed, rice and other goodies with a miso dressing.
Nalu Bowls
Smoothie bowls are very Bali. Unable to decide from the menu I went for the server's suggestion of the Uluwatu, a dragon fruit blend with banana, papaya, raspberry and apple juice. It was topped with homemade granola, banana, strawberries, mango, coconut flakes and honey.
Go to the beach
Ok as beaches go Canggu is not great for swimming. Batu Balong beach had a rock base, strong currents, powerful waves and surfers to avoid. But if you're confident swimming in the surf it's a beach to swim in.
I was somewhat put off taking a surf lesson by those who approached me on the beach trying to sell me one. Prices ranged massively too from 50,000 to 350,000 for a two hour lesson but this would be a great spot to learn.
Shop in the boutiques
There are some beautiful shops around though I found the clothes were more resort style and better suited to someone travelling through Asia or in the market for yoga wear rather than starting a new office job.
Watch the sun set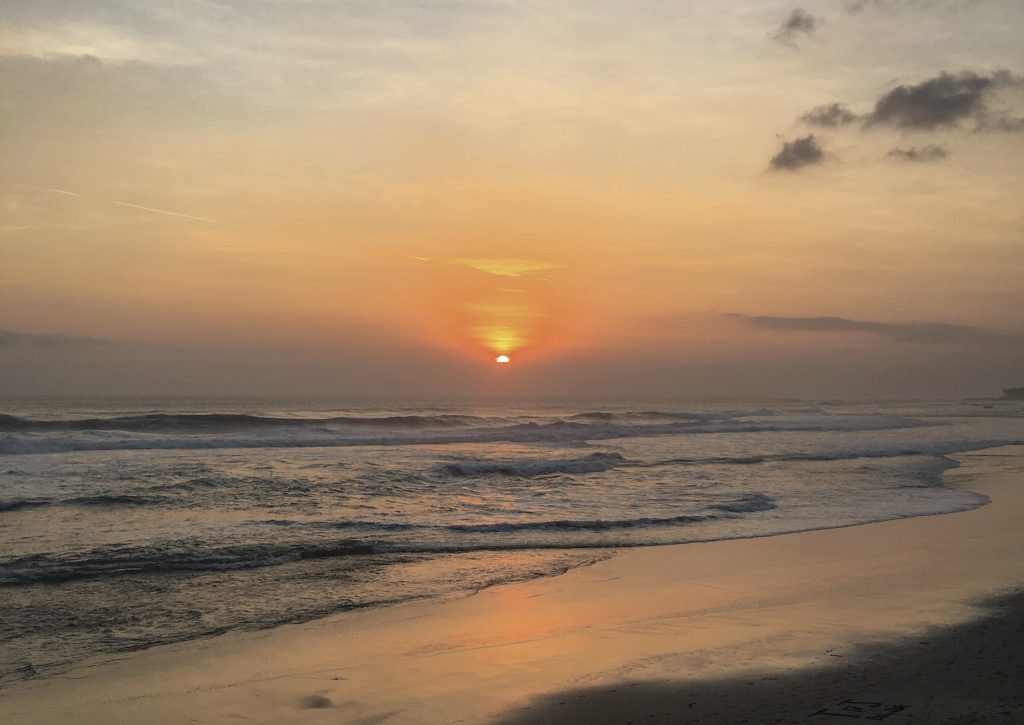 Bali's sunsets are notoriously beautiful and I'd heard Echo Beach Club was the place to do this. I parked myself up early and found I didn't just secure the perfect spot but that half price cocktails were available from 4-6pm.
Visit a pool bar
I researched pool bars in Canggu on a day where I just wanted to chill by a pool.
Finns is the most famous but also super expensive. The Lawn and Alternative Beach seemed to rank well on Google but also appeared very busy when I'd passed by the day prior.
I went for Loop Pool which is located at Theanna Eco Villa, down a long driveway bringing an unexpected serenity off an extremely busy main street. Entry is free before 11am so for 200,000 I got pool towel hire and 150,000 credit for food and drinks at the bar.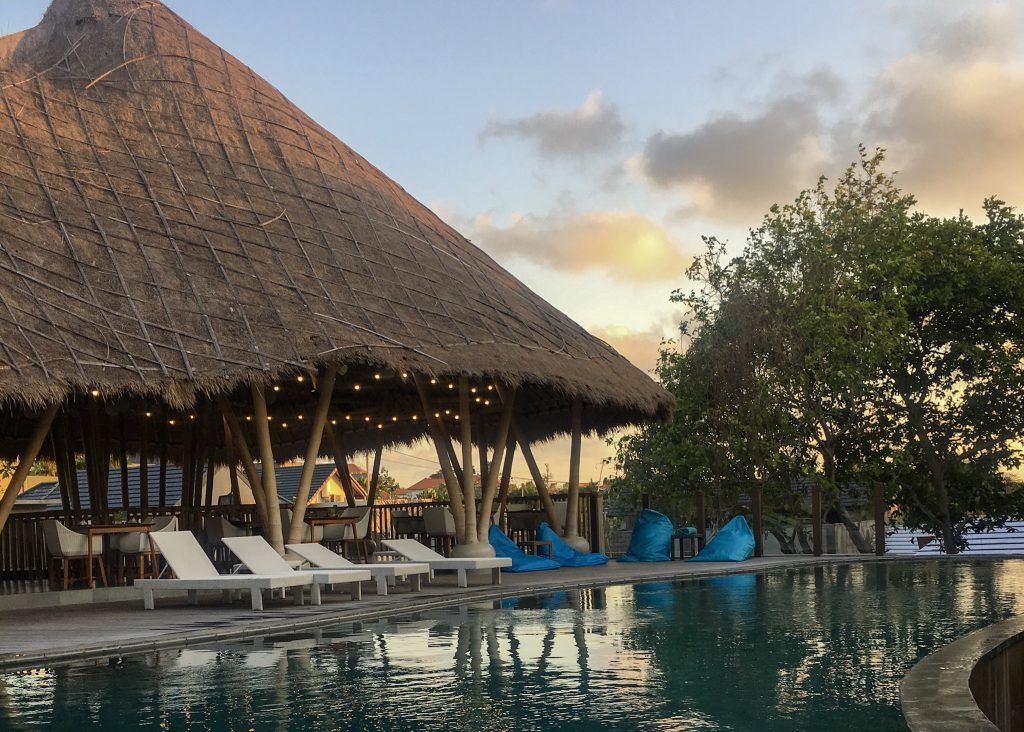 Effectively being a hotel bar means the meals and drinks aren't cheap but the minimum spend was enough for lunch.
It was very quiet until about 2:30pm when it reached a peak of around 20 people poolside and the wifi was fast enough to download and stream Netflix.
Get a massage or spa treatment
When a full-body massage costs as little as $10NZ it's not unreasonable to get one every day. As well as local outlets there are higher end beauty salons with western prices offering all sorts of treatments.
Take a class
Yoga studios are everywhere (The Practice was recommended to me for super traditional yoga) and there are CrossFit gyms which charge as much as you'd pay for a one-off workout at home. I looked into dance classes at Canggu Studio but never managed to get there – their instagram stories are great for seeing exactly what you'd be getting yourself into.
Just wander around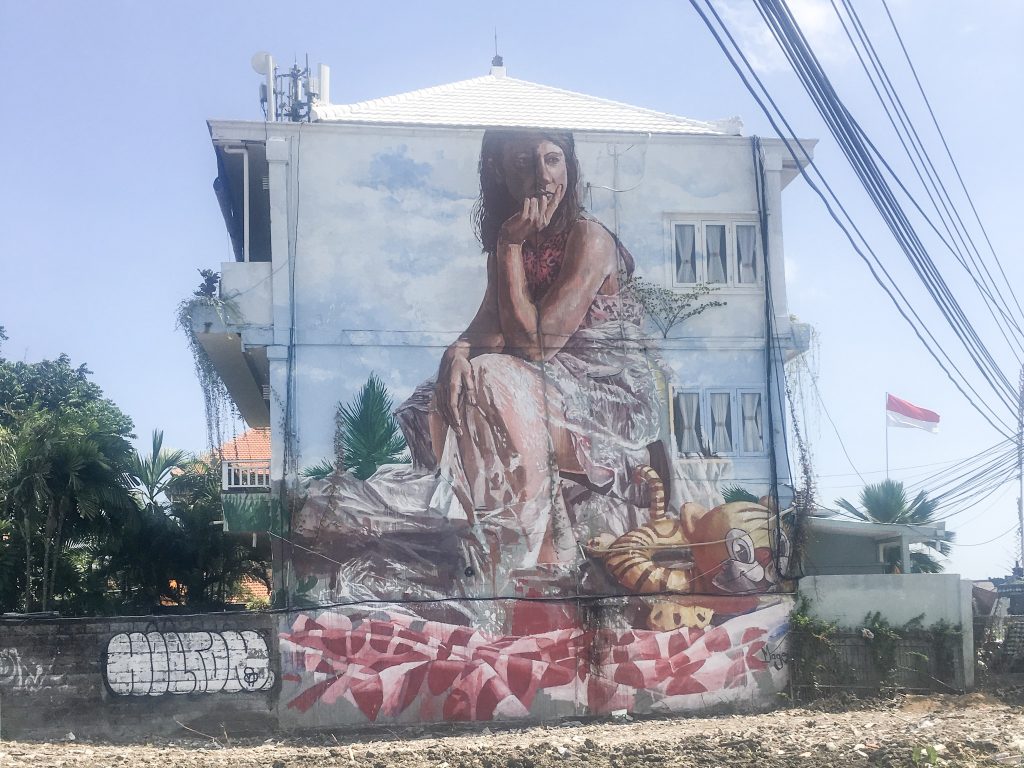 I was surprised at the number of street murals in Canggu as well as the rice fields among built up areas and the beach-front temples which obviously well outdated everything around them yet manage to retain tradition.
Right now Canggu is quite the mix. There's no road along the beaches and I walked the infamous Canggu Shortcut to a quieter area which felt more like 'Ubud at the beach'.
There seemed to be a lot of construction going on and that Canggu will only get busier, yet you can also tell that not long ago this was a quiet coastal town with more rice fields and far fewer tourists.
What would you suggest to someone wondering what to do in Canggu Bali?