One of the great things about travelling in Europe is the cheap flights available between the cities there. Renee and I bought some ridiculously cheap flights to spend a weekend in Stockholm in August.
We arrived late on a Friday night from Bergen and flew back to London on the Sunday afternoon which basically left us with just 24 hours in Stockholm to explore, but which proved enough time to see all the sights with a planned route and some prioritising.
The World Triathlon Championships were taking place around Stockholm the same weekend and with the costs of accommodation high we stayed in a Airbnb in Södermalm.
Our 24 hours in Stockholm
At 10am on Saturday we loaded up on Bagels and coffee for breakfast at The Bagel in the middle of Södermalm. I went with the 'New York' which was the classic Salmon, Cream Cheese and Capers.
At 10:40am we set off on foot towards downtown Stockholm through quiet streets of apartments, through a park and then past shops, pubs and restaurants.
At 11am we reached Monteliusvägen on the Northern Shore of Södermalm, a footpath set upon steep cliffs which serves as an impressive viewpoint to sit and observe the city from. From here we could see the old city, the downtown area, a church and the Royal Palace which were all places of interest in Stockholm we wanted to see later.
We found our way down the steep streets to reach the bridge below to cross the water into the city and look back at where we'd been before taking a shortcut through a metro station to Gamla Stan, the old town.
Gamla Stan featured the narrow paved streets you strike in the older parts of the classic European cities and locals going about their Saturday mornings as well as tourists looking around.
At 11:30am we reached Stortorget, a small, historical public square which is the location of the Noble Museum, Stock Exchange, a Well and some beautiful buildings which are apparently still privately resided in.
As we continued on we encountered a crowd of tourists centered around a tiny statue at the back of a church. Intrigued, we wandered in and tried to eavesdrop on the tour guide but unfortunately he wasn't speaking English). It was so small and so popular that it was impossible to take a photo of the statue without other tourists in it.
We Googled why this was a thing and learnt that the sculpture is nicknamed 'Järnpojke' or the 'Iron Boy'. It is only 15cm high and each day people leave small gifts beside him (mostly coins) which is said to bring good luck, as does rubbing his head.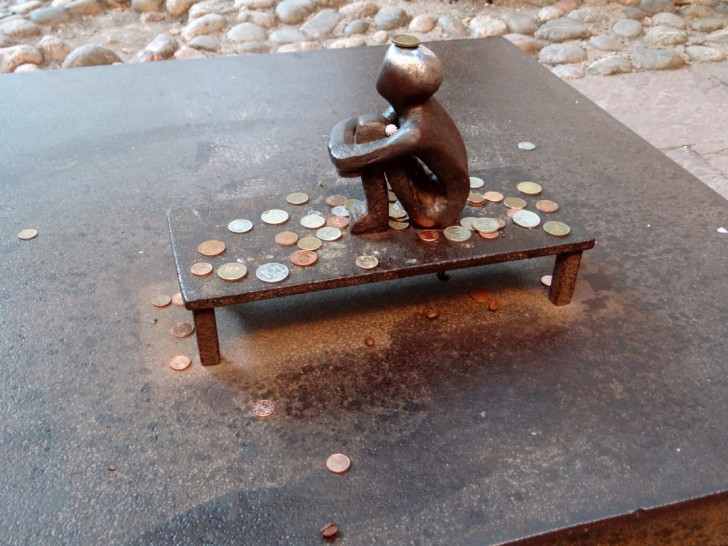 Leaving the old town district we passed The Royal Palace but didn't stop because it was busy and obstructed as the triathlon transition area, and headed down to the waterfront and began to walk around it.
At around midday we passed the beautiful Grand Hotel. Had they had a bar with a view we would gladly have stopped and watched the world go by with a glass of Rose, but as they didn't we kept on walking, taking in more of the waterfront, the stunning buildings and the occasional green park. I was fast getting the feeling Stockholm would be a lovely city to live in.
At 12:45pm we'd made it to Queens Church and had a look around inside and out.
At this stage Renee and I were fairly exhausted and after debating the merits of whether to have lunch or a glass of wine first, we decided to head back to The Soap Bar which we'd seen earlier and have a drink in the sun.
The barman told us that we were in for a great night if we chose to come back in after 10pm as everyone in Sweden gets paid on the 25th of the month and that the clubs in Stockholm are heaving on the Saturday night after payday.
At 2pm after struggling to find something reasonably priced for lunch we had a quick bite at an Irish cafe. We wanted to keep walking around the waterfront in the sunshine to the museum.
By now it was a beautifully sunny Saturday afternoon and there were a lot of people out and about by the water, enjoying the late Summer sunshine.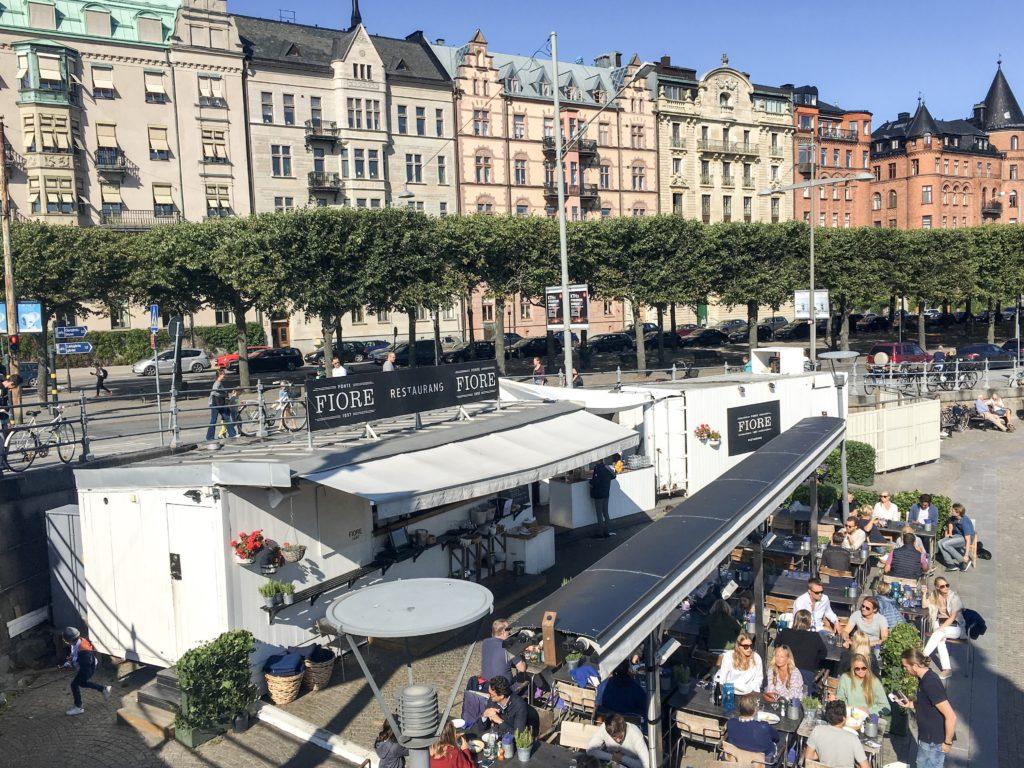 By 3pm we were amongst Stockholm's museums.If you just want an idea of what the Nordic Museum is like without paying the entrance fee and spending hours looking at the exhibitions you can get a sticker to visit the gift shop. And if you're an ABBA fan then the ABBA Museum is a must – note that you need to book online before you go.
When we were done we started the long walk back to our accommodation in Södermalm, 70 minutes away, grabbing cinnamon rolls and bottles of water for sustenance. The people in the city were relaxing as late afternoon turned into evening.
Just after 9pm We had a late dinner at Grannen in Södermalm and their zucchini dish (with well deserved glass of wine) was quite possibly the best thing I had eaten in weeks. I need to try to create it at home. Having walked over 10km we decided we were too exhausted to go back into the city and head out on the town, instead choosing to chill out and relax with a couple of drinks.
By 10am on Sunday we were off on our way to the airport via Metro and bus. Stockholm done in a day and ticked off our bucket lists.
Have you been to Stockholm? Do you think 24 hours in Stockholm or any other city is enough to explore?