I've wanted to drive around the East Cape since I first drove the main State Highway 2 route through the Waioeka Gorge between Gisborne and Ōpōtiki more than 10 years ago. The distance around the cape from Gisborne to Ōpitiki itself is only 334 km – approximately 5.5 hours driving time, but if you have a couple of days there are plenty of worthwhile stops along the way.
In mid-February, with New Zealand's border still largely closed, school back and most working, it was mainly retired couples in caravans on the roads and at the camping grounds.
This was my East Cape road trip itinerary spread over four days. I'd recommend visiting the Gisborne Information Centre before heading up the coast and get the latest word on what's closed on the East Cape. We picked up a free "Explore the East Cape" Guide somewhere along the way and found it incredibly useful.
Tatapouri Bay
Tatapouri Bay is 10 minutes out of Gisborne and is a stunning place to watch the sun rise.
What was once a simple campsite now offers beachside glamping with glamping tents and cabins. The newest offering is the Zen Cabins which are priced at around $260 per night.
The camp has modern showers (the sort with Ecostore handwash, shampoo, conditioner and body wash provided), and a fabulous outdoor spa and sauna – ideal at sunset, costs $20 for a session to book or is free with a Zen Cabin.
The kitchen was outdoors and basic. The experience wouldn't have been much fun if it had been pouring with rain but we were lucky with the weather.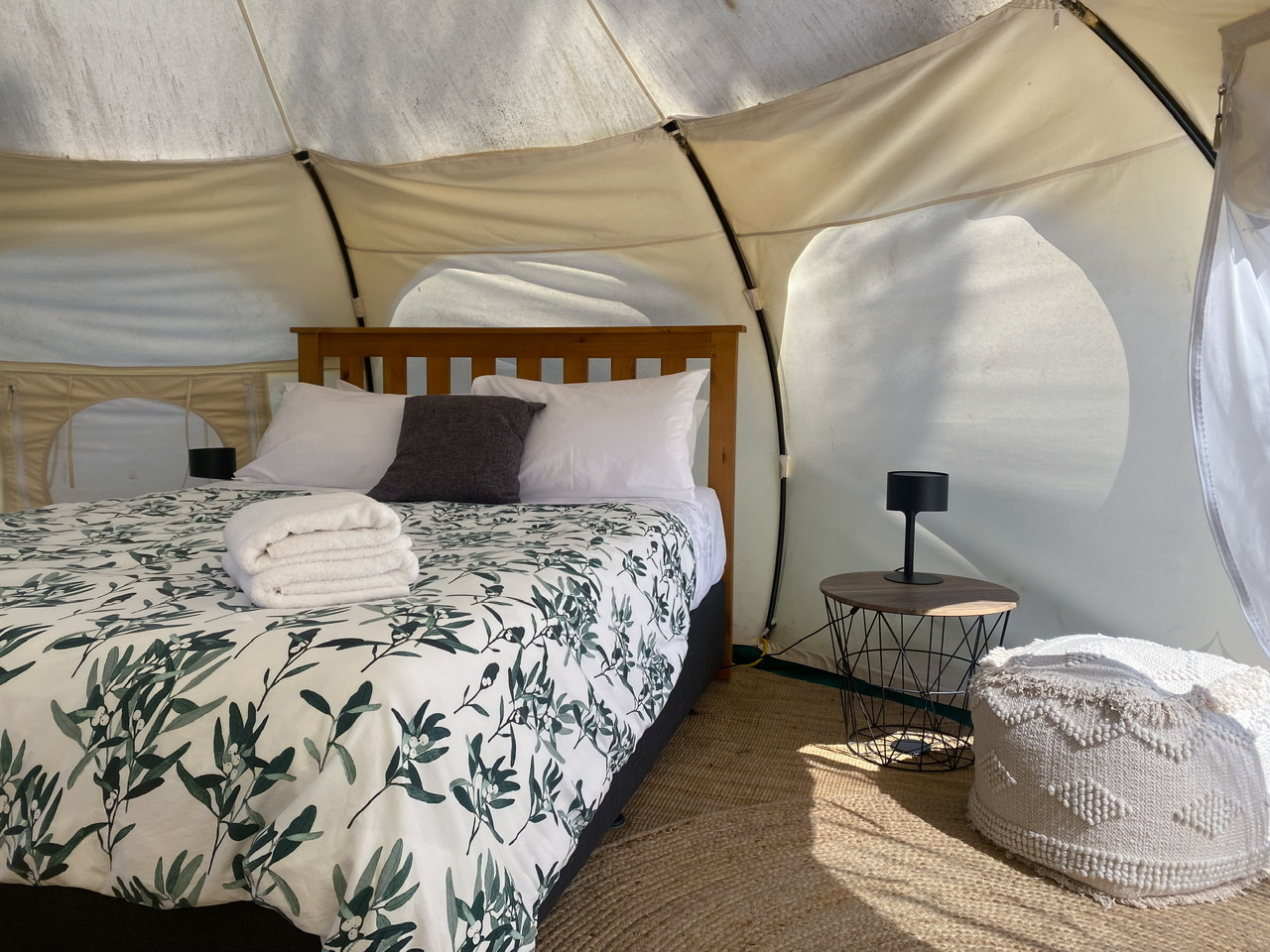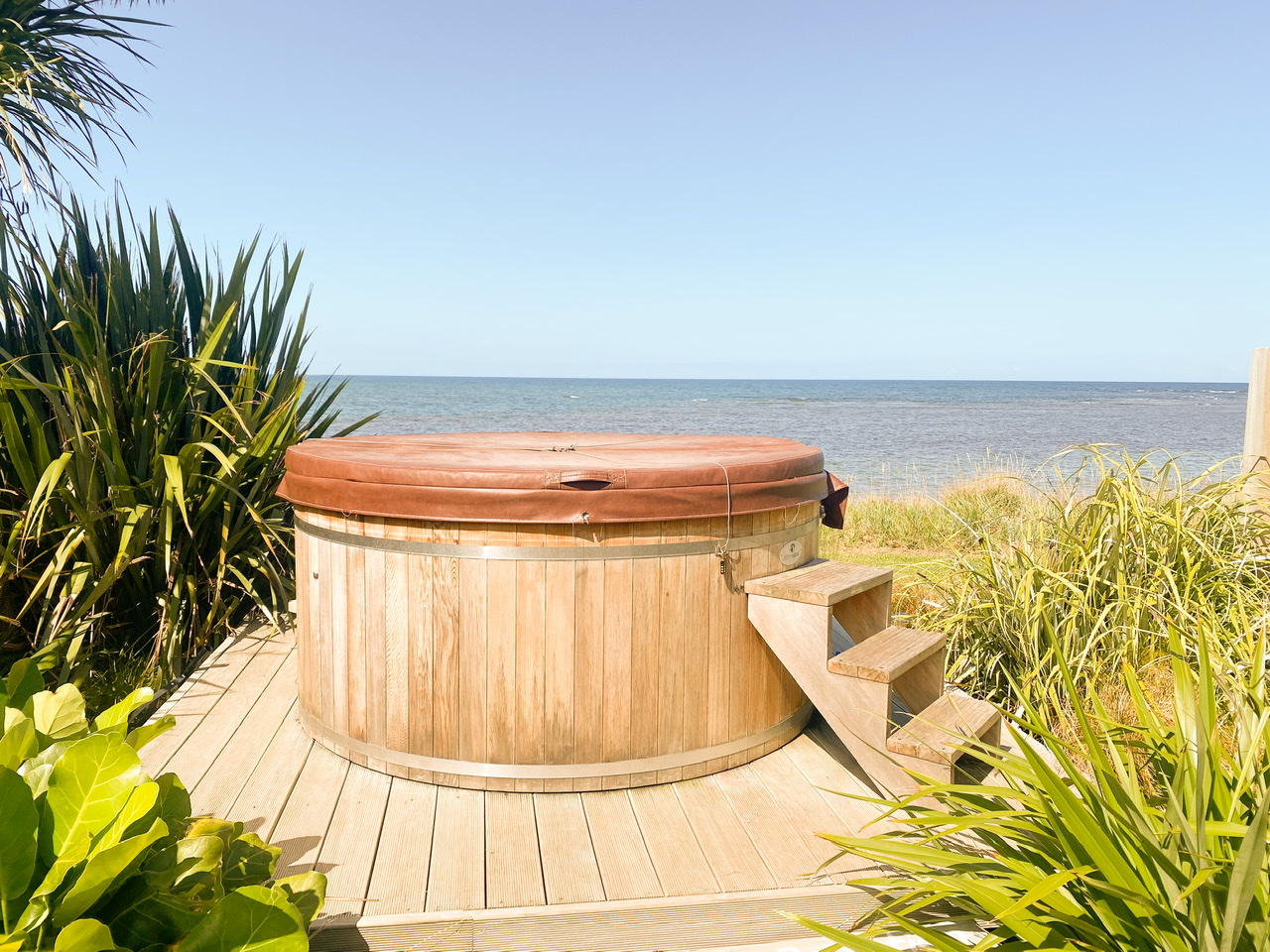 Waihau Beach
The 4.5km road down to Waihau Beach (also known as Loisels Beach) is one way and windy – meeting someone coming in the opposite direction would certainly have made passing challenging.
There's a campsite at the bottom by the beach and a few houses. No one was around and we had the 5.6km unspoilt beach to ourselves. It was rocky at each end and appeared to have a rip in the center so we walked up and down rather than swimming.
I'd made the call to wing trip and not book any accommodation in advance. My only regret with this decision came when realising that Tidal Waters Lodge was booked out every weekend for a good three months – it had good mid-week availability but that didn't fit our timing.
Tolaga Bay
No east cape road trip is complete without a visit to Tolaga Bay. The streets of Tolaga Bay are named after Captain Cook's crew who arrived here in 1769. The town has a 9 hole golf course, bowling club and skate park, and the Tolaga Bay General Store was not as expensive as I anticipated making it a great place to pick up anything you've forgotten and are desperate for (in this case pegs and tomato sauce).
A self-contained unit at Tolaga Bay Holiday Park near the 660m long Tolaga Bay Wharf was a bargain at $120 a night.
Set aside a couple of hours to hike Cooks Cove Walkway, walking all the way down into Cooks Cove where Captain James Cook stopped as part of his circumnavigation of New Zealand. The first 20 minutes is steep up steps to a monument and lookout point.
The path then appears to split and, encouraged by the couple in front of us, we headed up to the fence line for views over the wharf, before heading down through regenerating bush to the hole in the rock.
Anaura Bay
Anaura Bay is 7km off the main road is a stunning white sand beach. Dotterels and various oyster catchers were nesting along the beach. A passing jogger on the water's edge summed things up nicely when he called out "how lucky are we?!".
If you were to stay in the camp ground you would have no choice but to switch off.
Tokomaru Bay
If for nothing else, stop for one of the famous pāua pies at Cafe 35 in Tokomaru Bay- it was creamy and delicous with perfectly cooked pastry.
If you're not a fan of pāua there are alternatives such as mince & cheddar, seafood and pork belly.
The wharf was closed for repair (seemingly quite behind schedule) with funds being raised through donations and public events.
Te Puia
A man was working away in the front garden of the ( mothballed-looking) Te Puia Hot Springs Hotel. Unable to understand each other he called his boss and handed me the phone. I was told to follow the man around the building and entry would be $12 per person if we were happy.
Feeling brave, we did, to find a real hidden gem. With no reception staff around I used my long-forgotten customer-service skills and entered the full transaction on the Eftpos terminal myself!
Soaking in the private spring was a blissful way to spend half an hour. See my Reel.
Te Araroa
Te Araroa features a stony beach with large piles of driftwood. You can also find the world's oldest Pouhutokawa tree here – over 350 years old, more 40 metres wide and taller than 20 metres.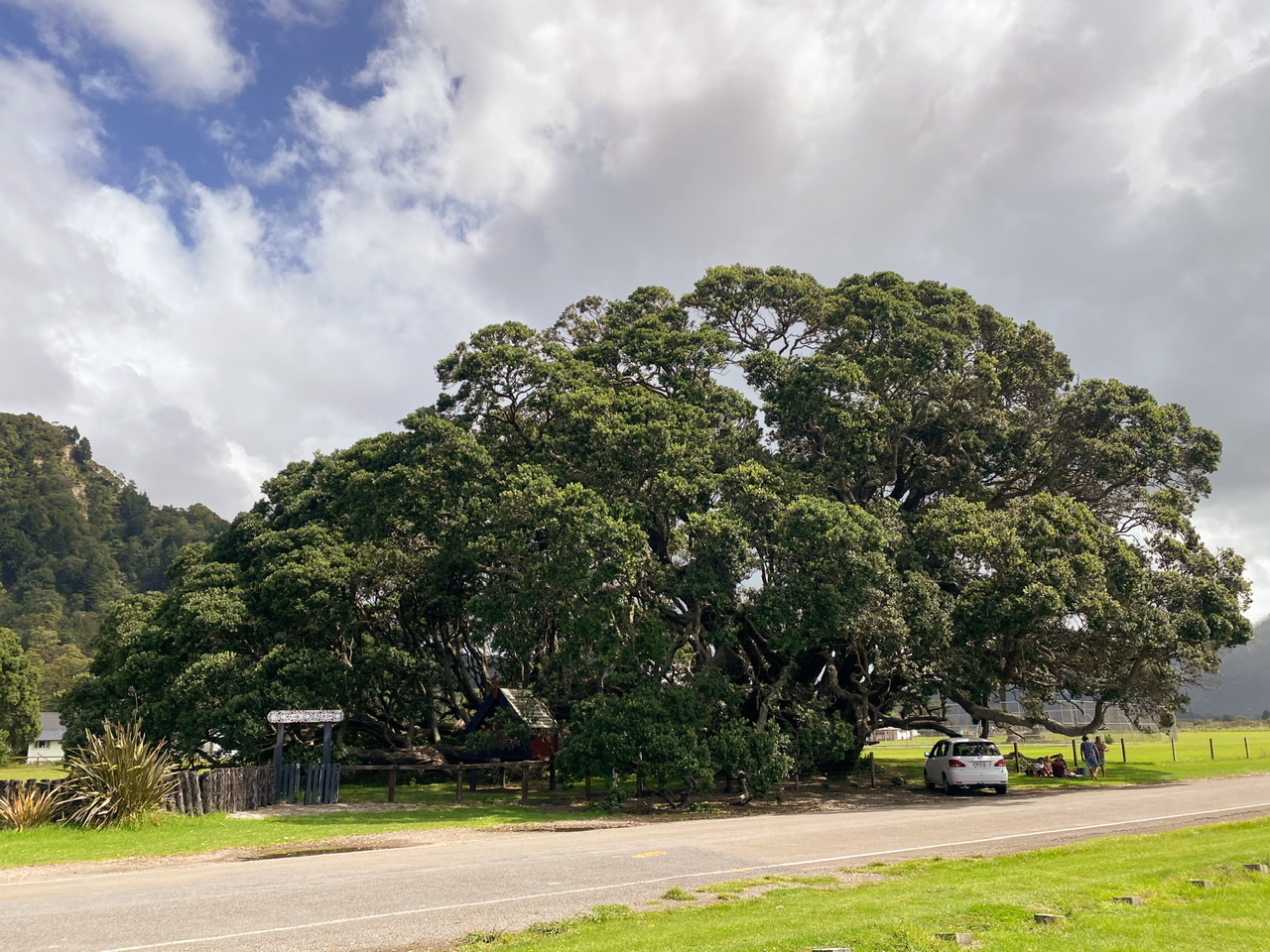 The East Cape Lighthouse was closed to protect the tangata whenua from the Omicron outbreak. We didn't even attempt driving the road a short distance as I understand it poorly maintained.
Hicks Bay
Instead of stopping at Hicks Bay I'd recommend pushing on the additional half hour to Waihau Bay, or if you're a fan of fishing, people on the road said Lottin Point, where you can fish for Kingfish off the rocks had a beautiful view, though little else to do.
We didn't receive great customer service in the bays around here and the rules for wearing facemasks in place at the time seemed not to have reached a number of establishments in the top half of the East Cape. When looking at both the Te Araroa Holiday Park and Hicks Bay Motel Lodge as potential places to say the Tripadvisor reviews seemed extreme in each direction based on how much the visitors engaged with their hosts – there seemed to be a fine line between "the proprietor's a legend" and "the proprietor's a xxxx".
Waihau Bay
Visiting on a Sunday there were boat trailers parked up along the roadside approaching Waihau Bay and the houses all had massive garages for parking boats.
The Waihau Bay Lodge sits across the road from the jetty (the one which featured heavily in the movie Boy) and the boat ramp. A hole in the wall at the back of the pub that serves as the local bottle store.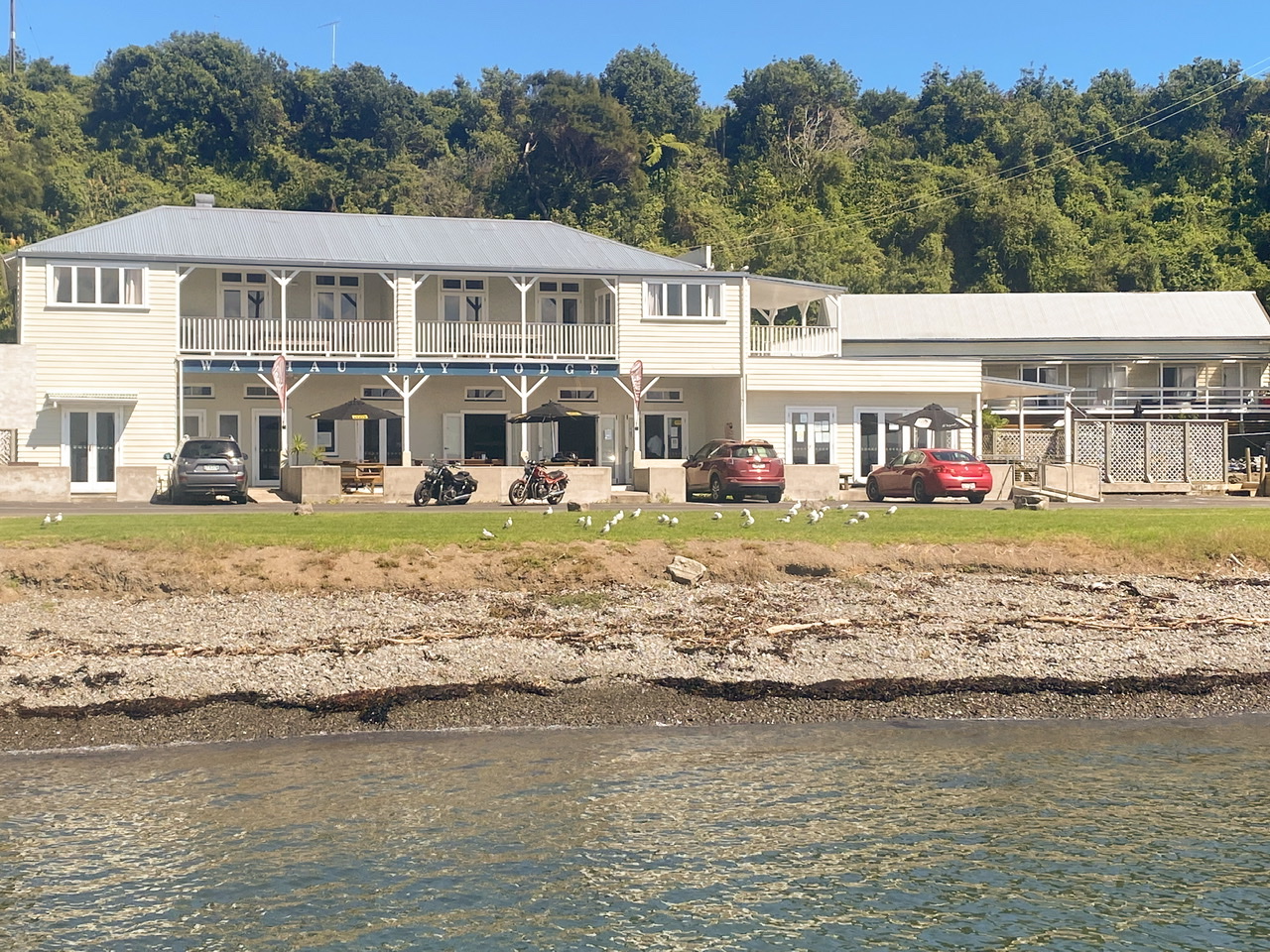 Sunday evenings in Summer seemed like peak time on the deck outside the Waihau Bay Lodge. Locals were drinking and catching up, kids were jump off the jetty, and Coastguard volunteers (Channel 65 on VHF radio) sat out the front of the Lodge recording the boats coming in. Several people offered to buy them beers. I was surprised to find that the Kitchen Khaos menu contained a Keto section.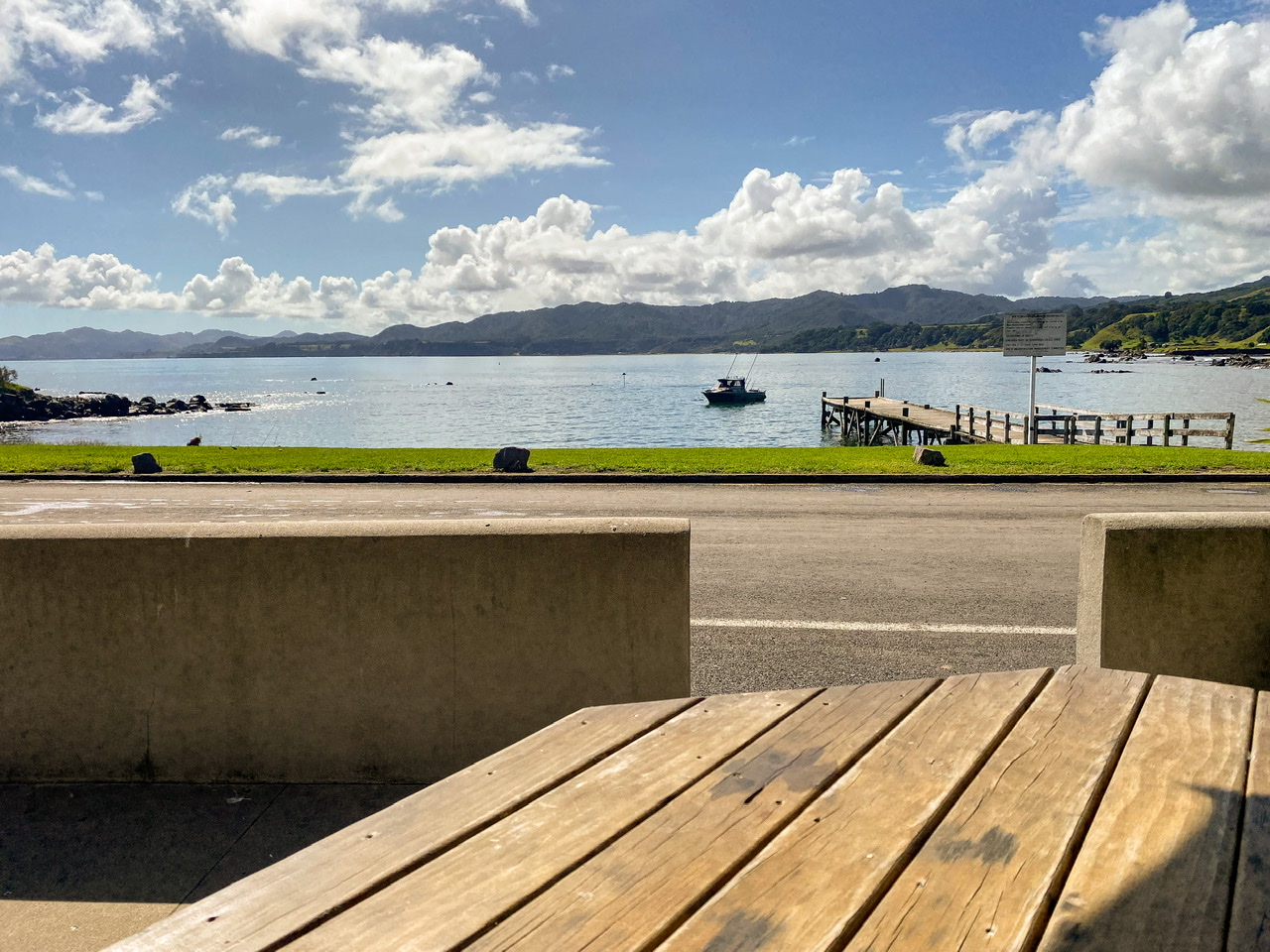 About 50 people suddenly appeared from nowhere to watch as a 190kg Blue Marlin and it was hauled off an arriving boat, weighed and measured.
There is wifi at the pub but you have to pay for it ($5 for 1GB or $10 for 5GB). Being on Skinny Mobile I had no cellphone reception (Vodafone and 2degrees networks are available, Spark is not). Had there been wifi and phone coverage I would have stayed longer.
If you stay at the camp site by the lodge, be sure to take your bug spray as there are loads of midgies and sandflies.
Waikawa Bay itself was very rocky but just past the bridge over Waikawa Stream we found a quiet bay for an afternoon swim and a picnic. On the way there at Raukokore, near the shore of Papatea Bay we came accross the isolated landmark Christ Church.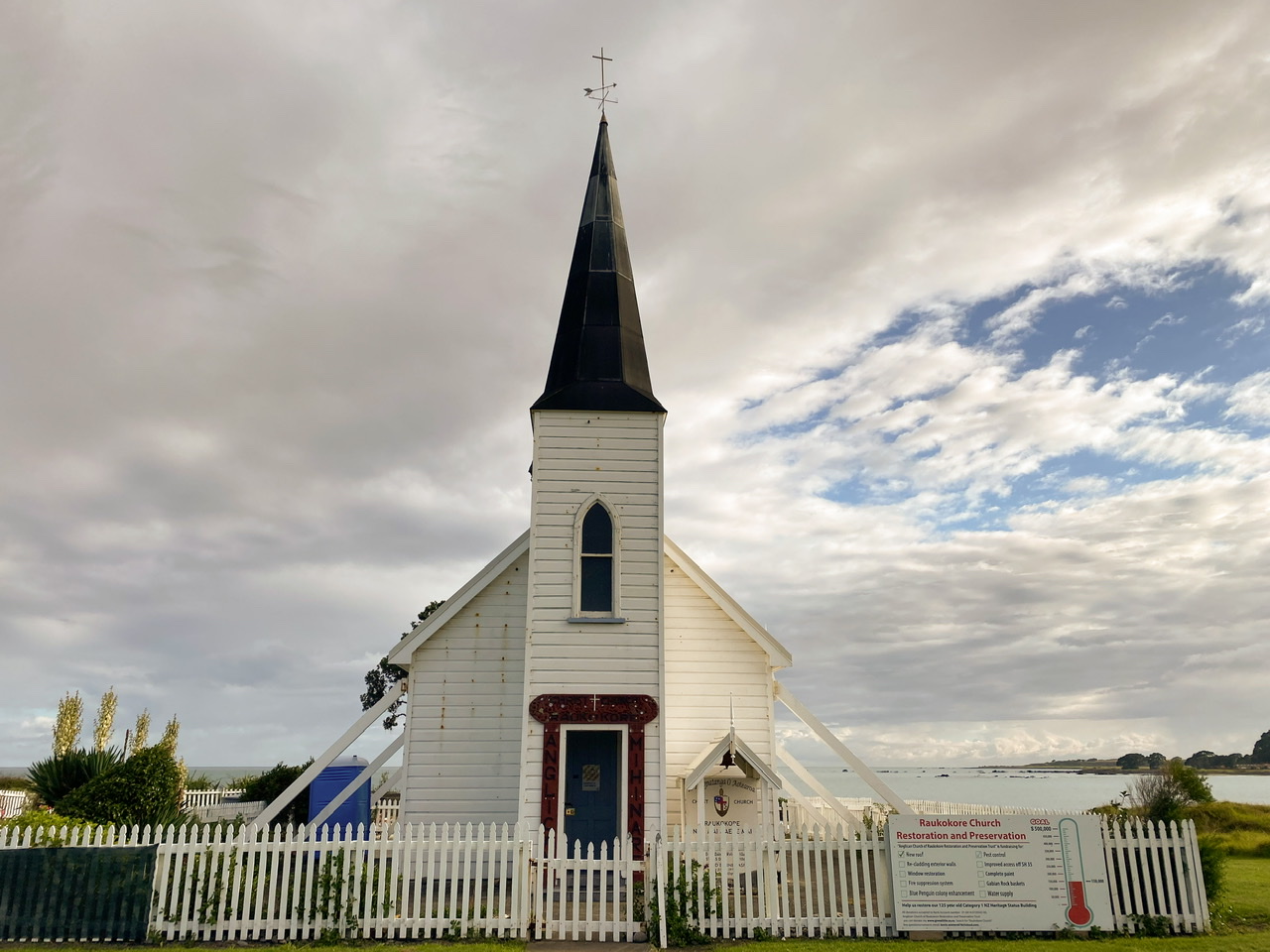 Te Kaha
We only stopped briefly in Te Kaha but I'm told there is quite a good freedom camping spot opposite the school on the beach as well as a good pub. You can buy a boat launch pass from the campground and it's a good place to get paua and kina.
Ohiwa
While an East Cape road trip comes to a natural end at Ōpōtiki, we drove on to Ohiwa Holiday Park, a real find with cabins, a pool and a deserted sandy beach with perfect swimming conditions.
As I'm currently working from home, had the internet connection been decent in Ohiwa I would not have rushed back to Wellington.