I have the terrible, scripted reality tv show The GC to thank for our Easter Holiday destination. Mike, left in charge of booking Easter somewhere, stumbled across it mid-search and subsequently found a package on Expedia combining flights with Jetstar, and three nights on Hope Island at the InterContinental Resort Sanctuary Cove on the Gold Coast.
We picked up a pre-booked Avis rental car (disappointed to be upgraded from a manual to automatic model) when we landed at the Gold Coast Airport and drove to Santuary Cove.
Once we were checked in at this InterContinental hotel were driven to our room via a buggy complete with knowledgeable hotel guide. It turned out to be the wrong room (incorrect bedding formation and a lesser view). Ten minutes of phone calls between Mike and Shane on reception resulted in us finally being chauffeured to our new room, where a complementary bottle of bubbles was kindly provided.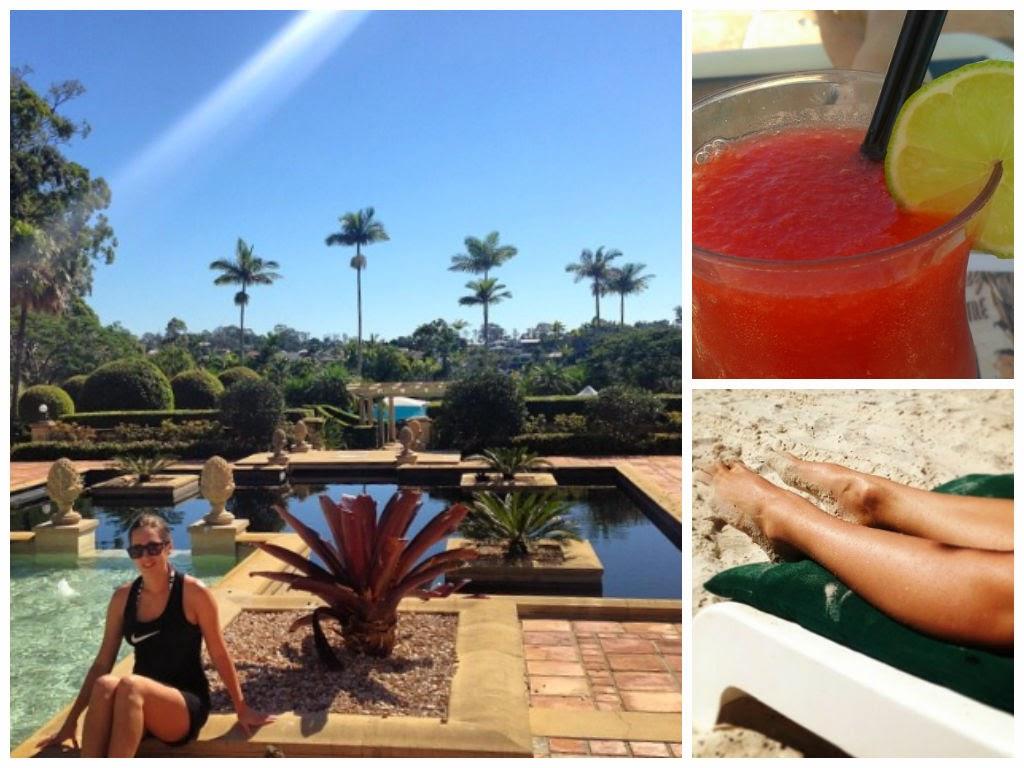 The Santuary Cove InterContinental resort itself was a pretty place with a pool, as well as a lagoon filled with water pumped in from the river and filtered, with a contrived sandy beach.
Staying at the resort gave us a great idea of what it would be like to live in Sanctuary Cove. The Marina Village was a short walk from our accommodation and was generally packed with kids due to bouncy castles, treasure hunts, pony rides and similar entertainment. 

Quay Street Cafe was right at the bottom of the steps from the Intercontinental and hit the spot with their provision of my favourite summer lunch – Greek Salad (though not of the actual Greek quality) and iced coffee.
Georges Paragon Seafood Restaurant is a winner with half price meals at lunch and between 5.30 and 6.30pm. We couldn't be bothered with the ridiculous lunch time queue but booked for dinner having the healthy option of pan fried (rather than beer battered) Snapper with chips and broccolini.
At The Spotty Cat Jade Louise from The GC was singing with Jesse Boy when we visited, though unfortunately neither of us realised who she was at the time. If you wanted to save some cash and eat out less there was a supermarket in the village with plenty of specials, though cooking sans-kitchen is difficult.
Our Santuary Cove accommodation gave us free entry to The Country Club and the opportunity to play on several golf courses. While the gym looked well equipped it wasn't something I could be bothered with and there were no classes on. The Women's Spa Pool was too cold for my linking and the Sauna was not turned on.
The receptionist was really helpful and friendly and reminded me of Marnie from Girls. Eerily there was also second, abandoned Country Club next door which was not referenced in the marketing material.
One evening we fought the traffic and drove to Broadbeach and Surfers Paradise for a walk along the beach. I love how the sand squeaks as you walk on it.
Something I had not considered about travelling at Easter was the public holiday surcharges – and Australia considers all four days of Easter weekend holidays. There was a simple room service meal (Cesar salad, a pizza and creme brulee) which cost AU $70 (plus AU $9 for two bottles of Coke from the Mini Bar).
This was the first time I've been to a southern hemisphere summer destination post Daylight Savings (not that Queensland has Daylight Savings). In late April the weather is still in the high 20's but the days are short and the pool bar closed at 5pm – I'd like to have spent more time at Sanctuary Cove in the sun drinking cocktails.