I did a solo Bay of Islands tour one Saturday in the form of a day trip from Auckland to Pihia with GreatSights, using a discount voucher I purchased on voucher site GrabOne.
The trip included a visit to the Waitangi Treaty Grounds where the Treaty of Waitangi was signed on February 6th 1840, a boat trip through the Bay of Islands and through the Hole in the Rock, and several sites of interest along the way. Here is what we saw in pictures taken on a (soon to be made defunct) mobile phone.
Pink Sheep and Kauri Trees
The first real sight we saw from the bus was pink sheep. At SheepWorld which is 65km north of Auckland, the sheep are run through (harmless to animals) food colouring each day to dye them pink. It was originally done for a week to promote breast cancer awareness but proved such a hit with visitors and international media attention that pink sheep have become a permanent feature.
The tallest Kauri Trees in New Zealand are at the top of New Zealand's North Island so a stop on the way to the Bay of Islands with GreatSites has to include a stop at a Kauri forest to see some.
Waitangi Treaty Grounds
Wanting to visit the Waitangi Treaty Grounds was what led to take this Bay of Islands tour. It's basically the birthplace of New Zealand as our founding document, the Treaty of Waitangi was signed here in 1840.
The Treaty Grounds and Museum didn't disappoint with beautiful lawns and views of the Bay of Islands, and we were lucky it was turning into a stunning day.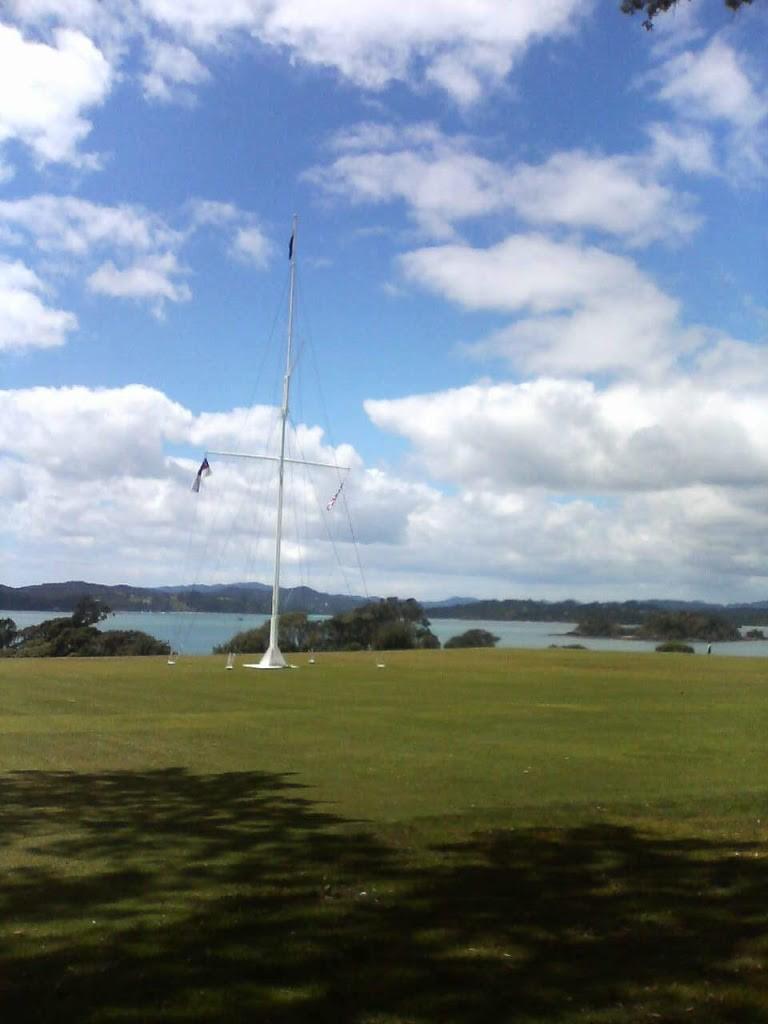 The Hole in the Rock Bay of Islands Tour
During the afternoon we hopped on a catamaran in Paihia for a Bay of Islands tour. From the boat we saw and learnt about marine life including dolphins as we sailed to the end of Cape Brett Peninsula to the famous hole in the Rock on Motukokako Island. We even sailed through the tight space.
There's so much more to explore up this way including Russell, Whangarei and Cape Reinga but this day was long and full on enough by the time we headed back to Auckland.
If you're short on time and just want to tick boxes in terms of visitor attractions this Bay of Islands tour is the way to go. If you have more time, certainly book accommodation, stay over and do things on your own accord.
Have you been anywhere in the Bay of Islands?