The Hokitika Wildfoods Festival has been running for 28 years, attracting almost 7000 people with the promise of food items not usually deemed edible.
It's the event of the year in Hokitika and something I'd been wanting to go to for years so this year I just went for it and booked a trip down.
Here are a few tips for attending your first Hokitika Wildfoods Festival.
Don't stress that there will be nothing you want to eat
I'm not known for being particularly adventurous with food – I'm pescatarian, currently not drinking alcohol and I tend limit wheat and swap dairy products for alternatives. I really just wanted to go for the experience and observe quietly however several concerned people in my life asked me what I thought I was going to eat.
The West Coast produces all sorts of 'wild' foods which are on offer. Some of my favourite dishes included whitebait fritters, mussel fritters, wild blackberry waffles and plain old coffee (without the addition of goats milk or dried crickets).
As well as the wine and beer tents there was free water proving host responsibility which was great to see.
Dress up
If you really want to get into the carnival atmosphere, the best way to do it is to dress up in a wild outfit.
The Feral Fashion competition was one of my highlights of the day as well as Salmonella Dub's appearance on the main stage.
Be prepared for wet weather
While the promotional material depicts beautiful weather, here's a 53% chance of rain on any given day in Hokitika and it rained persistently on the day of the 2017 event. I was grateful I took an umbrella. Gumboots and a waterproof jacket would also have been a good idea.
Arrive at the Hokitika Wildfoods Festival hungry
I'd consumed most of what was on offer in the Koru Lounge before boarding the plane so was full pretty quickly.
As well as what was for sale, some stalls had free taster items: There was some amazing Hungarian friend bread, beautiful fresh Italian fettuccine at the demonstration tent as well as various other things.
Some of the crazier food items included:
Live Huhu Grubs. Consumers were being encouraged to bite the head off first.
Deer Semen which you could observe under a microscope and see they were still swimming.
Fish eye jelly shots. Of the three people I saw consume these, one spat the eye back out again, one spent some time retching over a bucket and the third just looked ill. They were obviously not particularly tasty.
Pig snouts on sticks.
Mountain Oysters (which in their stir fried state were not recognisable as Bull testicles).
Go with a group
Air New Zealand is a major sponsor of the event I've seen Grabaseat packages for The Hokitika Wildfoods Festival including flights, tickets and transfers from both Auckland and Wellington the past few years. Even more awesomely it didn't require travelling twin-share to book.
There was a small hitch that meant we required a new plane to be flown in from Wellington and a three-hour delay getting home but we were fed several times and drinks were provided. The staff were actually amazing.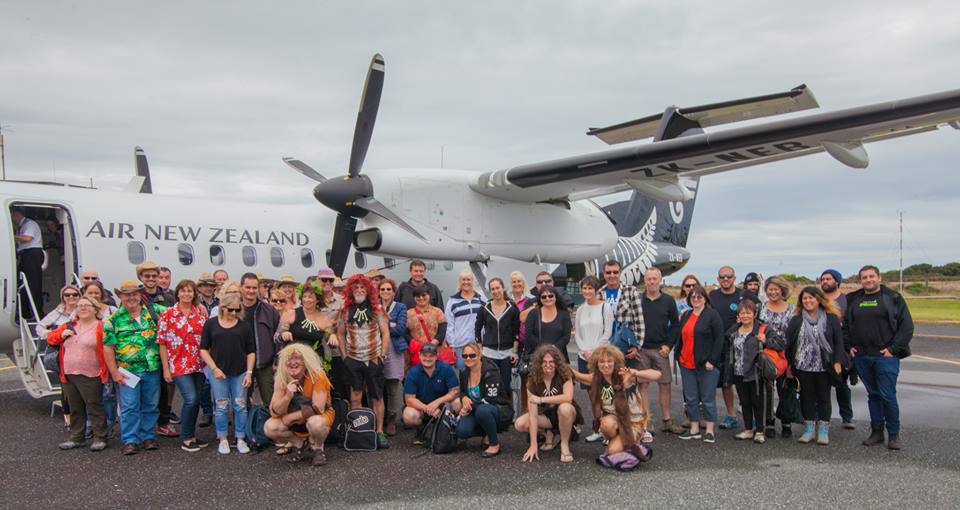 With a decent group of people at the festival you can converse about the different things different people try.
There was never any pressure to try anything but there were certainly debates as to whether Huhu Grubs actually taste like peanut butter. There were conflicting opinions on both the Mutton bird pie and the Mountain Oysters and apparently not everything 'tastes like chicken'.
 Check out the rest of Hokitika too
I wandered around town and walked down to the beach entry to see the famous Hokitika sign. I'd always wondered whether it was actually made out of driftwood, or in fact something more permanent.
Spoiler alert: It IS made out of driftwood!

Have you been to the Hokitika Wildfoods Festival or anything similar? What's the craziest thing you've eaten in your travels?