It's a fact of life that there's no way you can ever anticipate and plan for every possible outcome, and this is never truer than when you're at the edge of your comfort zone. Unexpected things happen.
All sorts of unexpected things happen when you're travelling, whether good, bad or disastrous.
In time though these experiences provide the best stories to retell as they're guaranteed to provide a laugh or utter astonishment from friends hearing them for the first time.
Legless in Tuscany
I caught the Contiki Flu in Italy. Needing to get over it quickly I went into a Florence pharmacy, mimed my symptoms to the pharmacist and left with something (I had no idea what) in tablet form.
In Italy you don't need a prescription for antibiotics or and I was certainly dealt something stronger over the counter than you'd ever get that way in New Zealand. I'd usually limit my alcohol consumption when taking medication but thought accepting a glass of Chianti for a toast would be okay.
It really wasn't. I honestly had fewer than four sips before I felt seriously sick and had I needed to get up and go to the bathroom, I would have fallen over as soon as I required my legs to support myself. I just had to sit there, try not to slur my words, drink as much water as I could and eat a meal to overcome it.
By the time we came to leave just over three hours later I was okay, but it was a tad scary.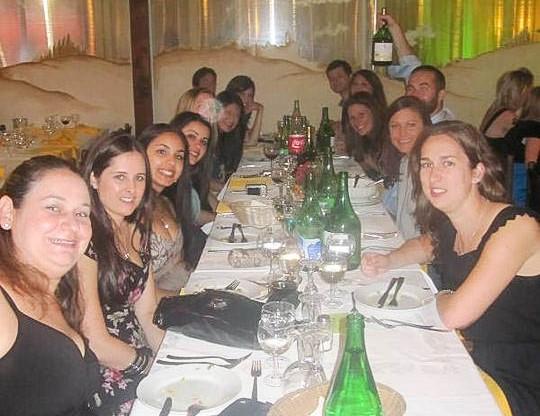 Changing my first tyre on the LA Freeway
An ex-boyfriend and I were about 90 minutes out of Los Angeles on the Freeway heading towards Las Vegas when we started hearing a loud whirring noise, followed by the flapping of a tyre and the smell of burning rubber. Our front right tyre had blown, no doubt due to disrepair ignored at the dodgy car hire place we'd visited near LA's Airport.
We had to keep driving on the rim at a crawl until it was safe to pull over and change it.
We then drove back to LA to swap the car over and, on the way the front left tyre blew as it took the balance of the vehicle from the spacesaver spare. We were forced to pay US $190, and as the company didn't accept chip credit cards had to go on a major mission in the back of their courtesy van to get cash out.
We got to Las Vegas more than 6 hours later than planned.
The London Proposal
I have a UK passport which to Kiwi's living in London and wanting to stay when their two year working holiday Visa is up is extremely valuable.
In 2012, after watching the All Blacks win, I met a guy in a bar. Brendon proposed and between 4 or 5 of us we jokingly planned a wedding on a Christchurch beach for the next New Zealand summer.
It would have been epic – had I ever seen him again.
A weekend in Hawaii
The first time I went to Hawaii I went for a long weekend, flying 12 hours each way to stay only three days.
Why? The Apple watch was released that weekend but not in New Zealand. And overseas, they sold out quickly. Mike was quietly bringing a number of them into the country and selling them for profit on the internet, effectively paying for the trip.
While I sat by the pool relaxing he was trading Apple Watches on the internet.

Thai Security vs Drone in Maya Bay
In a foreign country, especially when you don't speak the language or know the laws, policy and security enforcement can be extremely intimidating.
I was swimming in Maya Bay in Thailand while Mike sat on the beach flying his drone.
I was confused when shortly after it launched above me it flew back towards the beach at speed. I looked in the direction it was heading to see two security men standing over Mike as well as a crowd gathering round.
Apparently you can't fly drones in Thailand's National Parks but the footage he managed to get is amazing.

What tops your list of the most unexpected things which have happened when travelling?