I'm pretty amature when it comes to taking travel photos. My photos are taken with an iphone, generally in a rush as to avoid someone stepping in my photo, I find it challenging to frame things well and I use a hot mess of filters with no thought of what it looks like curated in my Instagram account.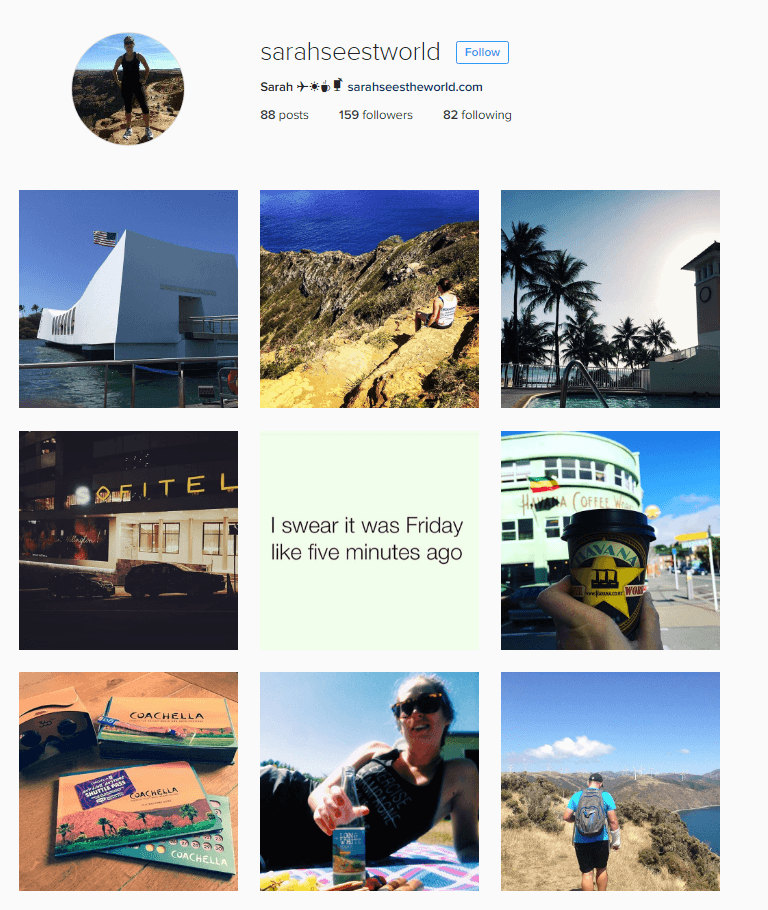 In an effort to up my photography game I asked 5 of my favourite travel bloggers who each take the most amazing photos, to each share a photography tip.
Find your own perspective – Valerie of Valerie and Valise
While I love the classic shots from around the world, I prefer to find my own perspective – especially at popular tourist sights. In addition to framing the photo in some of the ways I have seen in guidebooks and on Instagram, I like to look for additional elements or angles to shoot from. This photo of St. Patrick's Cathedral in New York City is one of my personal favorites, because of the contrast of shades and physical materials in the photo (due to placing the sculpture of Atlas in between me and my subject). Never be afraid to take a photo from a different angle than the crowd – you'll find your own artistic style and get some amazing unique photos in the process.
https://www.instagram.com/p/BFEPWv-SZu8/
When you are posing for a picture try and not focus on doing a model pose. Instead do what you where already doing, hiking, taking pictures, doing a yoga pose, and have someone take your picture from the back. Showing the gorgeous scenery around you while you pose, it always make for a great shot and makes me feel like am in the image and place with you!
Be willing to make sacrifices – Van of Snow in Tromso
I'm lucky to be living and traveling around the Arctic which is a region full of spectacular motives. Sometimes though, you need to go the extra mile and make sacrifices in order to get a beautiful picture.
Let's take the example of shooting the Northern Lights. Your first thought might be that you'd need a professional camera and a tripod but the most important thing you need is actually patience. The lights won't always appear when you have time. Most often, they will appear when you're really tired and when it's -10 degrees Celsius outside. Then you have to stand there in the cold and try not to freeze to death in order to take a great picture. No I'm kidding here although taking shots of the Northern Lights definitely requires some patience, warm clothes and the willingness to sleep little 😉
Just in general though, it's always great to be flexible when you're on the hunt for the perfect shot and don't care about your ice-cream melting while you're taking pictures of the most gorgeous sunset for example. Also don't be too sad about only having seen a whale with your eyes for about three seconds while during the rest of the tour, you've been busy capturing it on camera 😉
Use a 50mm lens – Ashley of Ashley Abroad
I recommend using a 50mm lens for travel. They're light, but give you incredible bokeh (a.k.a. a blurry background). Some of my favorite travel pictures have been taken with a 50mm, which you can pick up for around $100.
Use a layout app before posting on Instagram – Liz of Passport Packed
My biggest tip for an attractive Instagram account would be to use a layout app first. This way you can see what all your photos look like together, before you're publishing them. Most people will decide whether they want to follow you based on your last 6-9 photos, so its important that these always look aesthetically great together. A layout app also helps you see 'your style' for Insta and can keep you in check, to make sure your posts are always on point!
My tips for taking great #NoFilter photographs
Don't take the shot everyone else is taking. Avoid just taking selfies in front of every landmark. Take something different and special which others might not have thought of.
Be first on the scene. Get up before the crowds to get photos in the best light and avoid randoms in your photos whose presence, facial expressions and stances you cannot control and may need to edit later. This also allows you to see points of interest before they're busy which is a definite bonus.
Trial and Error – It might take a couple of attempts before you get it right. Be critical and try again if something's not working. Practice makes perfect and with digital cameras, you can take as many as you need to and delete later.
Are you going to start applying any of these tips when you take and share photos? Do you have a must-know photography tip to add?