I'd been promising myself for years that for my second time in Paris, I would just walk around the city at my own speed and experience a slice of life in this gorgeous European capital.
My first trip to Paris was a whistle-stop tour on a Contiki tour bus. During an intense three days in Paris we ticked off iconic sights one by one including the Eiffel Tower, Moulin Rouge, Notre Dame Cathedral and the Louvre.
With plenty of recommendations from friends for my second trip to Paris, here's where to go when you've been to the capital of France before. Visiting Paris in July I discovered that summer is the perfect time to experience this city.
Canal Saint Martin
Canal Saint Martin lies in the centre of Paris. At 4.5km long, it has 9 locks and connects the Canal de L'Ourcq with the river Seine. In the early days of a July heat wave, Parisian's sat along the edge of the canal in the early evening with impromptu picnics. Canal Saint Martin was a quieter, serene space away from the busy central city with beautiful reflections of the buildings opposite seen in the water.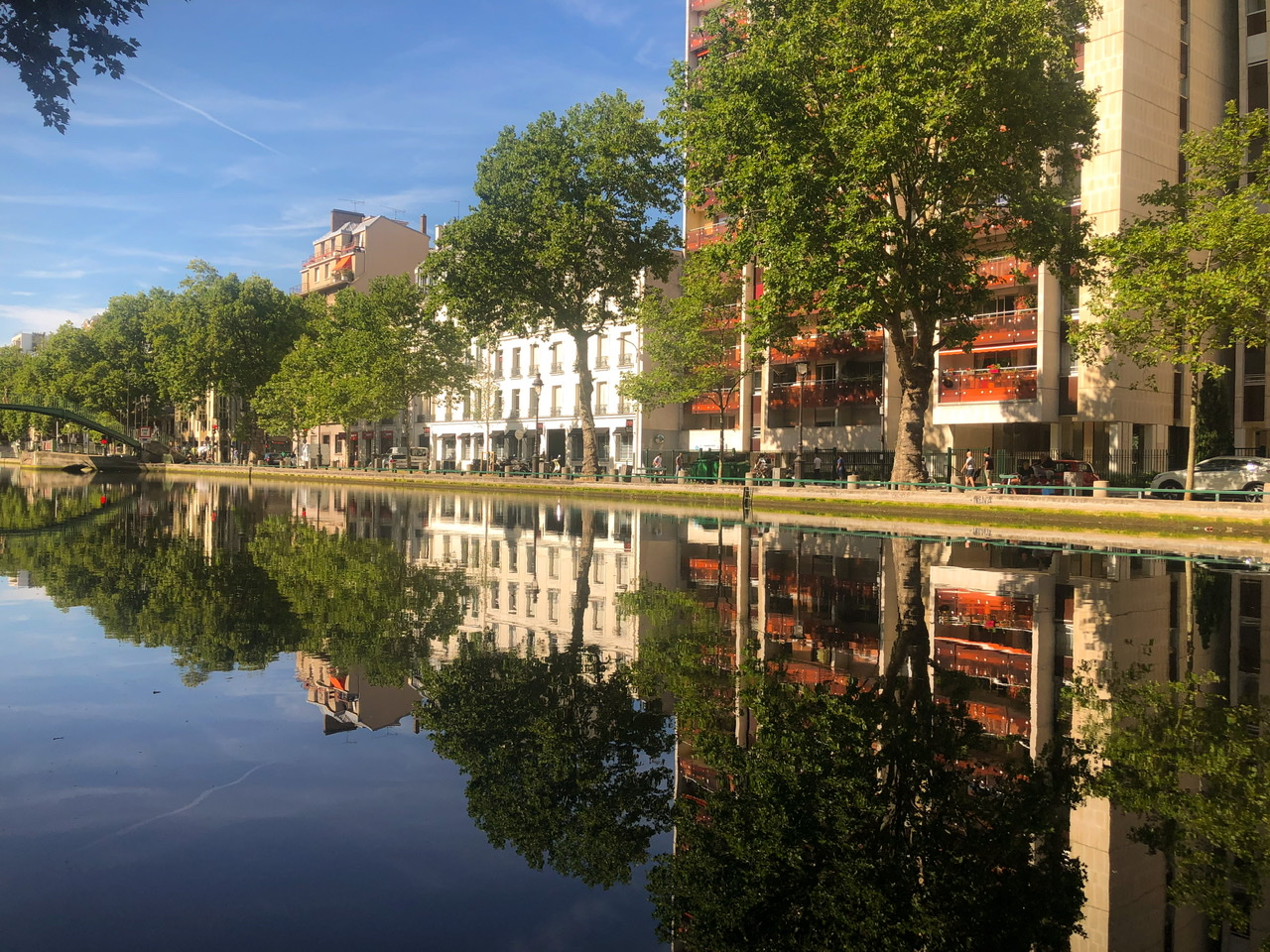 Île Saint-Louis and Île de la Cité
Something I learnt during my second time in Paris is that there are two natural islands on the Seine River. Connected by bridges but appearing very much like the surrounding street areas, visiting Île Saint-Louis I would not have believed I was on an island had I not visited the park and square in the corner and seen the water of the Seine on both sides.
The other island on the Seine is right next door – Île de la Cité. The Notre-Dame Cathedral is closed until early 2024 (five years after the 2019 fire), but Sainte-Chapelle is a beautiful, ornate 13th-century, gothic chapel here you can book tickets to look around inside.
Jardin de plants
I may have laughed at the name (literally translating to english as garden of plants) but this botanic garden was beautiful and the sloping paths had plenty of shady benches on which to rest and admire the surroundings. Shady benches are dotted around to sit and appreciate the serenity.
Grand Mosque de Paris
In hot weather I (typically) didn't have the appropriate clothing on me to go inside the mosque, so headed straight for the cafe in the corner. I was recommended the mint tea at Cafe Mosquee, but opted moorish coffee to accompany their beautiful pastries instead.
Parc des Buttes-Chaumont
I'd been told to visit Rosa Bonheur in Parc des Buttes-Chaumont for a good coffee. On Bastille Day, hot and sunny, I expected it to be crowded, however arrived to discover it was closed.
The park itself is sprawling and groups of Parisians sat around on the grass areas enjoying the sunny weather on their day off.
Père Lachaise Cemetery
Walking on from Parc des Buttes-Chaumont, I reached Parc Père Lachaise Cemetery, a beautifully tree lined necropolis full of impressive and very old graves. Famous people buried here include Oscar Wilde, Frédéric Chopin and Marcel Proust and it's no surprise this is the most visited cemetery in the world.
Quite oddly to me, plots are leased for 30 year terms so if they're not renewed by family members, remains are removed to make space for someone else.
Montmartre
It's a steep walk up but behind Sacré Cour, avoiding the most crowded parts of Montmartre where there are fewer tourists and more locals, there are some beautiful streets.
La Maison Rose turned out to be a busy Instagram hotspot but is a truly beautiful building. After waiting some time for a table I enjoyed several glasses of rose, sitting outside people watching. If you follow the streets down towards old town you'll end up by the Moulin Rouge and near a Metro station.
Saint-Germain-des-Prés
I didn't get to see inside the Saint-Germain-des-Prés church during my second time in Paris, however the little streets around the church are a more posh with small boutiques and famous restaurants, and it feels far away from the busy, tourist-filled areas.
Three food stops in Paris
For crepes near Canal Saint Martin, visit Lulu la nantaise craperie at 67 Rue de Lancry. I sat outside and had chocolate with strawberries.
For the best ice cream and sorbets in Paris, Berthillon, a family-run business at 31 Rue Saint Louis en L'Ile. I had green apple and Mango sorbets.
I had the best croissant I've ever consumed from Tout Autor du Pain at 134 Rue de Turenne in upper Marais which was dangerously close to my hotel. Their sweet cabinet treats proved equally delightful.
Picnics along the Seine
One way to save money while travelling is to purchase meals from supermarkets rather than eating out. During my three days in Paris I enjoyed small solo picnics along the River Seine and in public parks such as Tuileries Garden. Being near Musée d'Orsay which has gorgeous impressionist art is an advantage if it becomes hot and you become in desperate need of somewhere with air-con as well as art.
Where would you send someone for their second time in Paris?