Hilton Hawaiian Village Waikiki Beach Resort is the largest Hilton in the chain, as well as the one of the largest non-casino resorts in the world. It sits on 22 acres of beachfront property and includes over 90 shops and restaurants as well as 3386 rooms in seven towers.
While it's massive, there is plenty of space for everyone and rarely felt crowded unless I had to get in a lift – they were ALWAYS full past capacity thanks for that fancy system where you order a lift to the level you want on the ground floor and it tells you which lift to get in. On one occasion we saw a lift which was stuck on the ground floor with two security guards trying to pries open the doors to free those trapped inside which would have been awful.
I found it a bit too easy to get lost as signage was either lacking or not visible to me. I had few interactions with staff but the ones I met were lovely, and with Mike being a Hilton Honours Club member the check in was expedited.
The Room at Hilton Hawaiian Village Waikiki
Our room was on the 9th floor of the Rainbow Tower with a view of the pool, beach and Diamond Head. It was large and in terms of fittings it was much like the one in Whistler we stayed in last August (as a chain Hilton has the same hotel standards the world over so you feel at home in rooms which look similar wherever you are).
Peter Thomas Roth skin care products were in the bathroom.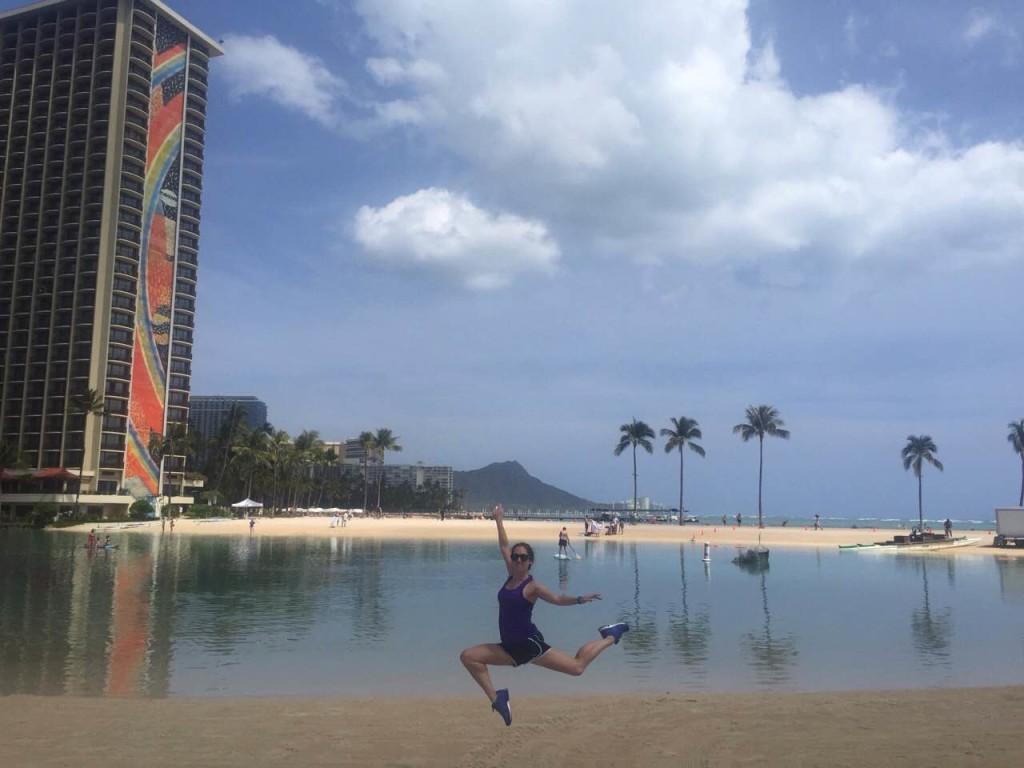 Hilton Hawaiian Village Food and Drink
As well as numerous ABC stores for snacks and breakfasts there were plenty of casual dining options in the hotel complex including Pronto Pickle, Starbucks and Tropics Bar & Grill.
After redeeming a mysterious 'welcome gift' card we found in our room we came away with a discount card and booklet giving us discounts and special deals at businesses around the hotel (as well as a branded pen).
My favourite restaurant was Benihana where the chef cooked our Japanese meals in front of us complete with tricks and bad (hilarious) jokes.
Entertainment
If you wanted to get up early there are sculpt, yoga and tai chi classes at 6am, and outdoor movie screenings twice per week at sundown. Tickets are available for shows and Luau's, including a poolside one we watched from our balcony most nights of the week.
Every Friday night at 7:45 there is a fireworks display, the standard of which was far superior to the last few fireworks displays I have seen (Rhythm and Vines and lake Wanaka during the Queenstown Winter Festival). While we were staying Subaru had their conference so we got an additional fireworks display!
Hilton Hawaiian Village Pools and spa
There are plenty of pools as well as the beach and lagoon and a couple of spa pools if you can handle the heat. The slides in the kids pool were pretty fun to test as well and in conjunction with the Camp Penguin Kids Club I'm confident children would enjoy staying here as much as adults do.
We attended a 90 minute 'presentation' on becoming a member of Hilton Grand Vacations – essentially a timeshare purchase opportunity (which FYI did not result in a purchase). In exchange we received a couples massage at Mandara Spa which was pure bliss.
In summary
The Hilton Hawaiian Village is a fantastic place to stay in Waikiki and Mike made the right decision booking it! Standard room rates from US $299 per night and there are towers and facilities suitable for all kinds of visitors.
Photos by Mike Rishworth unless credited.