Early morning fog over the Thames, Henley
I headed to Henley for a weekend in mid-October to support friends who were running a 10km charity race I was nowhere near fit enough to run myself.
Due to the popularity of the event, accommodation in Henley was booked out so we stayed at The Beech House Hotel up the road in nearby Reading which quiet and very cute and English.
We had to be up and out before the serving time for the cooked breakfast so a continental breakfast was delivered to our rooms during the evening.
Hotel Room
Bathroom products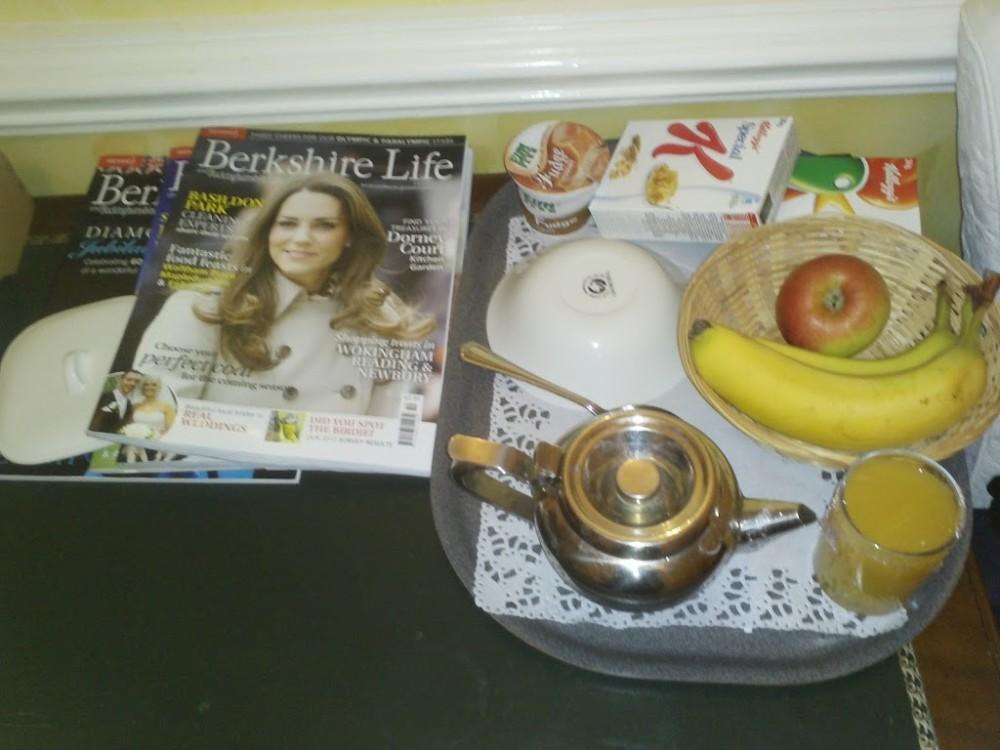 Breakfast and local magazines
We had a pub dinner at The Angel on The Bridge in Henley. Eating in establishments which have been in business since long before New Zealand's Treaty of Waitangi was signed has become a new thrill for me.

I had The Angel's Pancakes filled with roast vegetables and dolcelatte cheese with sweet tomato and red pepper sauce which was delicious and very different to what is available on your standard restaurant menu. The Cumberland Sausages and Rack of Ribs were also popular around the table.

I also gave their special desert for the day a go – a moist ginger and date pudding with a caramel sauce. I was so full by the time we left!

After a comfortable night, race day dawned and it was a frosty 2 degrees when we left in the car for Henley's Rugby Club. But the sun was out though and with the team all being fast runners they were back within an hour, with myself and Ross having just enough time to grab hot chocolates between cheers as the other three circled past us.
Brad and Hana had been billeted with a local Henley family in 2010 when Brad was a member of a New Zealand men's rowing team at the Henley regatta. We met up with them and had lunch at The Quince Tree – a venue which reminded me of Hawkes Bay eateries with their deli store, open dining room, glass walls and scenic gardens. Their menu featured fresh juices, sandwiches, bruschettas, risottos and the like.
Before driving back to London we took a short walk in Stonor Park just up the road. I loved getting out in the wide open spaces of the country, a real change from being couped up amongst buildings and people London.
I would love to see Henley in Summer when the rowing regatta is on. I will add this to the life list.
Manor House, Stonor Park